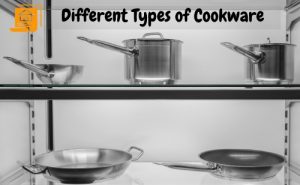 Cooking depends on the cook, but cookware plays an important role. In the case of choosing cookware, you might be in confusion because not all of them are the same.
Several types of cookware produce different types of results in cooking. According to the performance, you cannot just pick up anyone. Also, not all the stoves go right with some specific cookware.
So today, we will talk about the ins and outs of the cookware available nowadays. Have a look at the popular cookware types and then know the differences.
Common Cookware Types
Here are the common cookware types available in the market. You can check them out and pick up the one you like!
Cast Iron
Non-Stick Surfaces
Stainless Steel
Clay and Stoneware
Carbon Steel
Copper
Aluminum
Different Types of Cookware
There are different types of cookware that people use for cooking purposes. However, you cannot expect the same quality and durability as all of them.
Here, we have come up with the common types of cookware that the people of these days use.
We have discussed the quality, cooking result, lasting ability, and other positive and negative aspects. All you have to do is check the detailed review to know which one is the best for you.
Cast iron pans and pots are known as one of the most common types of cookware in the market. If you compare the popularity, the quality is not high-grade. It is a poor conductor of heat. Cast iron cookware usually heats up slowly.
On the contrary, the cool-down process is slower too. But the best part of this cookware is the self-regulating quality. As a result, if you use cast iron as fry pan, grill pan, or dutch, the result can be great. Another fact that still, people use cast iron cookware is durability. It can resist denting and warping.
Usually, we use these naturally as cookware. But in some situations, some cast iron cookware is enamel coated. As the natural cast iron cookware doesn't have any coating on it, these are highly cheap.
But if you want to keep it rust-free, you have to rely on seasoning coating which will provide a non-stick vibe on your pans. On the other side, there is enamel coated cast iron that is nonreactive.
Also, these are highly easy to clean and so, you have to pay some more for these. If you want some lightweight cookware, cast iron is not your thing. We do not recommend you use cast iron cookware but if you still feel comfortable, try to pick up the enameled cast iron ones.
---
One of the best and safest cookware these days is non stick scratch resistant cookware. From cooking healthy food to easy clean-up, you can rely on these materials without any doubt. Also, the best part is you will not need too much oil to cook food here.
But you have to be very careful about using these cooking pans. Do not make scratches because it will not cook the way it used to do if it is scratched. Avoid using metal utensils on these surfaces.
Make sure that after every cooking session, you must clean up the non stick cookware. There are PTFE non stick cookware and also Ceramic cookware. Both are amazing if you can use them carefully.
---
Stainless steel is one of the most used and loved cookware among users of these days. On top of durable steel, the coating of chromium and nickel are added in these pot so that these can serve you for a long time and can endure high temperatures.
This layer makes the cookware corrosion-free. Not only in quality but it is attractive also in its appearance. Another amazing fact about stainless steel pan is it will not react with alkaline or acidic food.
Your cookware will stay scratch-free and provide you cooked food with purity! It is broiler and oven safe. No matter which sort of stove you use, stainless steel pan or cookware can be an amazing choice.
Are you searching for the perfect cookware for a glass top stove? Faithfully rely on stainless steel cookware because they will not harm your glass stove and will make the best quality food.
However, try to pick up the ones from this line that have a straight bottom to make sure your food doesn't spill on the glass.
You can also pick up CLAD that is made of copper and aluminum added to the regular stainless steel so that it heats up fast and makes food quicker than before.
---
Not many people use this clay nonstick cookware set for direct cooking now, but still, if you check the list of the oldest cookware, you will find the names of clay and stoneware. Just like cast iron, the cookware made of stone and clay is durable and practical.
According to the surveys, the cooking results are amazing when it comes to such pans and pots. The stoneware available these days is designed for use in the oven. You will get available shapes and colors of this cookware.
The best part is you can keep them inside the freezer too. If you prefer to eat the baked goods in your dinners, you can completely rely on the stoneware. For brownies to custards, macaroni to pasta, these cook well in such cookware.
But whenever you plan to get some stoneware for you, you must know that there are chances of cracking. Do not settle for too high a temperature.
Also, putting it on a cold surface directly can break it. This stuff is available in great diversity. When you buy them, ensure you are picking up the lead-free ones, this makes the cookware safe.
---
Aluminum and carbon steel are almost the same in terms of high heat conductivity. So, you can understand that your cookware will get proper heat and will cook food at a moderate cooking speed.
However, these types of pans need proper oiling for keeping them rust-free. If you season the pans properly, it will give you a non-stick vibe while cooking. In terms of cookware material, carbon steel is highly versatile.
You might face some problems regarding the heavyweight of the pans and pots. Also, you have to follow some techniques for heating the pans of carbon steel because these get heated faster and can burn.
If you want to settle for searing meat or blackening fish or stir fish and Pommes Anna, the best bet is to go for the carbon steel cookware. You might not know that some of your cooking pot are already made of this material. The roasting pans, broiling pans, tea kettles, and lobster pot are usually constructed with carbon steel.
In terms of quality, the enameled carbon steel cookware is practical, economical, and nonreactive. It is also broiler-safe and oven-safe.
---
If you want something that can cook your food in minutes, you can have faith in the copper cookware. This is popular for heating up quickly and as a result, it looks down fast too. The even heating method ensures that every part of your food is equally cooked.
Some people want maximum control over their cooking and with copper cookware, you can do it. Professional chefs recommend using copper pans when it comes to the most responsive cooking material.
Whenever you plan to buy copper core cookware, make sure that the cookware has a coating of tin or stainless steel. This keeps the food from being yellowish and nonreactive. In short, copper is amazing, but if you talk about the downside, there is only one!
Copper, as a material, is high in terms of price. When you want to get a coating on copper, the price gets higher. So, keep in mind that copper cookware will be high priced. Checking the advantages of using copper as cookware, it gives you the perfect cooking result.
From browned meats to caramelized fonds, anything in copper will make the food delicious. Never use copper on induction ranges because these are very heavy and not magnetic. Do not go for dishwashing if you are using copper.
If you are dealing with the heat conductivity of the cookware, aluminum is the second-best choice after copper. Unlike copper, aluminum is clean in price. As the cookware of aluminum is lightweight, carrying it is easier.
However, when you purchase ones from the aluminum line, you have to pick the non-stick aluminum ones. Stainless steel or anodization process can also make aluminum non-reactive. Otherwise, the food will taste metallic, you don't want it, right?
Get high-performing nonreactive aluminum pans if you want to make your kitchen look beautiful and the food delicious. However, you cannot use these on the induction stovetop. Especially, these are not designed for the glass stovetop.
Try them on the steel exterior induction stovetop, they will work. When it comes to a large quantity of food, aluminum can be a better choice because holding it and moving it is easier than the others.
---
Wrap Up
All types of cookware mentioned above are loved by the users for a reason. If you plan to buy cookware for yourself, check the details of the cookware, know how long it will serve, how delicious food it will make, and does it match your stove type. And then you can buy one easily!
So, which type of cookware do you use? Is there any specific one that you recommend? Happy Cooking & Keep reading and Stay Connected with us.
You May Read Also
The Ultimate Guide How to Clean Stainless Steel Cookware
Everything You Need to Know What Is an Induction Cooktop?
5 Different Types of Cooktops & Some Notes on Their Usage
5 Most Essential Kitchen Appliances Needs in Any Kitchen
How to Remove Scratches From Glass Cooktop (4 Easy Methods)