When a kitchen is well-stocked, it can be a joy to spend time there. You have a full license to be as creative as you want when it comes to trying new recipes. You can also make your kitchen a refuge, a place where you can make comfort food whenever you feel stressed out.
But what do you need in a kitchen? A simple stroll down the kitchen appliance aisle can quickly turn dizzying, with dozens of appliances and hundreds of brands to choose from.
Luckily for you, most essential kitchen appliances are more of a luxury than a need. When you come down to the wire, there is only a handful of kitchen appliances you need in your kitchen to make all your culinary dreams come true.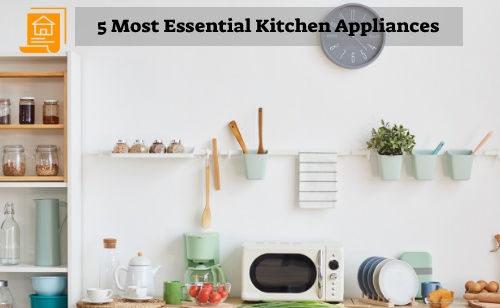 Here're the 5 Most Essential Kitchen Appliances Neds in Any Kitchen
The most important thing that you need in a good kitchen is a quality refrigerator. The capacity is subjective and will depend on how many people the fridge. However, there are some features that you will find highly beneficial in a kitchen refrigerator.
First, look for refrigerators with inverter motors. Not only do they cool more efficiently, but they also use less energy to do so. While they are more expensive, they will save money in the long run.
Second, go for a refrigerator with a no-frost freezer. Again, this might make the fridge a bit more expensive at the beginning, but you'll quickly appreciate the investment when you no longer have to scrape out ice from your freezer!
Finally, go for a fridge that has an efficient cooling system in all parts of the appliance, particularly if the model has a vegetable crisper. You'll appreciate the difference in the quality of your vegetables when you see that they are kept fresher and crisper for a longer period. A strong cooling system also applies for the freezer section, as you will see the raw meat and bread will have better quality as well.
---
There's a regular oven, and then there's a convection oven. The main difference is that convection ovens have a built-in fan inside that circulates hot air around the food. Convection ovens not only cook food faster, but they also ensure more even browning across the whole surface of the food.
While there is baked food that cooks better in a conventional oven such as cakes and flans, using a convection oven to bake pies and cookies, as well as roast meat and vegetables, produces better results. What's more, most convection ovens have a feature where you can turn off the convection setting and use it as a normal oven.
Also Read: Best Air Fryer with Rotisserie Reviews
---
From the moment you use a food processor for the first time, you'll wonder why it took you so long to buy this particular kitchen appliance. Food processors make quick work of so many types of kitchen prep, whether it's chopping, mincing, or grinding ingredients. Depending on the attachments you have, it can also shred, whip, and mix your ingredients.
There are so many things that you can make in a food processor and even more recipes that are much easier to make if you have one handy. If you're making cauliflower rice, for example, throwing in the raw florets into the food processor produces fine "rice" with just a few pulses! You can even use a food processor to make spreads from scratch, such as homemade peanut butter.
---
One of the best things about a slow cooker is the "set it and forget it" motto. If you have a busy day ahead and you don't want to bother with cooking, a slow cooker is going to be your best friend! Simply throw in the ingredients, set the time, and you'll have a hot meal ready to go once lunch or dinner rolls around. What's more, there are so many great one-pot recipes for slow cookers that you'll never run out of dishes to make.
---
If you have a slow cooker for making slow food, you might also want to have a microwave to do the opposite. Now and again, you don't have the time to do any food preparation at all. During those times, a microwave is an answer to your prayers.
Whether you're making a microwaveable meal or you're heating leftovers, microwaves make it easy and fast. If you have kids, having a microwave is also greatly beneficial, since they can make their hot meals without your help.
Discover tips and tricks to become a superstar in the kitchen by checking out our friends from Cranberry Island Kitchen!
---
What Is the Most Important Appliances in Your Home?
While it is important to have a variety of appliances in your home, there are a few that are especially essential. These include the oven and stovetop (for cooking food), refrigerator and freezer (for storing food), dishwasher (for cleaning dishes and pots and pans), microwave oven/range hood (for heating up foods quickly), vacuum cleaner, washing machine, dryer, etc.
Make sure to rotate these appliances every 6-12 months so that they are always performing optimally. This will help you to avoid any major repairs or breakdowns in the road.
Additionally, keep an eye on energy costs when making purchasing decisions; evaluating your usage habits can help you save money on bills each month by substituting one less appliance for another.
What Are the 3 Major Appliances in a Typical Kitchen?
There are many appliances in a typical kitchen, but the three that typically make the biggest impact on your food are your oven, stovetop, and refrigerator.
Your oven is used for cooking breads and pastries as well as meats. It also comes in handy for baking cakes or pies.
The stovetop can be used to cook everything from eggs to pasta dishes to rice. It's important to use a pan that will evenly distribute the heat so that your food doesn't come out overcooked or undercooked.
And finally, the fridge is where you store all of your groceries and beverages. Make sure to choose an appliance with enough space so that you can fit all of your groceries easily without having to search through them multiple times.
What Are 5 Things You Consider Essential to a Kitchen?
A kitchen should be organized, functional, and aesthetically pleasing. Here are 5 essentials that you may want to include in your kitchen:
1. Storage space – An ample amount of kitchen space is essential if you want to be able to store all of your food and appliances in one place.
2. Countertop area – A good countertop area should have plenty of storage capabilities, as well as room for preparing food and cooking on the stovetop or oven.
3. Space for a refrigerator/freezer – You'll need somewhere to store your food while it's being refrigerated or frozen, and a fridge or freezer shouldn't take up too much surface space either.
4. Location – The location of your kitchen is also important; make sure that it's comfortable and convenient to use."
5: "The quality (and variety) of cookware you own will depend largely on how often you're going to use it, so invest in something that will last several years.
What Is the Most Basic Essential Tool in the Kitchen?
The most basic essential tool in the kitchen is a good knife. Not just any knife, but one that is designed specifically for cooking.
A sharp knife makes quick and easy work of cutting ingredients, making it easier to create delicious meals every time you cook. If you're not sure which type of knife to buy, consider buying an 8-inch chef's knife or Santoku Knife.
Another key piece of equipment you'll need in the kitchen is a food processor. This handy machine can be used to chop vegetables, make hummus or pesto sauces, shred chicken breasts or cooked fish, whip up egg whites and meringues, the list goes on!
And last but not least a oven! It might sound like common sense, but having an oven available will save countless hours in bake times later on when something needs baking (like bread).
Conclusion
There you have it, five essential appliances that you need in the kitchen. When buying these appliances, it pays to invest a bit more in known and trusted brands, rather than trying to save a few bucks and getting generic brands. Appliances from well-known brands are generally tougher, more reliable, and produce better results.