A non-stick frying pan is essential in any kitchen. Beyond helping you whip up your morning eggs, a frying pan allows you to saute, sear, braise, and brown with ease.
Although they come in various sizes, investing in the best 12 inch frying pan is the wisest option if you want versatility and accessibility. From pancakes to rib-eye steaks, this is one cookware that will make your culinary endeavors a smooth ride.
However, there's a lot to consider before choosing a frying pan, from the safety of the non stick coating to the construction material and compatibility with different cooktops. We've covered those details in greater detail in the buying guide and reviewed 5 of the best pans below!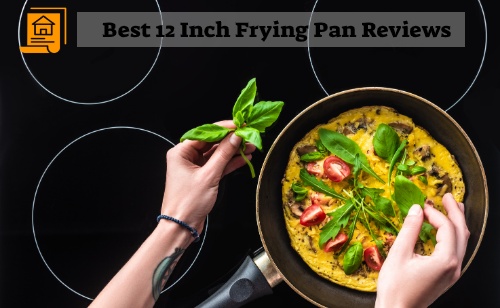 Top 6 Best 12 Inch Frying Pan Reviews 2021
Cookware can be truly confusing, with myriad options and construction and functionality features to consider. But we hope that the following reviews help you find the perfect frying pan!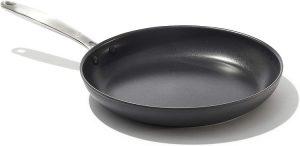 With durable hard-anodized aluminum construction, long-wearing non-stick coating, and comfortable design, the OXO Good Grips 12-inch frying pan is an easy contender for the title of the best nonstick frying pan. Yes, that's a big claim to make, but we're ready to back it up.
The secret to good cookware is all in the sturdiness of its construction. Hard-anodized aluminum is one of the most durable materials used in the making of cookware, and with proper care and maintenance, this one frying pan can be expected to last you for literal generations.
But more importantly, this frying pan is completely resistant to scratching and offers even heating that is nearly unmatched. So no matter what you're cooking, you can expect this pan to make the process easier. This is also enhanced by the triple-layered non-stick coating that requires less oil and promises to last for years.
We also love the design of this thing. It comes with rolled edges that allow you to pour and flip without spilling or dripping and makes transferring to plates for presentation much easier. Meanwhile, the riveted stainless steel handle has an ergonomic design that not only offers a sure grip but a comfortable one.
What's more, this pan is also safe for use in the oven at temperatures of up to 430 degrees F. And once you're done cooking, clean-up is a breeze, thanks to the pan's being dishwasher safe as well!
Is it expensive? Certainly. But good things usually come at a price, and when it comes to cookware, it's always best to invest than to skimp out and be forced to replace it again and again.
Highlighted Features
Triple-layered non-stick coating lasts for years
Safe for use both in the oven and dishwasher
Fitted with a comfortable and secure riveted handle
Rolled edges for easier flipping and pouring
Our next pick is a beautiful two-piece set from All-Clad that has justly earned its high rating. Featuring one 10-inch pan and one 12-inch pan, this set is one of the most functional we have come across. Here's what we like about it.
Equipped with a thoughtfully crafted low-profile shape, the fry pans both come with a flat, wide bottom, which makes putting them on and taking them off the stove super easy. The 12-inch pan, meanwhile, comes with an extra carry handle that makes transferring your culinary masterpieces to the plate a breeze.
Like our last pick, the pans in this set both have a hard-anodized aluminum construction, so you can expect these guys to last you a good number of years. Although the non stick coating does require proper care to hold up well for a long time, that's nothing new in the world of nonstick cookware.
But the best part about this set is that both of the pieces are perfectly compatible with the majority of cooktops, including gas, induction, electric, scratch-resistant and even halogen and ceramic! What's more, the pans are also oven- and dishwasher-safe to make your life that much easier. So whether you're cooking for a big group or cooking for yourself, this set has you covered.
Highlighted Features
Triple-layered PFOA-free non stick coating for myriad cooking activities
Robust hard-anodized aluminum construction for long life
Sturdy stainless steel handles make mobility and usage easier
Compatible with all cooktop types, including ceramic and halogen
Safe for use in oven at temperatures of up to 500 degrees F
Whether you're an expert in cookware or have only recently forayed into the market, the chances are very low that you haven't heard of T-fal. With over 6 decades of experience in producing some of the best cookware on the market, this brand is one you can trust almost blindly.
This 12.5 inch silicone-constructed pan comes with a titanium nonstick surface that is built for long-time use and ideal for whipping up any number of your favorite pan-fried dishes. The layered thickness of the pan's induction base handles heat distribution like commercial-grade cookware, allowing you to achieve your culinary desires with ease.
Meanwhile, the durable, strong, and comfortable silicone handle offers a secure and sure grip that will allow you to do your flipping effortlessly. And once you're done cooking, you can pop the pan into the dishwasher and be on your way. And yes, it's safe for use in the oven too!
But what's truly impressive about this pan, to us, is the integrated T-fal thermo-spot technology. The red circle in the center of the pan, when adequately heated, starts glowing to indicate that you can begin cooking surface. We don't know about you, but we think that this t fal 12 inch fry pan is definitely one of the most impressive, especially at this reasonable price point!
Highlighted Features
Thermo-spot turns red to indicate that adequate preheating has been achieved
Thick induction base aids in even heat distribution for hot spot-free cooking
Handles are riveted for a secure and comfortable grip
Safe for use in the oven for up to 400 degrees F
Offers ease of cleaning thanks to dishwasher compatibility

What does the best frying pan for eggs look like? Does it advertise its special egg-cooking abilities on its body? Do egg enthusiasts rave about it? Or is it simply this beautiful lidded 12-inch pan from Calphalon? We don't know for sure, but we think it certainly comes close.
Designed specifically for frying up omelets, this frying pan comes with a dual-layer non stick coating that not only lends itself to easy and efficient food release but allows you to clean up swiftly and with no complications.
This pan is constructed from hard-anodized aluminum, which allows for dependably even heating that makes cooking omelets a walk in the park. But thanks to its versatility, this pan can also be used to cook other lightweight items as well, from pancakes to lightly braised fish.
But probably our favorite feature of this pan is its design. Its sides slope gently at a slight angle, while the tops are flared, making it easier to flip your omelet into that satisfying fold. Meanwhile, the long and short handles are both constructed from stainless steel skillet, which has been specially tempered to ensure that they don't turn hot to the touch.
Although we wish the design of the rivets was a bit less prone to annoying build-ups, we find it's made up for with the amazing design of the rest of the pan. Oh, and did we mention that this thing is oven-safe?
Highlighted Features
Dual-layer non stick frying pan allows for easy cleaning and quick release
Tempered glass lid with easy carry handle for your convenience
Stainless steel constructed long handle and carry handle that stays cool to the touch
Safe to use in the oven at temperatures of up to 450 degrees F
Designed with slightly angled sides and flared edges for ease in cooking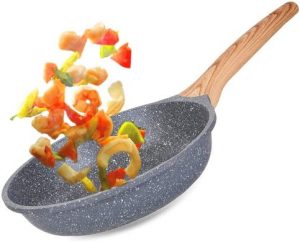 From Caannasweis comes our unique next pick in 12-inch frying pans. Constructed from aluminum but cast with a stone coating and equipped with a sturdy wooden handle, this is a reasonably priced and extremely durable fry pan that will appeal to those of you with a liking for rural and cottage-core aesthetics.
So let's start with the "stone" coating, which has a texture akin to volcanic rock. But it's not just the marble stone appearance that this coating serves; the nonstick cast iron skillet coating is fully free of PFOA, PTFE, cadmium, and lead. Not only will you be eating healthier, but you'll also be cooking easier too. In fact, this is one of the best omelet pans we've come across.
That's also thanks to the fry pan's magnetized base, which contributes towards a highly efficient and even heating distribution. Your food will not only heat up quickly, but the frying pan will stay pristine for many years to come. And although this thing isn't compatible for use with ovens, it can be used easily with all sorts of cookers, including ceramic, halogen, and electric.
We love the handle of this pan, too, with its super soft and comfortable grip. Plus, its woodgrain texture combines with the rustic feel of the stone coating to enhance the rural aesthetic of the pan. All in all, it's easy to see where this thing gets its high rating. Do note, however, that this pan isn't safe for use in the dishwasher and must be cleaned by hand.
Highlighted Features
The unique stone-derived non stick coating which is completely free of chemicals
The layered and magnetized base contributes to faster and more even heat distribution
Wood-grain textured handle and stone coating combine to produce a beautiful rural aesthetic
Compatible with all types of stoves
Designed for ease in cooking and pouring/transferring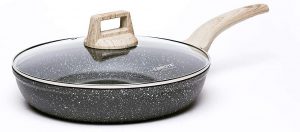 For our final pick today, we have another beautiful stone cookware piece with a durable and high-performing granite-patterned polymer matrix coating. It might not be your first pick if you're more geared towards conventional cookware, but it has its own impressive benefits and features.
This is particularly true in the case of the four-layer nonstick frying pan. Made of cast aluminum, this pan is doubly more durable than most other pan construction materials, thanks to its stone-based upper layer. It offers a quick release for all your fried dishes and is easy to clean up afterward. You'll have to clean it by hand, though, as it is not compatible with dishwashers.
We also love the Bakelite handle of this frying pan, which stays cool to the touch no matter what you're cooking. It also has an attractive wooden texture, which adds beautifully to the rustic aesthetic of the stoneware. But this thing doesn't just look good; it's easy to keep it looking good as well, thanks to its polymer matrix coating.
Using an induction stove? No worries. This pan is compatible with most cooktops, and thanks to its thick layered base, will distribute heat evenly regardless of the cooktop type. Furthermore, you can safely use it in the oven at temperatures of up to 350 degrees F. If you're on the market for the best skillet frying pan, you certainly won't be disappointed with this thing.
Highlighted Features
Available in a variety of sizes from 8 inches to 12 inches
Suitable for all types of stoves, including induction, halogen, glass stovetop and ceramic
Easy to clean thanks to the polymer matrix surface
Organic non stick coating with superior resistance to scratching and abrasion
Handles made from heat-insulating material to stay cool to the touch
---
Ultimate Guide for Buying the Best 12 Inch Frying Pan
Anyone can walk into a store, pick up a pan, and bring it home. But if you're smart, you know that a lot goes into choosing a good pan for purposes of health, performance, and durability. So here's what to keep in mind before making your purchase.
Construction Material
The first factor you must take into consideration when selecting a frying pan is what it's made of. The pan's performance, shelf life, and compatibility with your stovetop all depend on this. Here are your options.
Aluminum
One of the most popular options for cookware material, aluminum stands out for its durability, excellent heat distribution capabilities, and resistance to rust and corrosion.
However, this depends entirely upon the quality of the aluminum pan you buy. Go for models that have a layered construction, as this will not only enhance the pan's cooking abilities and durability but prevent unhealthy reactions with acidic and alkaline foods.
Stainless Steel
If every kitchen has something in common, it's probably stainless steel cookware. Highly durable and resistant to scratching and rusting, stainless steel pan is also safe for use in the dishwasher and oven. Compared to aluminum, though, it's heavier, and cooking without using oil can be a nightmare as food can stick to it easily.
Cast-Iron
Another highly durable option, cast-iron cookware, stands out for its superior heat retention and distribution capabilities. The versatility of cast iron skillet is what makes it stand out, as it can handle myriad ingredients with ease. It's also suitable for use in the oven.
If you're not big on kitchen maintenance, though, you might want to skip on a cast-iron frying pan as it will require proper long-term care. Furthermore, it's also quite heavy. But if you really do love to cook, not having a cast-iron frying pan in your arsenal is something of a crime.
Hard-Anodized
With hard-anodized cookware, you get the benefits of most other types. It offers long life, resistance to high temperatures, and a long-lasting non-stick surface that is difficult to scratch with metal utensils. For all these benefits, though, you'll have to pay a higher price. And as you might imagine, hard-anodized cookware is also quite heavy.
Ceramic
If you're someone who likes to lead an environmentally conscious life, then ceramic cookware is a suitable option for you. Most ceramic cookware does not come with any sort of chemical coating yet offers non-stick capabilities. However, it doesn't take well to high temperatures and is prone to scratching.
Carbon Steel
Similar to cast iron, carbon steel offers high durability and dependable heat distribution. However, it requires proper seasoning if you want it to have a non-stick pan, and it doesn't have good heat retention capabilities. That being said, carbon steel frying pans are quite lightweight compared to cast iron and also safe for oven use.
Non-Stick Capability
Nothing is more frustrating than having to deal with cooking ingredients that get stuck in the pan and ruin the recipe. For this reason, and also thanks to its versatility, cookware with the non-stick Teflon coating is a staple in most kitchens. Non-stick cookware pieces also tend to be lightweight and easy to store.
Drawbacks of non-stick cookware must also be considered. Firstly, it can't handle high temperatures, so don't expect to be doing any searing. Moreover, it scratches quite easily when metal utensils come into contact with it and is typically not dishwasher and oven safe.
However, for making eggs and light vegetable and protein pan dishes, non-stick cookware is a must-have. In fact, you'll definitely need it at some point, so it's good to have it even if you think you won't.
Rivets
Pans with riveted handles are preferred by many thanks to their sturdy and reliable attachment. If you've ever used a pan with a riveted handle, though, you know that the rivets can get in the way of a smooth cooking experience and be prone to build-ups. With a rivetless handle, though, you run the risk of breakage or damage.
Design and Size
The ease with which your frying pan will allow you to cook is determined to a large extent by its design. This means not only should you go for a pan with a large surface area, but one that has curved sides of mid-height. Tossing food becomes easier, and controlling the level of searing is easier to do. Also, look for pans that have ergonomically designed handles.
Now, you must also consider the size of the frying pan that you are buying. While we have covered only 12 inch models in our reviews, you can also opt for those measuring 8 or 10 inches in diameter. It depends entirely on how many people you have in your household and what quantities you usually like to cook.
FAQs About 12 Inch Frying Pan
1. What is the easiest way to preserve the non stick coating of my frying pan?
Ans: Unfortunately, there's quite a bit of care that must go into preserving a pan's non stick coating, from using the right utensils to avoiding cooking with certain ingredients or cooking spray.
2. What kind of frying pan is compatible with induction cooktops?
Ans: If you have an induction stove, then you must only buy cookware made from magnetic-based material. Stainless steel and cast iron are the top choices.
3. Why is it important to season a frying pan?
Ans: Seasoning seals the pan's surface pores, which helps extend the pan's life. If you're using a nonstick pan, though, you can skip seasoning.
4. Can you put frying pans in the dishwasher?
Ans: Once again, this varies from one pan to another, but the best way to clean a frying pan regardless of its dishwasher compatibility is to clean it by hand.
5. Can you put a frying pan in the oven?
Ans: This depends on its construction material; most pans made from copper, ceramic, cast iron, hard-anodized aluminum, and stainless steel are oven-safe. Make sure you check the manufacturer's instructions, though.
Final Words
We hope that, after going through our reviews and buying guide, you have been able to find the best 12 inch frying pan for yourself. If you're still unsure, we'd suggest going for the OXO Good Grips model; it's super durable and built for dependable functionality.
If the price tag is too high for you, this offering from the ever-reliable T-fal is also worth looking into.
Good luck, and happy frying!