Out of all of the modern innovations in the culinary world, the glass-top stove is perhaps one of the most impressive.
Any kitchen with a glass-top stove would be the envy of most cooking enthusiasts around the world. Not only are they beautiful, but much easier to clean compared to gas stoves due to their perfectly flat surface and consequent lack of annoying nooks and crannies.
However, they are admittedly quite sensitive: only compatible cookware should be used with them; otherwise, you will damage it.
So what does the best cookware for glass top stoves look like? Since the answer to that question is quite long, we'll let our reviews and buying guide do the talking. Let's go!
Top 10 Best Cookware For the Glass Top Stoves in 2023
Keeping in mind important factors such as conduction compatibility, durability, quality of construction, and design, these are the top 10 cookware sets we have gathered up for your consideration. We hope you find a good fit!
Our first pick for you today is a beautiful 11-piece hard anodized cookware set from Anolon. Well-stocked with all the basic cookware essentials, this is a piece with which much can be achieved, no matter your expertise or your favorite dishes to cook. Here's what we like about it.
With super durable hard-anodized construction, this is one of the strongest cookware sets we have come across during our research. Inadequate heat distribution is any cook's worst nightmare, but with this Non-Stick Pots and Pans Set, only your pleasant culinary dreams will be coming true.
Furthermore, because of the high-quality nonstick coating, you can expect dependable food release and ease in cleaning. To top it all off are super resistant glass lids, which allow for superior heat and moisture retention while cooking. No matter the ingredients in the pots, we believe it will taste wonderful and be chock-full of its original nutrients.
So what's in the package? With this set, you're getting the best nonstick cookware set with two covered saucepans (1.5 and 3 quarts), one stockpot of 8 quarts, a grill pan of 12 inches, two French skillets (8 inches and 10 inches), and a covered saute of 3 quarts. You won't be lacking anything no matter what you're cooking.
Highlighted Features
Robust hard-anodized construction for enhanced durability
Available in 5 attractive colors, including bronze, indigo, and graphite
11-piece set has everything you need for a well-stocked kitchen
Safe for use with the oven for up to 400 degrees F
SureGrip handles with dual rivets for a comfortable grasp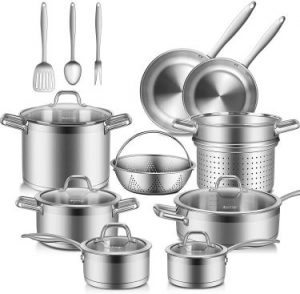 Whether you're an expert cook or a beginner, you will no doubt be able to appreciate the benefits of stainless steel cookware. This offering from Duxtop embodies everything about stainless steel utensils that we love: durability, even heat transfer, and a lightweight yet sturdy construction.
Constructed from 18 to 10 food-grade stainless steel, each of the pieces in this 17-piece set promises to efficiently retain moisture and flavor for whatever ingredients you're working with. Furthermore, due to a heavy-bottomed design, these pots and pans will be perfectly suited to your glass top stove.
And speaking of the design, we also love the fact that all the pots and pans in this induction cookware set feature straight, steep sides, which resist inconvenient boiling over and spilling of the contents. As you can imagine, this is great news for the health of your glass top stove.
What's more, the pieces in this set are all designed for ease and convenience. We're talking, of course, about the large, riveted handles. These allow you to maneuver the cookware with ease, and stay cool throughout to make your cooking experience much more comfortable and rewarding. On that note, measuring out the right proportions is also an effortless process thanks to the clear measuring marks inscribed within each of the pieces.
Highlighted Features
Comes with snugly fitting tempered glass lids which effectively seal moisture and heat
Large riveted handles stay cool and allow for easy maneuvering
Also compatible for use with gas, halogen, and electric cooktops
Premium 18/10 food-grade stainless steel pan construction for dependable durability
Includes 17 pieces of the most wanted cooking utensils
No matter how long you've been conducting your research into the world of cookware, the chances are low that you haven't already heard of Calphalon. With over half a decade of experience in producing quality cookware, this is a brand that you can almost blindly trust.
So what do they have for us today? This 10-piece set has impressed us for a number of reasons. Made from hard anodized aluminum, all of the pieces in this set are ceramic frying pan with a powerful non-stick solution. Each piece also comes with easy-to-read measuring marks, which make for an easier and more convenient cooking experience.
The glass lids included with 3 of the cookware pieces are all built from tempered glass, which promotes healthy retention of nutrients, flavors, and moisture. Consequently, your food will not only taste great, but it will keep its texture and consistency.
What makes this one of our favorite sets, however, are the included boil-over inserts. These inserts are what makes this set so perfect for use with a glass top stove since they prevent spills and boils that might potentially. Not just that, but since the insert has a convenient opening for stirring, your cooking process won't be interrupted. And don't worry; the inserts are made from BPA-free silicone, so there are no health concerns.
Although relatively expensive compared to others in this range, this is a cookware set that is definitely worth your attention. Not only is it made for accessible and easy cooking, but it promises to stay functional for many years to come! All in all, you certainly couldn't be blamed for thinking that this is the best nonstick pan.
Highlighted Features
Durable and dependable hard anodized aluminum construction
Boil-over inserts prevent spillovers that might harm your glass top cook stove
BPA-free silicone inserts are super healthy to use
Convenient measuring marks make for an easy cooking experience
Safe for use with other cooktops including electric, gas, glass, and halogen
Next on our list is a beautiful 11-piece stainless steel set from Circulon that will appeal to anyone who loves to cook but perhaps doesn't do it so frequently. With a reliable stainless steel construction and myriad functionality features, this is a set with a lot to offer.
With a dependable PFOA non-stick coating and a collection of all essential pieces, these stainless steel pots and pans are suitable for cooking any number of your favorite dishes. This is achieved through an impressive fully-encapsulated base that promotes even and efficient heat conduction.
The overall functionality and usability of this set are also commendable. All the pieces in the set are compatible with both oven and dishwasher use, which of course, saves you much time and effort. Furthermore, they're built to be safe for use with metal utensils as well. You will also no doubt appreciate the large dual-riveted handles, which make for easy handling and maneuvering in any busy kitchen.
Highlighted Features
Long-enduring non-stick coating compatible with metal utensils
A fully-encapsulated base allows for even and efficient heat transfer
All pots and pans in the set are safe for use with the dishwasher and oven
Robust glass lids are built to resist shattering
Dual-riveted handles with silicone fortification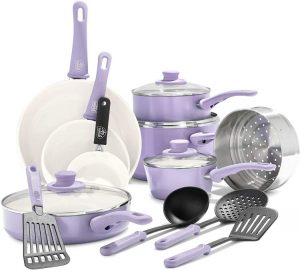 Although ceramic is not the best choice of construction material for glass-top stove-compatible cookware, this non-stick set from GreenLife is a uniquely impressive exception. Its high rating is justly earned, making it one of the best ceramic pots and pans sets for glass top stoves that we have come across.
Equipped with 16 pieces of essential cookware components (including lids), this set has been constructed from sand-based ceramic, which has been treated to be free of PFAS, PFOA, cadmium, and lead. This translates to an easy and convenient cooking experience that will appeal to you if you like whipping up last-minute meals.
The ease of cleaning that you will appreciate with this cookware set is another great feature of it. Not only is it dishwasher safe, but it's also super easy to wipe clean by hand. And don't worry; this set is perfectly compatible with your glass top stove, thanks to an innovatively designed wobble-free base.
We're quite a big fan of the design of the pieces in this set as well. With non-riveted interiors, the pots and pans in this set make for a smooth, snag-free cooking experience. This is further enhanced by Bakelite handles, which are soft to the touch but firmly affixed to the pots and pans.
Highlighted Features
Available in 8 attractive colors, including lavender, red and blue
14-piece set includes all the cooking essentials for any kitchen
Easy to clean by hand or in the dishwasher
Premium constructed glass lids with superior moisture and heat retention
The reinforced wobble-free base is ideal for use with glass top stoves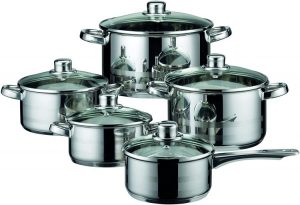 From ELO comes this beautiful and durable 10-piece stainless steel set, which has been designed for ultimate compatibility with your glass top stove. Constructed from robust 18/10 stainless steel, each of the pieces in this set has been polished with a beautiful high gloss both internally and externally.
But what really stands out about this set are the included glass lids. Each one has been equipped with a stainless steel rim to promote the trapping of moisture and heat. Furthermore, because the lids are transparent, you can easily keep track of your cooking progress.
We said earlier that this set is a perfect companion for your glass-top stove. Our reason for saying so is the cookware's capsulated bottoms, which allow for perfectly even heat distribution via your glass induction cooktop. Even better, these guys are compatible with electric or gas stoves as well, so if you were looking for the pots and pans for gas stoves as well, this set is the all-in-one answer!
Highlighted Features
Each pot and pan comes with a capsulated bottom for even heat distribution
18/10 stainless steel construction with beautiful high-gloss polish
All transparent lids are equipped with a stainless steel rim for enhanced moisture retention
Dishwasher safe for ultimate cleaning convenience
Also compatible with gas, electric, and glass-ceramic cooktops
Not everyone is looking to spend their money on large cookware sets of 8 or 15 pieces. If that sounds like you, or if you're looking for a cookware set on a smaller budget, then you'll really like this next pick from VISIONS.
The transparent glass design of this 4 piece of cookware set from VISIONS is the perfect way to watch over your food while it cooks. The components that make up this set include two round stewpots and one saucepan with a glass cover.
The low-maintenance design of the cookware is perfect for those of you who are always running on a tight schedule. Simply cook your favorite dishes and then pass the dirty pots and pans in your dishwashing tray and you're all set. We also love the versatility of the nonporous glass-ceramic material used in the construction of this set, as it keeps the flavors in your food intact.
Also, as the material is completely non-reactive, it means the acidic ingredients of your dish will not react with the interior of the cookware. Don't be disheartened by the see-through glass-ceramic construction. You can use all the components of the set to cook in the oven or broiler.
Highlighted Features
Dishwasher safe material makes for effortlessly easy cleaning
Glass-ceramic construction can withstand high temperatures
Can be used to cook in ovens, broilers, or stovetops
Transparent design lets your watch over your food as it cooks
Non-reactive material prevents any sort of ingredients from reacting with its interiors
Whether it's for your glass-top stove or your oven, this elegant turquoise cookware set from REDMOND will be a beautiful addition to your kitchen. This set features 8 beautifully constructed pieces to cater to all your needs. From nonstick frying pans to casserole pots, this piece has it all.
To start off, we must take into account REDMOND's attempt at keeping their materials eco-friendly. The ceramic coating which prevents your food from sticking to the base of the pan is both PFA and PFOA-free, so you can do away with any health concerns. Furthermore, whenever you use butter or oil for cooking, you will require less of the usual amount as the nonstick coating increases the lubricating qualities.
If you're not a fan of doing dishes and can't bother to hand wash every piece individually, then this set is ideal for you. As this cookware for electric glass top stove is dishwasher safe, you can cook and then stuff them in your dishwashing tray to keep them squeaky clean. It's as simple as that!
Highlighted Features
Aluminum alloy construction spreads heat evenly while cooking
Stainless steel base allows for a faster heating capacity
The transparent glass lid allows you to keep a watch over your food while cooking
Non-stick coating prevents your food from sticking to the base
Also compatible with gas, electric, halogen, and ceramic stove tops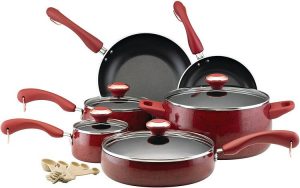 If you're looking for cookware to cater to your need of experimenting with various cuisines, then look no further. This 15-piece set from Paula Deen has everything you need from cookware pots and pans to even spoons!
The premium-grade build of these cookware pieces greatly enhances their durability. The core of each piece is constructed from heavy-duty aluminum, which not only heats up faster but evenly distributes heat to cook your food all the way through.
The non-stick coating is one that must be given credit. Paula Deen has done wonders when it comes to this coating as it prevents your food from sticking to the pan and also makes the cleaning process easier.
When it comes to transparent lids, lower durability is a commonly seen issue. The lids in this cookware set all come with an innovative shatter-resistant design that enhances the longevity of the glass. The fit of the lids with the pan is also quite snug, resulting in the proper locking of steam and flavor retention in your food.
Highlighted Features
Comes with dual riveted oven-safe handles that can withstand high temperatures
High-quality non-stick coating for easy cleaning and efficient cooking
Durable yet lightweight aluminum build for even heating
Shatter-resistant lids for enhanced service time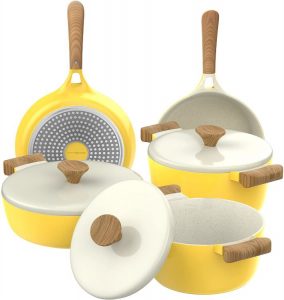 This next 8 piece set from Vremi comes in a beautiful summery yellow color that will complement any kitchen aesthetic. Packed with some of the best features, this set of pots and pans is one of the Best Ceramic Nonstick Cookware Sets we have come across during our research.
Right out of the box, you will receive 8 pieces of the highest-quality ceramic cookware. Included within the set are 2 Dutch oven pots, 1 lidded casserole pot, and 2 angled frying pan skillets. This cookware combination will serve all your basic kitchen needs effortlessly.
In addition, maintaining each piece in the set requires minimal effort. So if you usually work on a busy schedule, you'll appreciate this feature. The dishwasher-safe design enhances the ease of maintenance as you don't have to hand wash each piece separately.
Vremi has taken its time in designing some of the best wood-tone handles for this cookware set. The ergonomic design on the lid top and handles make them easy to grip and handle. Furthermore, the pans have an increased arc on one side, which aids the flipping process.
Coated with high-quality ceramic, this cookware set will undoubtedly last you for many years to come. The core of the cookware sets is made of die-cast aluminum, which promotes even heating. This helps cook your food evenly without having to worry about any elements being raw.
Highlighted Features
Dishwasher safe design makes it easy to clean
Ceramic coating with aluminum core evenly distributes heat
Wooden handle and ergonomic lids for an easy and sure grip
Curved design on pans for easier flipping
The high-quality ceramic coating enhances the pieces' durability
Facts to Consider Before Choosing the Best Cookware for Glass Top Stoves
Glass top stoves usually cost a pretty penny, and anyway, they're way too beautiful to be mistreated. So before you buy a cookware set for it, make sure you keep the following factors in mind—otherwise, your precious stove is in danger!
Construction Material
As you might be able to imagine, the most important consideration when choosing out cookware for your glass stove is the material from which it's made. Your options include stainless steel, anodized aluminum, titanium, and copper. Let's have a closer look at each kind, with a special note on cast-iron cookware.
Stainless Steel
Easily the most popular material for cookware construction, stainless steel is recognized worldwide for its strength, durability, economy, and simple aesthetic appeal. What's more, it's safe to cook all kinds of food in stainless steel cookware, as there is no chance of a reaction.
That being said, it's also important to note that not all stainless steel cookware can provide adequate heat transfer capabilities. Some modern sets, however, do come with a "sandwiched" conductive core that incorporates aluminum or copper in the construction. This enhances the cookware's abilities for heat distribution.
Aluminum
If you're on a budget, then aluminum cookware is where you should be directing your attention. It's a dependable cookware material for everyday meals and does not scratch easily; however, there are some important drawbacks to aluminum cookware. To begin with, its heat conduction abilities are less impressive, and there is some risk of reaction between aluminum cookware and alkaline/acidic foods.
Titanium
Although expensive, titanium cookware is of high quality, durable, and highly resistant to corrosion. Furthermore, it's lightweight and easy to handle. However, because titanium by itself is incapable of proper heat transfer, it's usually made with a combination of aluminum with a non-stick coating of fused ceramic-titanium.
Copper
Copper pots and pans are popular for use with glass top stoves due to their minimal weight, which makes them easy to lift and set down (which is how cookware should be handled around glass top stoves). More importantly, they offer superior heat conduction. Furthermore, they're very easy to clean as well!
One drawback is that most copper cookware does tend to scratch easily. What's more, copper is usually quite reactive with the food in the pan. For this reason, you will typically find copper pots and pans lined with steel or tin.
Cast-Iron
You can sometimes get away with using cast-iron cookware on a glass top stove, but this is only if the manufacturer's instructions expressly say so. Not only is cast iron skillet quite heavy, but its exterior is also rough and abrasive. So even if you do use cast iron skillet on your glass stove, remember never to slide it over the stove's surface, rather lifting and placing gently.
The cookware you should avoid at all costs are those made from porcelain enamel, ceramic, and glass, as these are subject to potentially melting if combined with your glass top stove—in most cases, an irreversible blunder.
Shape and Design
One of the most common mistakes that new owners of glass top stoves make is not paying attention to the shape and size of their cookware. Because a glass top stove has a smooth, flat surface, it requires cookware that also comes with flat, smooth bottoms. Not only does this allow for a more efficient heat transfer system, but it prevents any damage (e.g., scratching) to the cooking surface due to a lack of warps, bumps, or dents.
Cookware Size
Take a look at your glass top stove. Go on, look. What do you see? Burner markings—indicators of where the burner beneath the surface stops and starts. Paying attention to these markings is important because you don't want to end up with cookware whose size exceeds these outlines.
Why? Once again, it comes down to heat transfer. If your cookware is smaller than the marked burner outlines, some heat loss will occur, causing cold spots inside/outside the cookware. If it's bigger, heat transfer will require more energy and, as a result, might interfere with the cooking process.
However, all this doesn't mean that you have to find cookware with dimensions exactly matching that of the stove diameter. As a rule, you simply have to ensure that the cookware diameter does not exceed more than an inch of the stove diameter.
Cookware Height
When it comes to glass top stoves, deeper cookware is your friend, as they are less likely to allow spills and boil-overs. This is important as spills, and boils are likely to create stains on the surface of your glass top stove. Not that these are impossible to remove, but it's a hassle, nonetheless.
Cookware Weight
If there's one thing we can all agree on, it's that glass top stoves are fragile, even if they have been fortified with chemical reinforcements. This is why it's important to prioritize using lightweight cookware and skipping heavier ones. Otherwise, you might end up with cracks and chips on your cooking range.
However, this doesn't mean you have to swear off of heavy cookware forever. In fact, weightier pots and pans might actually be beneficial for your glass top stove in the sense that they will more easily stay in place when you cook. Furthermore, pots and pans with weighty bottoms might even facilitate better heat conduction.
On that note, it's important to look out for a weight limit specified by your stove manufacturer (even if you can't find this information in the user's manual, it can typically be found on the manufacturer's website). Not only will this keep your glass top stove safe, but prevent you from potentially voiding its warranty (a nightmare).
Cookware Color
Most of us here love a good brightly colored cookware set. Not only does it make cooking more fun, but it adds a pop of frivolity to the kitchen too!
However, if you also love your glass top stove, then you're better off avoiding cookware that is colored. This is because such cookware is always at a risk of leaking its colors onto your glass top stove, which in turn might create immovable stains.
But don't worry; this doesn't mean that you have to swear off-colored pots and pans entirely. Not all colored cookware will melt/leak when in contact with a glass stove; specifically, we're talking about those that have been heat-treated at high temperatures. So if you still really want some colorful cookware, be prepared to shell out a little bit extra.
FAQs About Glass Top Stoves Cookware
1. Is it okay to put glass top stove cookware in the dishwasher?
Ans: This varies from one cookware set to another, so you should check the manufacturer's instructions. That being said, most modern cookware sets meant for glass top stoves are compatible with the dishwasher.
2. How do I ensure that the non-stick coating of my cookware stays on?
Ans: Be careful when cleaning them, avoiding abrasive cleaning solutions or tools. Don't ever use metal cooking spoons on a non-stick pan. And, always use cooking oil to season the pan before cooking.
3. Is it okay to use cast-iron cookware on a glass top stove?
Ans: Not unless explicitly stated by the manufacturer should you ever use cast-iron pots and pans on a glass top stove. They might scratch the glass surface.
4. What construction material is best for glass top stove cookware?
Ans: Stainless steel is the most popular choice, thanks to its strength, durability, and heat transfer capabilities. However, it also depends upon your personal cooking preferences and needs.
5. Why is special cookware required for glass top stoves?
Ans: Glass top stoves are such that they can only conduct heat onto metallic surfaces. Furthermore, they work best with flat-bottomed cookware as bumps or dents can easily damage the glass surface.
Final Words
The best cookware for glass top stoves are undoubtedly those that offer dependable durability, even heat transfer, and of course, compatibility with your glass cooktop. With that in mind, we've chosen the Calphalon Classic Pots and Pans as our top pick today.
Looking for something a little more affordable? Then we'd suggest going for the GreenLife Ceramic Nonstick surface, which offers great functionality at a significantly lower price.
We hope you enjoy your new glass-top stove and that your dishes always come out tasting delicious. Good luck!