Not all cooktops are the same; from temperature to speed, adjustability to outlook, the types of cooktops vary a lot. And so, you should know the details to choose one!
Here, we will discuss the different cooktop types so that it is easy for you to set up your new kitchen or to remodel the old one!
Have a look at the common stovetops and thank us later!
Different Types of Cooktops & Their Usage
There are several stovetops available but we will only discuss the common types of cooktops here that are loved by the users. Have a look!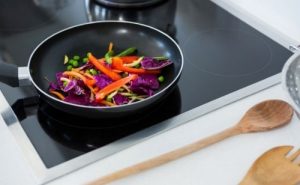 If you have ever used an electric cooktop, it is not complicated for you to understand the induction cooktop. In such a stovetop, electromagnetic energy is used for providing the required amount of heat so that you can cook food.
There is a flat surface made of ceramic included here to keep the pots and pans. Below that, there is an element that helps in creating a magnetic field. As a result, this magnetic area will react to the cookware that is made of elements that attract the magnet.
No matter you use iron, stainless steel, or steel, there will be a reaction along with vibration. In conclusion, you will get heat to cook food. In most cases, the induction cooktops are prone to scratches. But if you want a scratch-resistant cooktop, get the high-end ones.
If you compare such stovetops with the electric ones, you will see that the heating up facility is faster here. On the contrary, the adjustable temperature gives you the control too! However, these stovetops are highly expensive and if you are searching for a cooktop on a limited budget, this might not be the answer.
The best part is you will get premium cooking power here with exceptional temperature control. Along with this, there will be additional safety options for you too!
---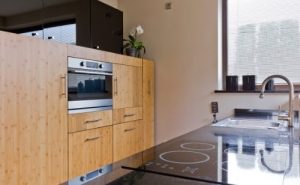 When you deal with the right temperature, the gas stovetops can be an annoying option. But if you want the perfect temperature, the first only you can get your hands to is the electric cooktops. Most electric stovetops require a coil burner for cooking food.
However, in course of time, other smooth tops designs have come. No matter which style you pick, you will surely get accuracy and precision on the temperature selection! Along with this, consistency is highly maintained in this situation!
Unlike the gas ones, you do not need to use gas here. All you need is electricity so that you can heat the burners of the stove. You have electricity in your house and so, you do not need to worry about investing money in buying gas anymore!
On the contrary, if you need something easy to set up, this can be your first preference! The only drawback of the electric stovetop is it the less responsive than the gas cooktops and so, it takes time to get heated up.
On the other hand, it also takes time in cooling down. All you have to do is afford some time to the cooktops to get the right temperature and to calm down after you are done!
Now, let us discuss in short the two types of electric stovetops so that you can learn the difference before you purchase them.
Coil: On the surface of some electric stovetop, there is a coil added. These will provide heat to your kitchen pots and pans. However, keep in mind that the coils are highly vulnerable and can create messes. On the other end, these are highly affordable in price!
Smoothtop: Stovetops that include radiant elements that work identically as the coils are called Smoothtop. In such a situation, there is a glass surface on the electric top and it is smooth and easy to clean. Under it, there are the radiant elements added. This provides uniform heat distribution in a shorter period than the coils.
---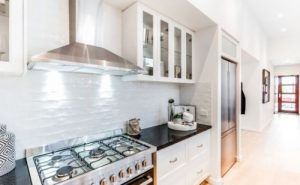 The first name that comes into our brain when we deal with the different types of cooktops is the gas cooktop. These are common and can afford you the ultimate heat and cooking power. You will get a high temperature along with controlled heat.
The adjustable feature for heat makes it easy for you to control the temperature and whenever you need fast heat-up, you can rely on these. There are various designs of gas cooktops. The power burners are designed for reaching the highest temperature quickly and there are also simmer burners for controlled heat.
If you get a high-grade cooktop with additional features, you might get added components for cooking restaurant-like food! The problem regarding these cooktops is temperature perfection. As these include knob, it is tough for you to understand if the temperature is exact or not.
You will need gas for using such cooktops and so, this can be annoying in some cases for some people. Compared to the other cooktops, these are not very good-looking. Though some high-end brands afford you some handsome-looking gas cooktops, you might be a bit sad if you have to fit it inside a posh kitchen setup.
---
The cooktops discussed above mostly will require your fan or range hood. In some cases, you do not like the outlook of the additional hood. It is also tough to install the range hood. Some kitchens don't include the space to install it. If you have any of these problems, a downdraft cooktop can help you.
These stovetops include a direct ventilation system. There is a vent between the two burners of the stovetop. And the work of this is similar to the range hood. It will extract the smooth and steam when you will cook food on your cooktop.
As a result, you get the benefit of adding a range hood and freeing the space above the stovetop. You can now install added cabinets and racks there as you have space. It will also not look bad!
---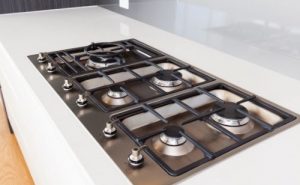 If you are planning to get a cooktop that can do all that you have dreamt of, this can be your option! In such stovetops, you can get the opportunity of adding all your favorite cooking elements. As a result, you get everything you need for cooking here. Passionate or professional cooks can be highly benefited by this method.
The best part is you can add induction, gas burners and electric cooktops can be arranged together. So, you are getting a customized cooktop perfect for your cooking skills. From deep dryer to grill module, steamer to downdraft ventilation, you can add anything and everything here according to your preference!
---
You May Also Love to Read: Different Types of Cookware
Wrap Up
So, now, you have already learned about the different kinds of cooktops that are available for you. Each of them has different facilities that the others cannot afford. So, before buying, you have to check the details so that you can know which one is perfect!
Don't forget to comment below which one you have. Share with us the positive and negative aspects of your cooktop.