Induction utensils are expensive. On the other hand, if you have bought a new induction cooktop, you might not have the induction cookware ready in your house. In that case, do you know how to use non induction cookware on induction cooktop?
We are here with the solutions! Today, we will discuss how you can use the same old non-induction cookware and turn it into cookware that you can use on an induction cooktop!
Are you ready? Let's jump right into it!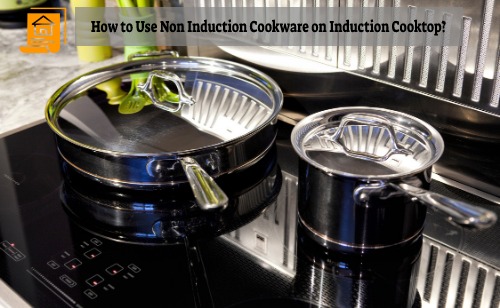 Methods of Using Non Induction Cookware on Induction Cooktop
If you have purchased a new glass stovetop and still don't have induction cookware, we can help you out! Here are some easy tricks to tell you how you make your cooking life easier with the non-induction cookware with such a cooktop!
Interface Disk or Converter Disk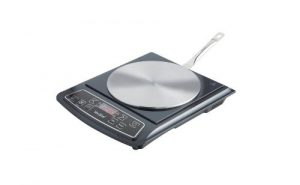 The Induction cooktop is tough to deal with if you don't have any induction cookware. There is some induction cookware that is scratch resistant but some are not. In every case, we suggest you get induction utensils for this. But if you don't have any, there are ways to use them too!
If you search for the non-induction cookware that can be used on an induction cooktop, the first thing you will know about is a converter disk. Yes, this is the most popular method for turning the non-induction cookware into something that can be used on the induction cooktop. This is also known as an interface disk to the users. The interface disk or converter disk is flat. This is designed with iron. In some cases, stainless steel is also used for construction.
And this constriction material creates a connection between the non-induction utensil and the induction cooktop in your kitchen. The work of the disk is to serve even heat to all parts of the pan. On the other hand, it also has a handle that will not heat up at all! Firstly, you have to get your hands on the metal disk and then position it on the induction cooktop.
After placing it, you have to take the cookware and put it on top of the previous one. The disks that you are using in this situation are thin and so, they are capable of distributing uniform heat. On the other hand, these are weighted too so that they can keep your utensils in the right place. So, when you place it between the cooktop, it stays in its place securely.
And it never slips around in between the process! In this case, you must keep in mind that the cookware you are using has a smooth bottom part. In some cases, people use cookware that includes dents and imperfections. If you are doing it, you must stop it because when you do it, the air usually gets trapped in the areas where there are imperfections.
As a result, the whole cooking process slows down and at times, it takes too much time to cook your food! Here, keep in mind that if you do it, the disk is not capable of transferring the heat to the cookware. On such occasions, the heat usually escaped into the surrounding air. In other cases, the heat might also go back to your induction cooktop.
There might be overheating issues. It usually affects its wattage. So, you must remember this when you are using an interface disk or a converter disk. Or if you don't want to work this much, you can simply buy a glass top stove cookware and cook with it!
Steel Wire Mesh Sheet
However, you might not like to spend so much on the process of how to use non induction cookware on induction cooktop. In that case, you can always settle for a cheaper option. Yes, the cheap option is to get a sheet of steel wire mesh. You can easily get this product in any hardware store near you. It is not only a cheaper option but also an easier one in comparison to the other methods. In this process, you will also need a wire cutter.
With the help of this, you have to cut out the mesh sheet. The shape of the piece you cut should be double the shape of the induction cooktop surface. Now that you are ready with the piece of the mesh sheet, you have to fold the sheet in half. When you do this, you will see that you get two layers of a mesh now. After this, all you have to do is position the mesh on top of the cooktop. When it is ready, search for the non-induction appliance and you have to position it on top of the two-layered mesh sheet.
In some situations, you might not like to cut the sheet as it is time-consuming. If you don't want to cut it, you have to be extra careful while working with the mesh. When you will cook, keep your hands away from the mesh. The mesh will be hot and so, keep your distance from it. No matter what you do, you have to fold the mesh and make the layered double.
If you do not cut it off beforehand, while removing it from the cooktop, certify that you are wearing heat-resistant gloves. When you are using this method for cooking, the cooking time of the food will be lessened. If you are going for the large pots, the time will be reduced more. So, you won't need to cook for a longer period!
Our Recommendation
The ways we have mentioned above are great if you want to work with them a few times. However, for long time use, we always recommend you buying induction utensils so that you can keep your cooktop safe and also improve the cooking performance.
Usually, the bottom of the induction cookware is made of ferrous metal and the bottom surface is flat. As a result, you cannot use the aluminum cookware in this case. Also, the copper utensils are a no-no for the induction stove. However, cast iron is very commonly used for this purpose. You can get your hands on the stainless steel cookware.
Keep in mind that not every glass stove cookware will work on the induction cooktops you get to see in the market. Make sure you know the details of the cookware you are buying to use on the induction cooktop.
Wrap Up
As you have already known how to use non induction cookware on induction cooktop, now, you can deal with it. However, we always recommend you get the induction cookware for the induction cooktop to ensure safety and better cooking.
If you want to learn such tricks to improve your kitchen skills, you can check out sites. We have all the solutions to your problems!