A healthy lifestyle often starts from your diet and also how you prepare them. A good cookware set ensures that your food is not overheated or burnt. Every piece of cookware comes in handy and plays a unique role to present you with a perfect dish. Hence, choosing the best scratch-resistant cookware is a part of your healthy lifestyle.
To help you choose the best cookware, I have listed and reviewed some of the finest scratch-resistant cookware on the market. I have also answered some frequently asked questions at the end of this article. So, stay tuned.
Quick Summary for Top 6 Products
Transparent glass lids with vent holes, Proper heat distribution, heat-Resistant handles, Easy-to-clean, withstand up to 500° F cooking temperature.
Stackable, Comfortable, ideal for induction cooktops, Triple-coated finish, very safe, long-lasting performance.
Marble-coated pans and pots, little oil needed for cooking, knobs, lids and handles are heat-resistant, even heat-distributions, dishwasher safe.
Dual-riveted bakelite handles, heavy-duty aluminum bottom, Nonstick, kitchen friendly, very sturdy structure, stain-free porcelain enamel exterior.
Tripe granite layers, top-notch mineral coating, oven-safe up to 500° F, prevents PFOA, robust speckled exterior, Easy to clean.
Crafted with Hard-anodized aluminum, Riveted silicone handles, Titanium interior, Thermo spot heat indicator, User-friendly, ergonomic handle.
Top 6 Best Nonstick Scratch Resistant Cookware Sets Reviews & Buyer's Guide in 2021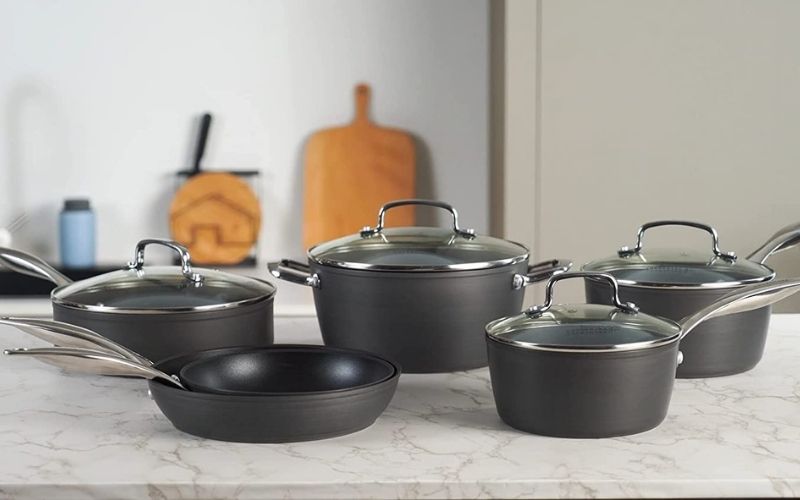 Scratch resistant cookware is a great investment for any kitchen. Here is our list of the top 6 cookware sets, all have excellent and unique features that will make you feel much safer while cooking your favorite dishes!
Highlighted Features
The non-stick cooking pots and pans come with transparent glass lids.
Vent holes ensure that there is a way out for steam.
The heat is evenly distributed all-around with a maximum cooking temperature of 500° F.
Handles are heat-resistant and comfortable.
The cookware set is stain-resistant. Hence, you can clean them with minimal effort.
Can be used on gas, electric, ceramic, and induction counter cooktops.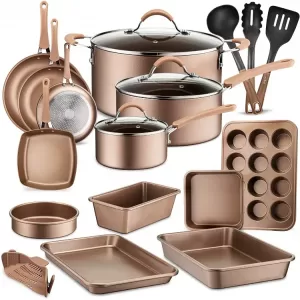 Our first wizard of the list from NutriChef and it is arguably the best nonstick cookware set on the market. This kitchen set is perfect for a beginner cook as it presents 20-piece nonstick kitchen cookware including a bakeware set, nylon utensils, silicon drainer, open frypan, grill pan, soup ladle, etc.
With heat-resistant, ergonomic handles these pots and skillet fry pans are great for cooking on gas, ceramic, or induction countertops. Made of aluminum with a multi-layer coating they can be used almost anywhere!
As they are stain-resistant, cleaning various items is an easy job to do. Besides, these cookware set is easy to clean and protects you against burns due to the no-heating handles. These features make them a wonderful way of cooking your favorite foods!
Highlighted Features
All items including lids, pots, and pans stack on one another, keeping the cookware set organized and saving more space.
The handles of pans and pots remain cool all the time, offering you a safe and comfortable cooking experience.
The items work on induction cooktops as well as flame-powered stovetops.
Triple-coating finish resists scratches and warping.
The non-stick cookware set stays in good condition for long many years.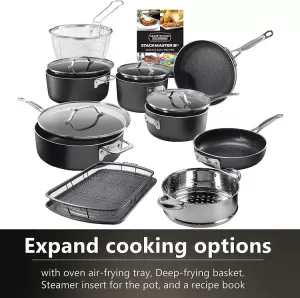 Granitestone is one of the most popular brands for kitchen items. The 15-piece cookware set is easy to organize. A small space is sufficient to store all items of this cookware. But this is not the only advantage of it.
Cook with more confidence by using Granitestone, which is compatible induction counter cooktops as well as standard glass stovetops. The pots and pans offer you a safe cooking experience since the handles are heat-resistant.
Besides, the stain-resistant items are easy to clean and store. Frying pan, saucepan with lid, fry basket, fry pan with lid, and stockpot with lid is the amazing items you can find in one package. The durable construction makes it the best nonstick induction cookware on the market.
Overall, this non-stick cookware set will serve for a long time and is worth the investment.
Highlighted Features
Marble-coated pans and pots offer you an easy and safe cooking experience.
A little amount of oil is sufficient for cooking and frying various items.
The handles of pots and pans are heat-resistant. As a result, you can hold them anytime during cooking without the fear of harm. The applies to the lid knobs as well.
Tempered glass lids are transparent. Hence, you can view what's going on inside.
The vents on the lids make a way out for the steam.
The pans and pots conduct heat evenly and quickly. Plus, they keep the heat for a while.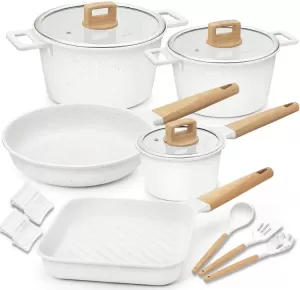 COOKLOVER has come with a 15-piece cookware set that is durable, easy to use and clean, and suitable for most cooktops. Yes, the cookware set is suitable for induction, gas, ceramic and halogen stoves. However, it isn't recommended to use the pot in an oven as this may damage the product. Also, the handles and knobs are heat resistant.
Cooking is even more enjoyable with the surface of pans and pots receiving heat evenly from all sides. You can enjoy making a healthy dish while also cooking, as you won't have to worry about uneven heating on your cookware.
The tempered glass lids that come with this cookware set are transparent. This makes it easy for you to see when something is cooking inside of the pot or pan without having to remove the lid, which saves time and prevents loss in heat transfer.
As they conduct heat very fast and keep it for a while, you can ultimately save a lot of time. The aluminum construction and balanced weight make the items robust and durable. Not to mention, it is one of the best dishwasher-safe nonstick cookware sets of cookware industry.
Highlighted Features
The porcelain enamel exterior keeps the cookware stain-free and bright.
The nonstick inner surface offers you a wonderful cooking experience.
The aluminum bottom is thick and heavy. Hence, it distributes evenly on all sides.
Dual-riveted bakelite handles offer you a tight and comfortable grip.
This cookware is suitable for most kitchen setups except the induction cooktop.
Suitable for ovens at up to 350° F temperature.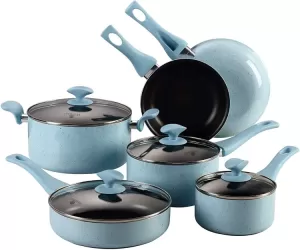 COOKSMARK is another choice for those who are looking for the best non-scratch pots and pan sets. The Thick Aluminum bottom makes it more robust, heating the surface evenly and steadily.
Moreover, its high-quality aluminum creates a thick and heavy surface that distributes heat evenly across the surface due to its natural capabilities. Bakelite rivets ensure that you have an easy grip on your pot while providing durability for long-term use.
In case you overheat the pan or pot, the item still does not release any toxin. The surface gives you a great nonstick experience, keeping your food healthy and delicious. The handles and knobs are easy to hold, which is a necessary thing for cooking.
What is more interesting is the versatility of the cookware. It is perfectly suitable for most kitchen setups. The only downside of this cookware is that it cannot be used with induction stovetops. This set can also withstand temperatures up to 350° F and are oven safe, making them a popular choice for many kitchens today.
Highlighted Features
Tripe granite layers make the items robust, prevents scratch and warping.
The good-quality mineral coating ensures a nonstick experience for the user.
The pressed aluminum inner layer conducts high heat on the surface evenly.
It is oven-safe up to 500° F.
It also prevents toxins such as PFOA, etc.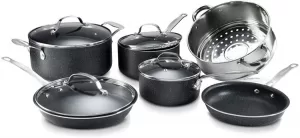 Here is another top-grade cookware set from Granitestone. In my opinion, it is the best Pfoa free cookware set. Additionally, this 10-piece cookware set is super durable as well as comfortable.
With a perfect mineral coating, the cookware offers you a nonstick experience when cooking. Hence, you can have a healthy dish without any burns or smoky smells. Also, you can easily clean these utensils right after your cooking it over.
The extra durable speckled exterior of this pan makes it easy to cook healthy meals, and the nonstick coating requires no oil. The high-quality construction ensures that you'll get years of use out of your pans – making them perfect for busy kitchens!
The cookware set also prevents toxins such as PFOA and other harmful chemicals from contaminating food when you're cooking. Besides, it is dishwasher and oven safe.
Moreover, this pot set is great for cooking delicious foods, but it's not so good when you're trying to get your food out of the pan. The handles of the pot and lid are hot which make it very difficult to touch after removing from oven or stove top.
Highlighted Features
It is a durable cookware set made with hard-anodized aluminum.
Thermo spot heat indicator ensures perfect preheating.
Riveted silicone handles provide you safety and comfort.
Titanium interior offers you a nonstick experience.

If you are looking to add the best scratch resistant frying pan in your cooking arsenal, this 12 inch Frying Pan from T-Fal guy will be the optimal choice.
Firstly, T-Fal is a popular brand for kitchenware and this particular product is one of the most favorite cookware to many. Also, like other nonstick cookware, it offers a great cooking experience, especially when you fry something on the pan.
These pots are also lovely as they distribute the heat on the whole surface evenly. However, some people have argued that the surface is not flat enough. As a result, the oil or water does not stay in the middle.
Apart from that, there are several things you will love about T-Fal cookware. It is also among the best scratch-resistant cookware on the market. The handles are also ergonomic and comfortable. The Thermo Spot heat indicator on this pan allows you to ensure the fryer is preheated properly so oil doesn't burn your food.
---
How to Choose the Best Scratch Resistant Cookware Set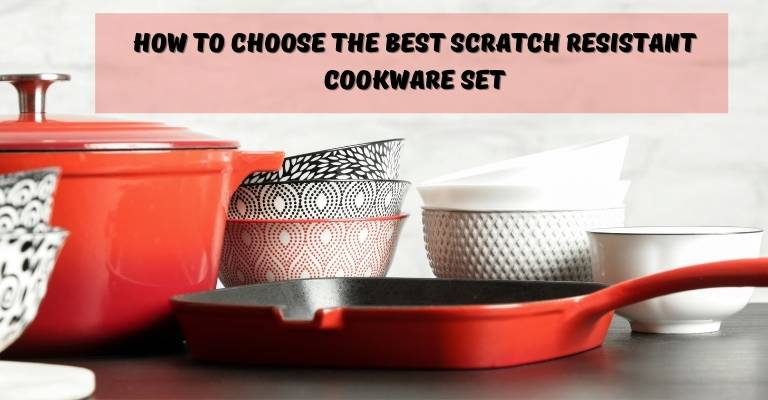 As I have reviewed some of the best scratch-resistant cookware, you may face a dilemma as to which is right for your kitchen. However, several factors can help you choose the right one from this list or other cookware. Here, I have mentioned some of the key factors for choosing the right cookware set.
Budget
Budget is one of the most important things when you go to buy anything. If you are to buy the most qualitative cookware set for your kitchen, you have to prepare for spending several hundreds of dollars, or even more. On the other hand, if you are looking for something less expensive, yet durable and comfortable, consider two more things:
Stick or Nonstick?
Is it Dishwasher Safe?
Why are these Two Things So Important? Here is the Reason:
Stick or stainless-steel cookware is great for cooking stuff when you want a brownish, fried item. But the problem is you have to pour a lot of oil to fry or cook anything on stainless steel pan or pot. Moreover, there is always a chance of food getting burnt or smoky. It is also a hassle to clean the cookware afterward.
On the other hand, a nonstick pan or pot needs much less oil to fry and cook an item. Hence, it is helpful to maintain a healthy diet. Plus, there is no chance of food getting burnt. Also, you don't need to worry about cleaning the pan or pot if you buy dishwasher safe cookware.
Quantity of Included Attachments
You may have noticed that different sets of cookware come with different quantities of items. The more item you buy, the more versatility you can achieve. However, if you don't need a lot of items other than the pans and pots with some additional pieces, you can avoid spending money on a large number of items.
A 20-Piece cookware set comes with double pans, double pots of different sizes. But most households don't need a 20-Piece cookware set. Rather a 10-Piece cookware set could serve perfectly. A 15-Piece cookware set is also a moderate quantity.
Types of Cooktop
There are several types of cooktops such as gas stoves, ceramic, halogen, and induction counters. Some are considered as scratch resistant cooktop, while others are not. This type of cooktop is good for long-term use.
Most of the cookware sets are compatible with gas stoves as well as other types. However, many cookware sets do not sit on an induction counter.
Some people also have glass cooktop. If you are one of those people, you have to look for a cookware for glass cooktop. The bottom line is, you have to check the compatibility of a cookware before you can buy one.
Design and Ergonomics
Designs and ergonomics are an important part of a cookware set. You would come across so many designs, you will be perplexed as to which one is the most beautiful and comfortable. The handles and knobs are also important. Make sure the lids have a small hole which is a way out for the steam.
Special Features
Oven Safe: Most of the pans can settle at a 400° F temperature. But some lids and handles may not. Not choosing the right set that is compatible with your oven may be a hassle. Hence, observe the pans and lids and see if they are compatible with your oven. Ask the seller if get confused.
Dishwasher Safe: Many cookware sets are not dishwasher safe due to their weak construction or coating. If you lose the coating, the pan or pot will become useless sometimes. So, make sure the scratch-resistant cookware set is dishwasher safe for cleaning convenience.
FAQs About Scrtach Resistant Cookware Set
1. Should I buy different Cooking Pot and Pan Individually or a Full Cookware Set?
Ans: You can buy items in both ways. Buying items individually may cost a little more in the long run, but this way you can buy the items you need and avoid others that you don't need at the moment. However, buying a cookware set is a great idea when you are starting a new kitchen from scratch. It saves time and money.
2. Is the Surface of Nonstick Cookware Get Scratched off?
Ans: Yes, most of them get scratched off easily when you use metal utensils. You can avoid it by using wood, plastic, or silicone utensils. However, the cookware sets I have discussed in this article are scratch-resistant. You can buy one of them and rest assured. But be gentle with them when applying dishwashing soap on them.
3. Is Nonstick Cookware is Safer?
Ans: They are safer than the stainless-steel ones. As long as the heat does not exceed over 500° F, you are safe to use them. If the handles are heat-resistant, then it becomes even safer.
4. What are the Most Common Items Among the Cookware Sets?
Ans: Different sets of cookware consist of different quantities. However, the most common items are the following:
Sauce Pan
Frying Pan
Cooking Pot
Lids for every pan and pot.
Utensils
A cookware set may also include baking sheets, steamers, sauce pots, an oven, etc.
Final Words
The cookware sets We've reviewed in this article are the best scratch-resistant cookware sets on the market. However, they are not all the same in terms of quality, quantity, and versatility. But this shouldn't be a problem as We've also discussed how to choose the right cookware set. Carefully observe the features of every cookware set and choose one that is best suited to your kitchen. Good luck.