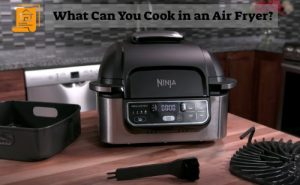 For deep-fried items, an air fryer is a game-changer for all of us. It is an oven and a turbo toaster in a compact size! But without the deep-fried items, there are a lot more than you can cook here! So, what can you cook in an air fryer?
Let us know what else you can cook in your favorite compact air fryer without providing too much effort. It will take less time and effort but will make your food better, we bet! Have a look!
Things You Can Cook in an Air Fryer
What can you cook in an air fryer? From frozen food and crispy snacks to juicy items, you can cook anything here if you practice! However, before buying, check the air fryer types and other details so that you can know what it can cook.
Frozen Food
The first thing that comes in our mind when you deal with a newly bought air fryer is frozen food. It is annoying to prepare frozen food on pans because you need a lot of oil and it's unhealthy. More than cooking, air fryers like Rotisserie air fryers are popular for reheating!
So, you can easily cook frozen food in a fryer when it comes to crispier food. There is a convection function added in a fryer. As a result, hot air can easily surround the frozen food. And after cooking, you get crispy frozen food for everyday snacks!
Cookies
If you are a cookie lover, get an air fryer today! Cookies are easy to cook in an air fryer without providing too much effort! The best technique for making cookies in your air fryer is to keep cookie-dough balls in your freezer if you love cookies so much.
The premade cookie dough will help you reduce the time of cooking easily! On the contrary, if you have it already, you can easily cook one or two when you are hungry. Also, you can make the entire batch effortlessly in a 6 Quart air fryer in no time!
The amazing fact is you do not need to preheat your air fryer. As a result, all you do is get the cookie dough inside and get the freshly made hot cookies in 10 minutes or less!
Chicken Breasts
If you haven't used an air fryer, you wouldn't know that air fryers are incredible for making your perfect chicken breasts. In most cases, people think that air fryer is only good for crispy food. Yes, partially, it is better in cooking crispy food.
But if you dug deep, you will know that the fryer can be a better option to cook juicier chicken breasts too! As the air fryer contains a very compact design, when you cook chicken breast inside it, the juice of the chicken doesn't get space to evaporate.
No matter you have made chicken breast in the oven or glass stovetop with a pan, try this method and you'll fall in love! You can try the air fryer for glazed chicken too! And if you set the heat to high and provide constant airflow, the glaze with easily caramelize on the chicken breast.
You can only know how delicious it is by taking a bite! However, keep in mind that you should not put too much glaze on the breast. You don't want the extra glaze to drip and spread all around the fryer chamber, do you?
Crispy Bacon
Getting perfectly crispy bacon without a bacon maker can be a very difficult situation. Yes, bacon can be the best on your bacon fryer but if you don't have it, make use of the air fryer! As we always say, an air fryer is made for crispy food, we will say it again!
When you make bacon in an air fryer, the fat can easily drip out of the basket. As a result, it stays a bit leaner. Also, the area is less messy, and the cleanup is easier. You do not need too much supervision to get crunchy bacon fries anymore!
Zoodles
Even if you have used an air fryer for the above-mentioned food, you might have never thought of using the same device for Zoodles! Yes, we know it and so, we spill the tea before you! Yes, it is a perfect air-fryer food for your weekends, trust us!
When you cook Zucchini, there will be a lot of moisture. If you use a pan for the process, the soggy mess will be annoying. Thanks to the air fryer because it helps is dripping out the extra moisture out of the fryer basket. And eventually, you get the perfect zucchini noodles without any sogginess!
Steak
Have you ever tried steak in an air fryer? If you haven't, try it today! You won't deny that air fryers are like mini ovens for cooking the perfect food for you in the shortest possible time. And so, you can also cook a steak here.
However, this will require a lot more practice than other food. You can skip the smoke and flames from the grill when you are working in an air fryer during cooking steak. When you make it in a fryer like this, there will be no mess around the steak. All you will get is a juicy and well-cooked steak!
Crispy Brussel Sprouts
When was the last time you fried Brussel sprouts in a pan with a lot of oil? Do you remember it? Yes, they were greasy; we can tell it from here! You can get rid of the greasy outlook by switching to the air fryer now!
When you cook it in your air fryer, the sprouts will get crispier than before. On the contrary, the oil you wasted will not be required here. There will be no greasiness, just fresh and crispy sprouts!
Potatoes
We have talked about the deep-fried items a lot, but do you know that you can cook amazing potatoes here? Cut the potato up and get it inside the fryer adding some spices. You can also get the whole potato inside for an authentic taste!
Hot Dogs
If you love franks added with a snappy casing and plump interior, you can get hands-on with your air fryer! Just prepare it the way you used to and get inside the fryer. All you need to do is waiting! No extra oil but perfect hot dogs, that's how you deal with it!
Reheated Food
Air fryers are like turbo toaster ovens in a compact size! When you get the already-made crispy food inside the microwave for reheating, I bet it turns it into something mushy. If you don't want it, stick to the air fryer, it can gift you the same crisp after hours too!
  Related Guide:
Wrap Up
As you have learned what food you can cook in an air fryer, you already know how important it is! Get an air fryer now and cook whatever you love!
Don't forget to comment below on your favorite dish in your air fryer! Share your recipe with us!