French fries, wings, fish-and-chips, fried chicken… deep-frying our favorite proteins, carbs, and veggies is something almost all humans love to do.
But of course, like all good things, eating these delicious fried foods comes at a price. Higher consumption of these goodies is associated with health risks, such as high blood pressure, obesity, and heart disease.
So how can you enjoy your favorite fried foods without compromising your health?
By investing in the best air fryer with rotisserie! Because these machines don't use any hot oil to produce a fried effect, they're significantly better for your health.
To help you find the right air fryer, today we've reviewed 10 of the best and included a handy buying guide. Let's go!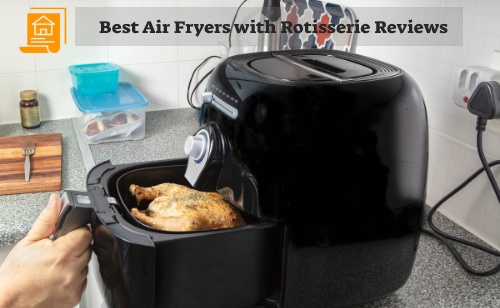 Are you ready to get cooking? Then it's time to jump into our reviews of the best rotisserie-integrated air fryers, selected based on functionality, convenience, and accessibility.
Air Fryer with Rotisserie to Buy in 2023
1. Emeril Lagasse Power Air Fryer 360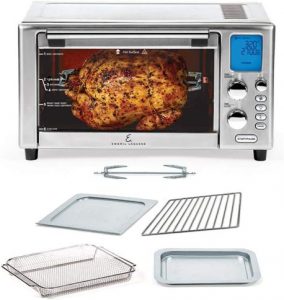 In case you haven't heard of Emeril Lagasse, he is only one of the most celebrated chefs to come out of America in the last few decades. 30 years ago, this award-winning chef founded his own appliance brand, and the rest is history. There's a good reason why this 9-in-1 air fryer is one of the most popular on the market today.
If you already own a convection oven, the chances are that it offers only up to 3 heating features. This air fryer, however, has up to 12 pre-set functions, allowing you to toast, roast, bake, and even slow-cook. Most impressive of all, though, is this air fryer's ability to also dehydrate foods. So whatever dish it is that your heart desires, you can expect this oven to help you get it.
So how does this 16-quart machine manage to do so much? Thanks to the Emeril Lagasse 360-degree Quick Cook Technology, of course. With five powerful heating capabilities, you can expect your food to cook evenly and fully retain its flavor. But even though it'll taste delicious, it'll be healthier than anything you put in your convection oven, reducing up to 70% of calories from fat.
Despite such great features, though, our favorite thing about this machine would have to be its all-over stainless steel construction. Not only does it look wonderful, but it's much better for safe and healthy food quality. All in all, we're quite tempted to name this the best air fryer with a dehydrator!
Highlighted Features
Durably and safely constructed from stainless steel
The Slow-cook function can be used for up to 10 hours
Turbo Heat Technology cooks your food with 70% fewer calories
Comes with a rotisserie spit, crisper tray, baking pan, pizza rack, and drip tray
Includes a cookbook penned by Emeril Lagasse
2. Instant Vortex Pro Air Fryer Oven 9 in 1 with Rotisserie – 10 Qt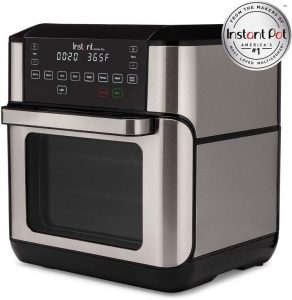 While we're on the topic of all-in-one air fryers, it would be a crime to leave out this absolute wonder from Instant. You may have come here looking for a rotisserie function, but you're not leaving without a host of others: broil, roast, toast, bake, proof, reheat, and dehydrate!
This little machine is primed and ready to allow you to produce any sort of dish you can think of. Preparing a quick breakfast for the kids? Planning a romantic date involving some delicious rotisserie chicken? Baking a cake for your nephew or niece? All you'll need is this one machine.
But the main reason why this little guy ended up on our list is because of its highly impressive rotisserie function. The Instant Vortex Pro is equipped with the brand's innovative Even-Crisp technology, which takes rotisserie cooking to another level. Although that oil-fried crisp will be hard to replicate for any air fryer, this one comes pretty close.
We love the control panel on this machine as well, with its clearly marked buttons and sleek, bright display. Activating pre-sets on this thing is as easy as pressing a button! Plus, with its 10-quart capacity, this air fryer is the perfect companion for any medium- to large-sized family.
Highlighted Features
Easily accommodates two cooking trays for reduced cooking times
All internal components (e.g., rotisserie, tray) are dishwasher-safe
Bright and accessible control panel with a sleek display
Super healthy: uses up to 95% less oil to fry your favorite foods
Comes with 2 air-fry trays, 1 air-fry basket, forks, and rotisserie spit
3. Chefman 6.3-Qt 4 In 1 Digital Air Fryer with Rotisserie Basket
Our next pick, from Chefman, is quite possibly the best digital air fryer that we have come across during our research. With multi-functional capabilities, impressive features, and a gorgeous digital display, this machine has an understandably high rating. Here's what we like about it.
First and foremost, it's important to know that the body and exterior of this machine are made from plastic. But worry not, because Chefman has made sure to use BPA-free plastic of the highest quality. In any case, its internal components are all made from stainless steel. Not only are they durable, but they are also perfectly safe to put in your dishwasher. Overall, Chefman 6.3 Qt Digital Air Fryer Considered one of the best BPA free air fryer in the market.
"Wait, what internal components?" You might be asking right about now. The accessories to help you bake, rotisserie, dehydrate, and air-fry, of course! These include a rotisserie fork and spit, two air-flow racks, a drip tray, and, of course, a rotating basket for all your deep-fried food cravings.
And because this thing has a capacity of 6 liters, it's perfect for those of you with large families or party-throwing proclivities. It doesn't matter what you're making; this offering from Chefman will make sure you don't find anything lacking!
Highlighted Features
Cooks your food with up to 80% less fat due to using minimal or no oil
The in-built air filter keeps unpleasant odors at bay
Easy-to-read and super-accessible digital temperature control
3-quart capacity is perfect for most family sizes
Allows you to bake, dehydrate, reheat, rotisserie, and air-fry
4. Instant Vortex Plus Air Fryer Oven 7 in 1 with Rotisserie – 10 Qt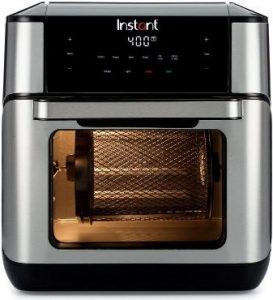 If you loved our earlier review of the Instant Pot Vortex Air Fryer but find yourself bewailing the price, then this next pick is for you. But just because it has a lower price, don't think it has a lower capacity! This 10-quart air fryer comes with six other functions and Instant Pot's famous EvenCrisp technology, and it's available at a much lower price.
The Instant Pot Vortex Plus air fryer gets its impressive name from, of course, its impressive capacities. With a function that circulates highly heated air (hence the name "vortex") around your food constantly, this air fryer promises to cook your food evenly without compromising any of its flavors.
You'll be surprised by how much you can get done with this air fryer; not only can it rotisserie, but it also has the ability to toast, roast, bake, and dehydrate. Wanna revive your fruits? Bake a celebratory cake? Cook up a last-minute dinner? The Instant Pro Vortex is your friend.
Highlighted Features
Has a generous capacity of 10 quarts for the eating needs of most family sizes
Bake, air-fry, roast, toast, rotisserie, and dehydrate your food with ease
EvenCrisp technology ensures your food stays crispy on the outside and tender on the inside
Very low pre-heating times speed up your cooking process
All internal components are dishwasher safe for easy cleaning
5. PowerXL 6 Qt Air Fryer Pro With Rotisserie – 7 in 1 Cooking Features
Boasting Rapid Air Technology and a 7-in-1 function, this air fryer/oven from PowerXL is one of the best air fryer dehydrators on the market. Yes, we know that's a big claim to make, but we have good reasons for saying so! Wondering what they are? Read on.
Equipped with a sturdy and durable plastic body, this air fryer offers you a capacity of 6 quarts, so it's perfect for the needs of a small to medium-sized family. And by needs, we mean literally anything you can think of to cook, thanks to the myriad capabilities this thing offers.
That means you can not only air-fry but dehydrate, grill, roast, bake and toast your way through all your favorite dishes and ingredients. But the best part of all of this is that you're getting your food cooked with up to 70% fewer calories than your conventionally fried foods.
And all of this is super easy to pull off as well, thanks to the 8 preset cooking functions that this air fryer comes with. Furthermore, thanks to the automatic shut-off capability and digital timer, cooking is going to be more convenient than ever!
Highlighted Features
The 7-in-1 function allows you to enjoy rotisserie, dehydrator, toaster, grill capabilities
Cooks your food with up to 70% fewer calories for a healthier lifestyle
Comes with 8 pre-set cooking functions for ease and efficiency
Available in two attractive black and red color finish options
Innovative Rapid Air Technology uses turbo-cyclonic air to cook your food to perfection
 6. GoWISE USA GW77723 11.6-Qt Air Fryer Toaster Oven with Rotisserie & Dehydrator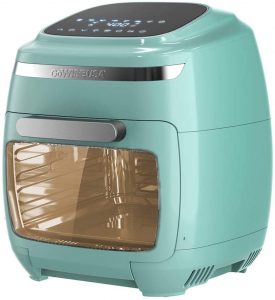 From GoWise comes our next pick in multi-functioning air fryers, and this one is a true delight. With an impressive 11.6 quart capacity in a compact yet feature-packed body, this machine is certainly going to appeal to those of you who came to this article searching for the best air fryer toaster oven.
Equipped with 8 pre-set cooking programs, this air fryer is super easy to use no matter what your level of cooking experience. Plus, its sleek and accessible touch-screen control panel allows you to adjust the cooking time and temperature with ultimate ease, so you can cook according to your specific needs and preferences.
And yes, that does mean you can cook anything you want! With a toaster, baking oven, rotisserie, and dehydrator function, this little guy will allow you to realize all of your culinary dreams. And don't worry if you like hosting dinners, because you can feed up to 6 people with the help of this air fryer.
Furthermore, thanks to the thoughtfulness of GoWise, you won't have to worry at all about painstakingly finding the right cooking accessories. Should you choose this air fryer, your purchase will include a rotisserie tong, drip, pan, skewer, and three mesh trays. Although we do wish that the components were dishwasher safe, we can't find anything else to possibly complain about with regard to this nifty little machine.
Highlighted Features
Easily adjust cooking time and temperature using the touch-screen control panel
Comes with 8 preset cooking functions to make your life that much easier
Available in attractive black and mint color options
Mesh heating element and door are removable for easy cleaning
Comes with all necessary accessories, including rotisserie tongs and drip pan
Includes a recipe book with 50 different recipes to get you started
7. WowChef 10-in-1 Air Fryer Oven, 20 Quart Airfryer Toaster Oven Combo
We always want to get quality products, and in the meantime, it is essential to save money. The advantages of this quality air fryer toaster oven are pretty astonishing. It offers the best air fryer toaster oven combo with a sleek design alongside excellent performance. Plus, you can prepare any food with this fryer.
Since this modern air fryer has a led touch screen where everything is so simple, you can choose any of your meals on the screen menu. There are ten preset menus. Starting from frying and roasting, it can dehydrate, defrost, and bake, as well. This guy also features an automated timer.
Moreover, you can prepare all modern foods with this remarkable machine. It works great as a rotisserie, dehydrator, pizza maker, grill, and oven toaster. This appliance processes a vast range of (180°F to 400°F) temperatures depending on different kinds of food items.
You will love the 360° hot air circulation fan as it helps make food crispier and more delicious.  This stunning device has an advanced touchscreen facility without a button to set up the desired work mode depending on preferences.
The Fryer machine ships with some favorable accessories including a rotisserie, frying basket, five pieces of the dehydrating rack, dishwasher-safe parts for a quick wash, a rotating basket, fetching tray, two pieces of oven gloves, and a removable draining tray. Thankfully, all these accessories are dishwasher-safe too.
Highlighted Features
Long-lasting, safe, and easy to use for any kitchen
Flexibility in controlling temperatures ranging from 180°F to 400°F
Hot air circulating fan makes it work quicker than other ovens
It comes with 9 advanced accessories to offer supreme convenience
Touch screen preset menu and Automated timer alert for hassle-free cooking
8. CROWNFUL 19 Quart/18L Air Fryer Toaster Oven With Cookbook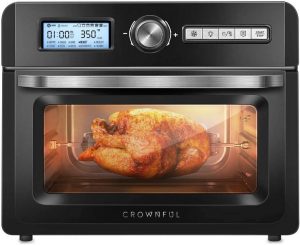 Now, let's move to an outstanding air fryer toaster oven from CROWNFUL. This brand is serving for years with faith and fame. People love their service and recall them for several notable achievements in the field of home appliances.
And, this appliance is one of the most demandable multi-functioning air fryers toaster in today's market and arguably the best countertop convection oven with rotisserie.
Most importantly, it inherits ten preset menus such as fry, Roast, Dehydrate, Toast, Bagel, Pizza, Bake, Broil, Reheat, and Keep Warm. Along with this, this machine is equipped with a highly functional touch screen for safe and flexible cooking.
The best thing about this air fryer is it allows you to have effortless cooking comfort, and you can control the temperature as you need for the specific one.
Moreover, you don't have to look for different accessories in the market for cooking convenience as all the necessary equipment is included. It's even easier when you have a manual recipe book along with your purchase. Therefore, you can find out what and how to cook which item and in the meantime, learn to use this exciting device as directed in the manual.
In addition to that, it's straightforward to clean. You can take a wet cloth and use some liquid; just wipe up the oven's inside and outer parts. Accessories are also made of stainless steel, so these are pretty simple to clean as well.
Highlighted Features
Led touch screen display with 10 preset menus for exact outcome
Multi-functioned and comes with eight accessories
Very easy to use and clean, plus all parts are dishwasher safe
Large capacity of 19 quarts for cooking bulk food
Unique recipe cookbook with 53 recipes
9. Innsky Air Fryer Oven – 10-in-1 Countertop Oven with Dehydrator & Rotisserie
This Multifunctional Air fryer oven is from Innsky, and it is specially designed in a smooth and tidy way for a better user experience. The outer part of the machine is made with sturdy stainless steel to offer long-lasting performance. Also, the plastic component of the air fryer is BPA-free and never creates any health hazard.
Most interestingly, it comes with double-layer capabilities combining multiple tasks at the same time. Besides, it is ideal for big families because of its updated features.
However, compared with other fryers, this one is the best air fryer with a dehydrator & Rotisserie to choose from for many reasons. Multiple tasks like frying, grilling, pizza, dehydrating, toasting, and almost everything can be done in quick time with this powerful oven.
Moreover, having an extra-large capacity and offering a wide range of temperatures varying from 150℉ to 400℉ makes it super convenient for professional cooks.
Additionally, it is extremely easy to clean and can be operated safely. Ten preset menus allow you to choose your desired dish and make it perfect and yummy. Cooking becomes fun as this wizard takes overheating and overcooking issues out of the equation for all.
It also ships with six extra accessories for crafting newer recipes on the go. Furthermore, Innsky 360℉ hot air circulation allows preparing more delicious and crunchy foods which are safe for health.
Highlighted Features
Extra-large capacity for preparing family-size food
Transparent glass window for observing cooking
BPA-free stainless steel exterior for safe and robust performance
It comes with a rotisserie basket
The detachable door makes it simple to clean
10. Audew Oilless Air Fryer Oven, 7-in-1 Air Fryer with 12.7 Qt Large Capacity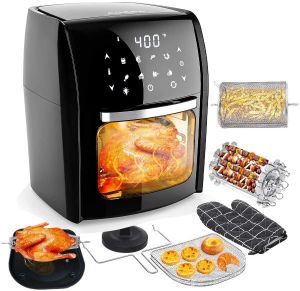 Our final pick today is this impressive big boy from Audew. Equipped with a large capacity, multifunctional capabilities, and one of the most advanced air frying technologies on the market, this could easily beat the best electric deep fryers on the market (at a lower price, too!).
This electric air fryer will blow you away with its capabilities. Requiring almost no butter, oil, or grease (except the small amount you might choose to brush onto the ingredients), this air fryer allows you to enjoy deep-fried decadence with only 20% of the original calories and 0% of the oil. From ribs, fish, and shrimp to steak, cakes, and vegetables, you can make anything with this air fryer, and you can make it in large quantities, too— thanks to the 12.7-quart capacity!
That's thanks to the fryer's myriad cooking capabilities, which include roasting, baking, toasting, rotisserie, grilling, and even a dehydrating function. And thanks to the included 7 pre-set cooking functions, this machine is compatible with cooks of all expertise levels. Yes, even your kids can get a meal going by themselves if you're home late.
And speaking of convenience, this thing also comes with an auto shut-off function, which means you never have to worry about overcooking again. Meanwhile, the super-sleek LED touchscreen control panel is designed to be ultra-accessible and convenient. It's easy to see why this is such a popular budget option in air fryers!
Highlighted Features
Allows you to cook at a wide temperature range from 80 to 200 degrees C
7 integrated pre-set cooking functions for the ultimate convenience in cooking
The automatic shut-off function allows you to relax
Comes with a handy cookbook to help you whip up a feast
Removable door and stainless steel interiors for easy cleaning
---
Facts to Consider Before Buying the Best Rotisserie Air Fryer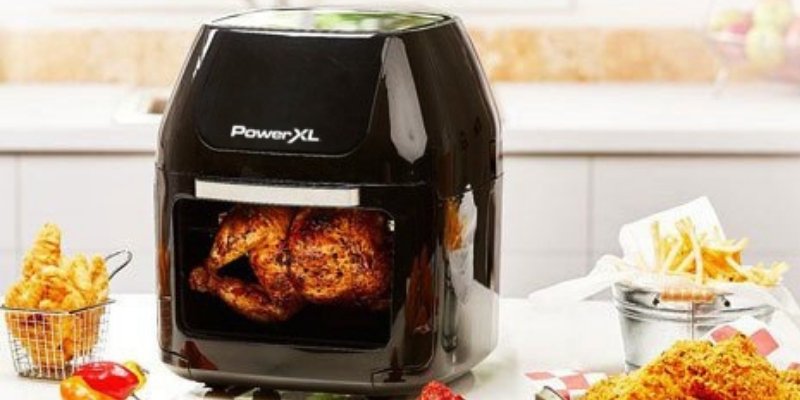 If it isn't obvious already, there is much that an air fryer can do for you. That being said, it wouldn't make sense to pay for features you don't need or options you won't use. So before making your purchase, remember to consider the following factors.
Construction
Most air fryers that you will find on the market will have a plastic exterior, while those in a higher price range might have a steel construction both inside and out. Now, you might feel iffy about plastic construction due to the presence of chemicals such as BPA. However, not all plastic is bad, particularly those with composite make-ups. So before you buy, make sure that the product is BPA-free.
The interior of an air fryer must always be made from metals such as stainless steel. This is of utmost importance because the healthiness, performance, and cooking abilities of the air fryer depend on this. The quality of the metal used will also determine the durability of the fryer's internal components.
Capacity
For many, the most important consideration when buying an air fryer is its capacity, as this dictates how much and how often you can cook with it. Most air fryers have a capacity between 2 and 8 quarts, but this can go up to 14 quarts. With air fryers that have rotisseries, the minimum size is 6.3 quarts to allow space for the rotisserie.
Initially, it may seem like overkill to buy an air fryer with such a large quantity of capacity, but if you have a large family or frequently host large gatherings, the higher capacity will come as a blessing. Whatever happens, you don't want to overcrowd the racks/shelves of the air fryer, as this will prevent the food from being cooked properly.
Remember, the capacity of the air fryer is also an indication of the size of the machine. You might need a high-capacity machine, but do you have space for it in your home? This is an important yet oft-overlooked consideration.
Display/Controls
The efficacy and worthiness of electronics are determined greatly by the level of accessibility and ease of use that they provide. And in the case of machines like air fryers, you need to look out for those that have easy-to-read and easy-to-use controls and displays.
This might not seem like a big deal at first, but when you're in a hurry, and you need to get the cooking going as soon as possible— something that is highly likely given your preference for air fryers— or when you're on the phone trying to direct your kid on how to get the rotisserie chicken going, a simple and convenient control panel will make all the difference.
Presets
An air fryer can have as many as 100 or as low as 8 built-in cooking presets that will make your life easier. When you activate a preset for a particular dish or cooking style, the air fryer adjusts itself to the temperature and timer settings.
Particularly if you're someone on a tight schedule or don't enjoy spending too much time in the kitchen, you're no doubt going to appreciate the benefits of these presets. Some air fryers even offer you the option to create and save your own customized presets.
Additional Capabilities
The days of single-ability machines are pretty much over. You can expect to find many air fryers that have myriad capabilities and functions besides just air-frying. The most common of these are roast, bake, toast, dehydrate, broil, and, of course, rotisserie. If you already have appliances to do these things for you, though, it's obviously unnecessary.
FAQs About Rotisserie Air Fryer
1. What are the benefits of using an air fryer?
Ans: Compared to convection ovens and stovetops, air fryers are relatively faster and more energy-efficient. Food cooked in an air fryer is much healthier than that cooked in oil, with almost 95% less fat.
2. Will Food Made in an Air Fryer be crispy?
Ans: Yes, but significantly less so than actual fried foods.
3. How does Rotisserie Work?
Ans: Rotisserie cooking involves roasting meat (such as whole chickens or large beef cuts) on a rotating spit over indirect heat. A rotisserie can cook the meat evenly and allow it to retain its flavor.
4. What kind of food will I be able to prepare with my air fryer?
Ans: There are a lot of items you can make in your air fryer apart from rotisserie chickens. This article has some great recipes.
5. Is it safe to use aluminum foil inside an air fryer?
Ans: It's safe but not recommended if you're cooking acidic foods as they might break down the foil. Also, leave no foil by itself inside the machine.
6. What is the function of a dehydrator?
Ans: As the name suggests, a dehydrator removes moisture from food, allowing it to be preserved. You can use it to produce beef jerky, dried fruits, and so forth
Final Words
The best air fryer with rotisserie can open you up to a world of culinary possibilities. Depending on what dishes you like, you have several options in terms of air fryers with multiple cooking capabilities.
Out of them all, the Instant Vortex Pro Air Fryer has certainly caught our eye for its design, functions, and capabilities. For those of you on a budget, the GoWise would be a better fit.
Bon appetit! Enjoy your food! Have a good day!