Why are kitchen cabinets so expensive? Let's discuss in this article. The kitchen is one of the busiest places in the house.
There are a lot of activities going on, such as family preparing dinner, parents teaching their kids how to prepare a meal, family members looking for food, family conversations, and where the family enjoys their meals.
So, it is where the bulk of family expenditures fall. All appliances in the kitchen must be highly usable and make the family's lives easier. The furniture such as dining tables, chairs, lightings, rugs, blinds or windows, buffets, and then there are the cabinets.
Cabinets can make or break your kitchen. If you have a drab-looking kitchen cabinet with a design that doesn't seem to blend with everything else in your kitchen, or it can be the color, or how it is installed, it all sums up your kitchen cabinets.
Even if you have the most expensive furniture and appliances there is, a kitchen that is not well thought of is dreadful news.
Why Are Kitchen Cabinets So Expensive?
Most homeowners prefer a white cabinet, with 78% choosing said color. The next most preferred are wooden cabinets, with 25% of homeowners wanting the classic feel and design. The other 11% wanted a style that has a huge impact on their kitchen with gray or darker color choices.
Here are the factors that affect why kitchen cabinets are so expensive
Material Used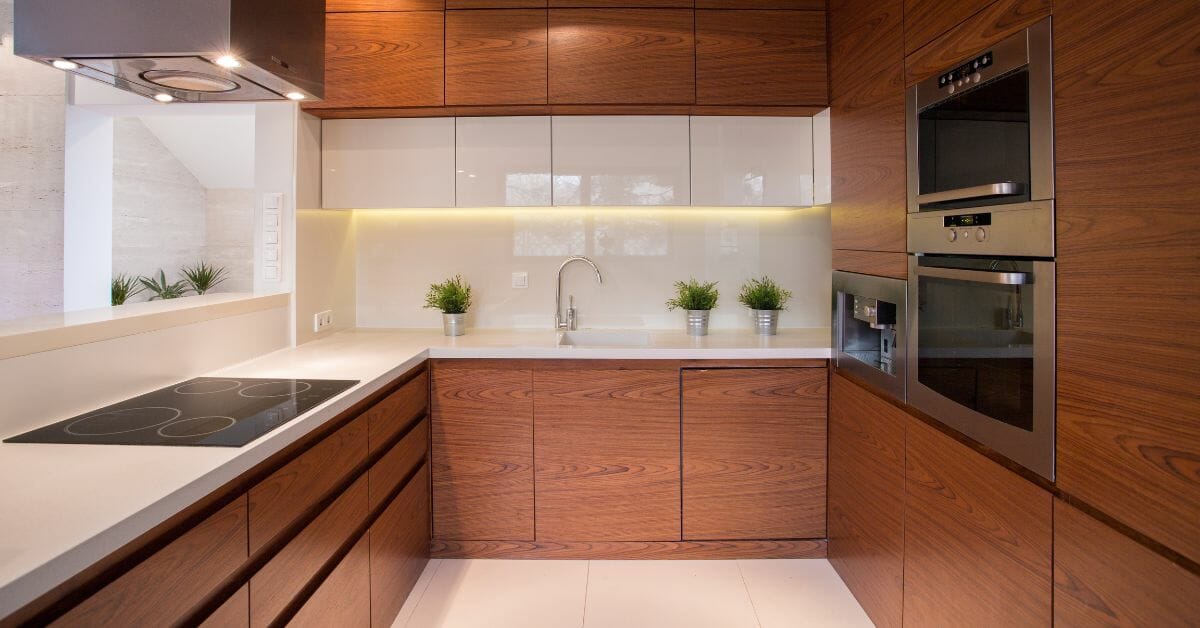 They cannot manufacture cabinets using low-quality wood that will just rot in a few years. So generally, kitchen cabinets are expensive. Manufacturers use highly durable materials that can withstand different environmental elements.
Hardwood:
They have used this material for decades in making cabinets, tables, and shelves. It is very durable as they harvest it from trees and has a different texture, colors, and pattern that adds to its uniqueness.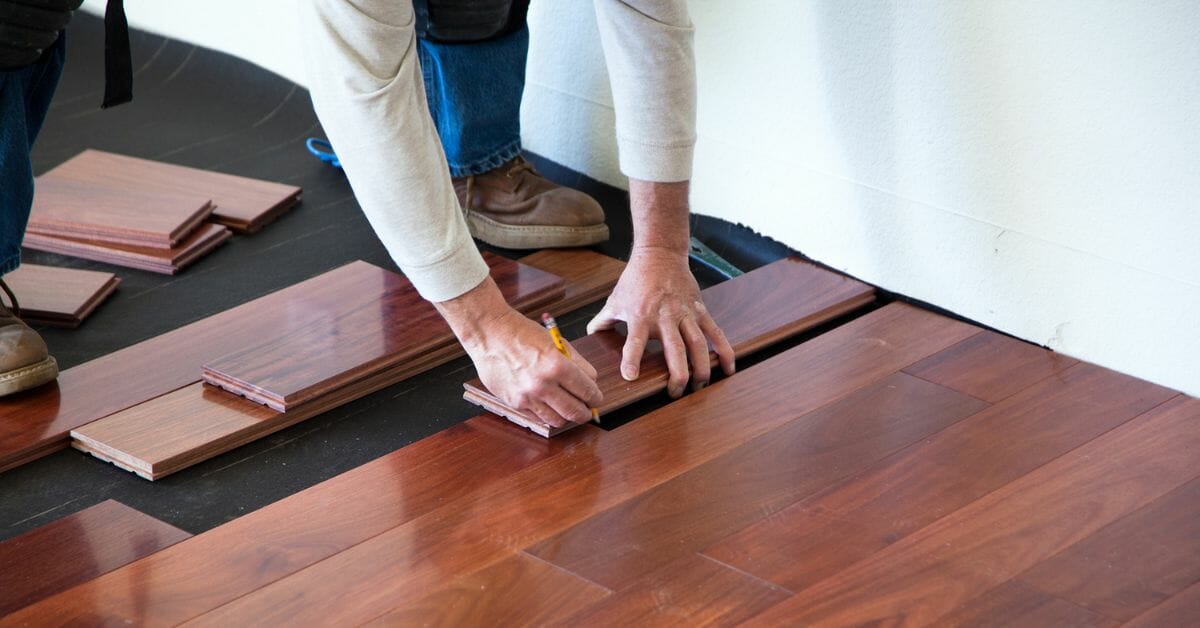 Hardwood has a very long lifespan and can withstand many repairs, repainting, and redesigns. If you are good at DIY projects, it will be easy for you to do the repairs yourself.
You can choose from the original kinds of wood including red oak, cherry, hard maple, birch, white oak, and hickory.
Each wood has its distinct pattern that makes each wood type stand out. There is also a difference in texture and color. Some are more popularly chosen than others.
Particleboard Aka low-density particleboard:
It is an engineered wood product manufactured using recycled wood that is pressed together. Fillers include wood chips plus sawmill shavings that are pressed and formed into sheets of different thicknesses.
They seal particle boards with the use of laminate or a wood veneer to make it more appealing and to give it an elegant finish.
Particleboard is affordable, and you can save up 10 to 20% as compared to buying hardwood cabinets. A high-quality option is also available as there are available thicknesses of plywood, and you have to choose the types that are durable and sturdy.
Particleboard is lightweight compared to hardwood, and it is the choice of most homeowners for their cabinets drawers, and shelving as well.
Particleboard is also easy to install, as it requires just a few screws and nailing to fit in your kitchen spaces.
Plywood
Plywood just like hardwood is durable and also the best option for cabinet materials.
Plywood is easy to install, inexpensive, and has a strong and unique construction. It can also withstand many drillings and nails, easy to repair and replace. It can be refinished, using fresh paint.
Plywood is also affordable compared to hardwood, and highly accessible as every hardware carries plywood.
Although plywood is considered a superb choice for kitchen cabinets, there are different thicknesses available. You should look for the right thickness as choosing thin plywood is a surefire way of replacing your kitchen cabinet again in just a year or two.
Medium Density Fiberboard:
Quality of plywood and particleboard. Composed of recycled fibers, wax, and resin.
MDF is strong, highly durable, and affordable.
It can withstand warping and expansion because of extreme temperatures and exposure to moisture.
It can be painted as well and it has a good surface and smooth finish.
Laminate
They make this material of three resin-saturated layers. They fuse the three layers to make the materials durable and sturdy. Although this material is sturdy, it cannot compare to the other materials mentioned.
Laminate is more commonly used on interior surfaces or covering cabinet doors or cabinet drawers.
There is a highly durable quality of laminate that you can find in most hardware, and this is the best choice if you are to choose a laminate material.
Stay away from low-quality laminate materials that are less expensive and also not durable, as this type tends to crack and get damaged early on.
Finishing
If there is finishing in your kitchen cabinet, this will also add up to the cost.
What Are The Kitchen Cabinet Finish Options?
Some finishing includes cabinet paints – you may opt for distinct colors according to your taste and preference.
Stains – this applies to enhance the natural beauty of the wood material, where the stains can either be light, medium stain, or dark stains. Dark stains add a dramatic effect while lighter stain causes enhancement of the wood's appearance.
Cabinet glaze – meticulously done to highlight the edges of the cabinets and the moldings and enhance the design. Two types of glazes are flooded and penned. The flooded glaze is sprayed, while the penned glaze is applied using the required brush for application.
Finishing techniques – add other highlights to the kitchen cabinet. Highlights such as sanding, adding dents to achieve a certain look, distressed finish, putting gouges, and achieving an aged look are all under-finishing techniques.
Customization
It will cost you money if you want a customized cabinet because of the requirements that you will ask from the manufacturers the price will pile up.
What you can do is choose from the available cabinets that are already made and constructed, but if you have the money to spend, you can choose customization over a ready-made cabinet. You can require several doors yourself, paint color, type of wood, and finish according to your taste.
If you choose mass-produced cabinets, it is much cheaper, and it can be delivered to you sooner, and installation will be fast as well.
Number of Drawers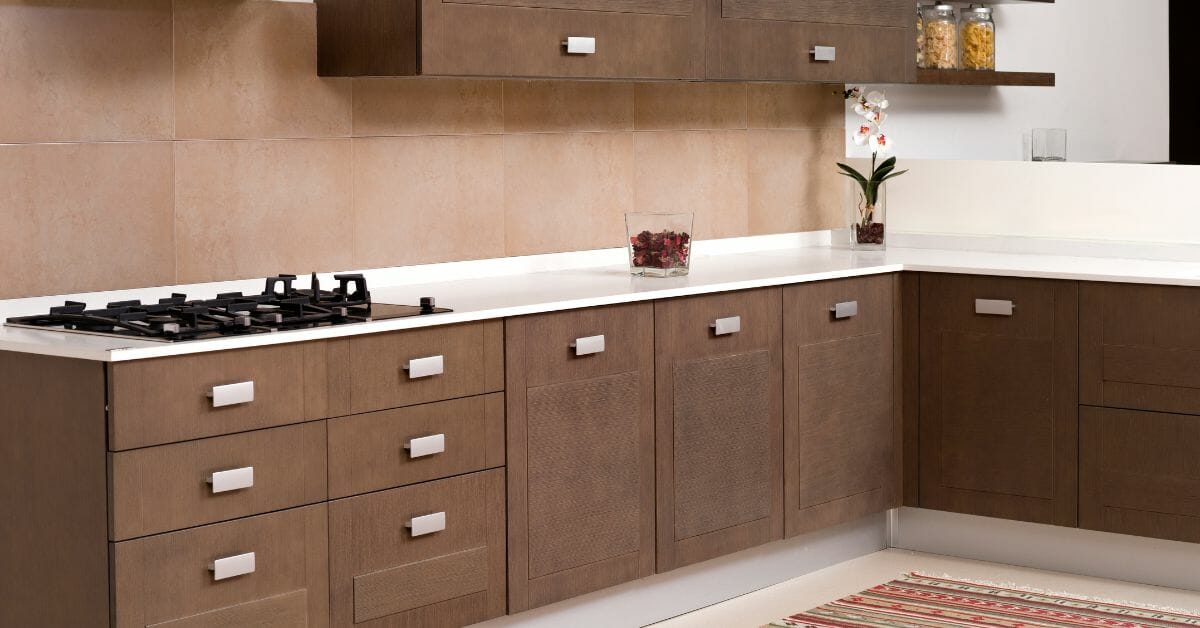 The more drawers there are in your cabinets, the more expensive it gets. So if you are not keen on having too many drawers in your kitchen cabinet and will have a few that can still cater to your storage needs, then choose the lesser drawers.
More doors, though, mean you have a lot of storage space. You can even have an extension slide included, and soft-close drawers as an extra feature.
Some homeowners are happy with having an open shelf cabinet. They save money, and the effect is also beautiful, and the aim of having storage for your kitchen items is also possible with having an open-shelf cabinet.
Removal of old cabinets
If you cannot do the removal of your old cabinets yourself, hire professionals to do the tasks which will, of course, cost you money.
There are kitchen cabinet sellers who have people who can remove cabinets and install them at the same time.
With the help of professionals, though, they can easily do the job faster and safer. There is also less damage to your wall if done professionally.
If you are looking for ways to save money, have the old cabinet removed by someone interested in reusing the cabinet after some refinishing.
Installation
This is another reason kitchen cabinets cost more than the usual furniture in the house. The kitchen cabinet cannot just be placed anywhere in the kitchen, as it has to be installed safely, securely, and in the right spot in your kitchen.
If you just do it yourself and position it anywhere you feel like it, you may place it incorrectly which it will just mess up the whole arrangement in your kitchen, or worse can even cause accidents in the kitchen because of the wrong placement and unsteady installation.
Installers may cost you between 40% to 50% of the cost of your kitchen cabinet.
If you are someone who has a sound sense of tinkering and belief in DIY projects, then this could also be one of your projects.
There are many videos on the internet that you can use and follow the step-by-step how-tos in installing kitchen cabinets.
Conclusion
There are just as many ways to get a kitchen cabinet as manufacturers are continuously improving their designs and adding new styles every year. What could be a popular choice last year may not be popular at all this year.
You may opt for a classic with a modern touch to your kitchen cabinet to make it look in style, even if there are newer designs on the market.
That way, you are saving money without the need to change your kitchen cabinets often. Thank you, For reading about why are cabinets so expensive.
Related