Priming is one of the most important steps for making a wooden wall look smooth and elegant. Wood naturally has a lot of fibers, and when the wood is processed for making furniture, the fibers extend out and become even more prominent.
No process, not even sanding, can help to completely flatten out these fibers on the wooden surface. So, if you want an amazing paint job on your wood, then do not compromise here.
Get the best paint for cabinets, and you'll be good to go!
In this article, we have a list of the best primers for you. Check them out below!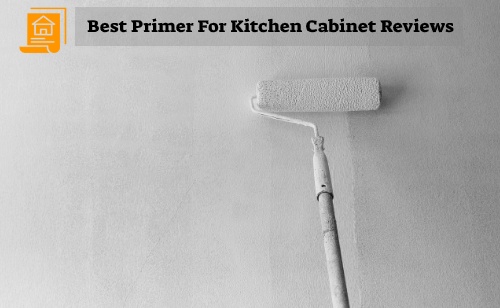 The Best Primer For Kitchen Cabinet in 2022
We have made a list of the top primers you could find in the market. All their features are top-notch; you can choose any of them and never have any regrets.
1. KILZ L211101 Adhesion High-Bonding Interior Latex Primer/Sealer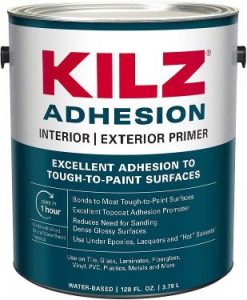 If you want your paint to last, then there is no way around a good primer with a very high adhesive retention power and bonding properties.
Now, what we have here is exactly something like that – this is a latex primer that is by nature a better adherent to wooden surfaces than primers based on water or oil. KILZ Adhesion primer is very good at reaching into the dents and the crevices to prep the wood surface and get it ready for paint.
It has a viscosity of about 93 to 100 KU, so it will cling to wood stubbornly without budging.
This is the best adhesion primer – it's so good that it will hold on to surfaces that usually do not take any paint, for example, brick, fiberglass, chalk paint, and even metals, among many others. For best results, use oil or latex paint for the topcoat, and you'll be good to go.
The primer amount in this container is about 1 gallon. With each of these buckets, you will be able to cover around 300 square feet of space without running out.
You will be able to get the best application of this primer when you use a paint brush, roller, or sprayer. We recommend that you put two coats of this primer on the wood before applying the topcoat on it. Let the first layer of primer dry, and then apply the second one for more solid results.
Highlighted Features
Sits well on surfaces that are difficult to paint on
Has one whole gallon of the primer liquid
No pungent smell
Very thick – has a viscosity of 93 – 100 KU
2. INSL-X SXA11009A-01 Stix Acrylic Waterborne Bonding Primer
It might not look like it, but wood is pretty hard to paint on. There are countless ridges on the surface of the wood that just really ruin the whole surface texture to the point that direct paint would look horrendous on it.
This is why we need a good primer like the one right here. This is a water-based primer that's white in color, that will provide a finish that's very similar to how glossy and shiny aluminum looks. This waterborne bonding primer will be very good at creating that perfectly flat and sleek surface that welcomes paint so readily.
This primer works wonderfully on all the surfaces that are always challenging to work on. It will work amazingly on vinyl, PVC, fiberglass, galvanized steel, and even on plastic. This is the best bonding primer for a great number of surfaces.
The best temperature for using this primer is about 35 degrees Fahrenheit.
One problem with these primers is that many of them contain volatile compounds that are harmful to health. But fortunately, the low level of volatile compounds in this primer makes this a whole lot safer for people of all ages in general.
Highlighted Features
Gives the best pre-paint prep to wood
Contains no more than only the tiniest traces of volatile compounds
1 gallon of paint that can cover a max space of 400 square feet
The best temperature for application is 35 degrees Fahrenheit
Has very good adhesion – even for surfaces that are hard to coat
3. KILZ L204511 Kitchen & Bath Interior Latex Primer/Sealer/Stainblocker with Mildew-Resistant Finish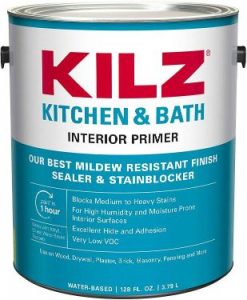 Painting on wood is not as easy as it seems. A lot of things affect it – from the level of moisture in the air to the temperature of the air, and also how much steam the room will have – these are many other small factors that have to be taken into account before putting a final layer of paint onto a surface.
Well, this latex primer will solve all those problems. It is a mix that can seal out any kind of stain – no water, lipstick mark, or gravy can smear itself permanently onto the topcoat of wood that has been coated with the KILZ L204511. This primer will lay out a thick coat on the rough surface of the wood.
This is the best primer for the kitchen and bathroom in particular because it adds a layer of protection against mildew. When the primer dries, a very thin layer of the restrictive film falls smoothly over its surface. This keeps a locked barrier on top and discourages the growth of mildew entirely.
This primer is white, and it puts a very smooth velvety finish on the wood's surface. The coat on top remains stable in composition, and this helps the topcoat paint to remain at its authentic color instead of changing.
Highlighted Features
Dries very fast
Does not have any bad smell
Contains little to no volatile compounds
Very good at sealing and hiding stains on the wood's surface
Contains 1 gallon of primer
Forms a protective film of the anti-mildew coat when drying
4. KILZ TRIBUTE Interior Matte Paint and Primer in One, 5 Gallon, Deep Onyx (TB-40)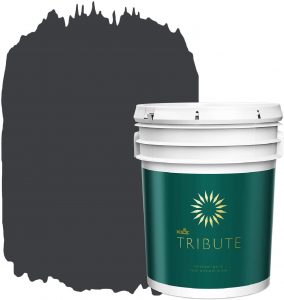 Due to the merits of technology, you can now get primers that work as paint as well. Yes, you read that right. Primer doesn't have to be a thing of its own anymore.
This KILZ Tribute is one of the first examples of a two-in-one paint-primer mix that takes the extra effort out of cabinet painting. Not only is it convenient to use, but it is also the best interior paint primer that you could get your hands on.
First of all, let us just mention first that it comes with a great variety of color options. This one you see here – deep onyx – is one of the trickiest colors to get right, but when you see the sheer chemical brilliance of this paint, you will be mind-blown by it.
This primer paint is also low on VOC, so they are safe for children and adults with sensitivity issues. If you need to clean the wood surface, no problem! This paint has a matte finish that is easy to wipe clean.
This container contains 640 fluid ounces, with which you can easily paint cabinets as big as 400 square feet with full coverage.
Highlighted Features
Contains 5 gallons of paint
Good for covering 400 square feet of space
Gives a flat and smooth finish to the surface
No extra effort or hassle is required
5. INSL-X PS800009A-01 Prime Lock Plus Alkyd Primer, 1 Gallon – White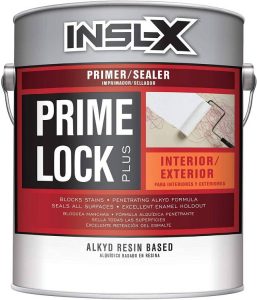 This is an alkyd primer, also known as an oil-based primer that preps wood in the best way possible. And this right here is the best alkyd primer you can currently get in the market. They work by forming a substrate layer on the surface of the wood. This layer has incredible adhesion and excellent stain-rejecting ability.
No stain, regardless of how stubborn and tiny the molecules are, can enter this wood once the primer has dried. Also, a point to note here is that this primer is very quick-drying. You really won't have to wait a long time for the layers to dry. We recommend that you put on two coats of primer before putting the top coat on it.
You have to wait for about an hour before applying the second coat.
One caveat here is the smell. Being an oil-based primer, there is no way that the smell of this chemical will not be throwing you off. In that case, wear a protective mask and try not to inhale the product while working.
The right temperature for this primer to perfectly settle into the crevices of wood is about 45 degrees Fahrenheit. You must only avoid working with this primer if the temperature falls below a dew point of 5 degrees.
Each gallon of this primer can be applied to 350 square feet of space with the best coverage.
Highlighted Features
Dries super fast – only within an hour
Two coats give the best level of protection
Seals out stains from water, smoke, and other stubborn chemicals
Each cover stain surface of about 300 to 350 square feet
The best temperature for application is 45 degrees Fahrenheit
6. The Spruce Best Home by KILZ Interior Paint & Primer in One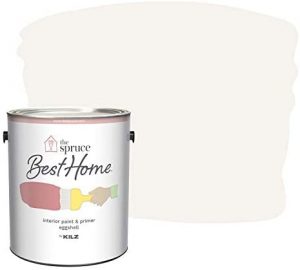 Here we have another primer-paint combination from KILZ. Just like the last one we discussed, this one is also going to save you great effort and time without having you make any compromises on the quality or texture of the finished paint.
This color is called a frosted SPR 25, which is a warm white paint color that brightens up the room and uplifts the mood with its sheer elegance and simplicity.
Any wooden surface would absorb the primer in this paint while the paint sits on top of the wood in a smooth layer.
With this paint, you will get the best results if you apply two coats on top of each other. After the first layer is done, you have to wait for about an hour until it dries, and only then can you repaint the surface.
To properly apply this paint on even surfaces, you have to apply it onto walls by using a paintbrush, an airless sprayer, or a roller. Each gallon of this paint will give you coverage for about 400 square feet.
There are 3 types of sheen available with this paint, so you can choose between matte, semi-gloss, and satin, as you like.
Highlighted Features
Dries really quickly – just within an hour
Forms a mildew-resistant layer on the topmost surface
Does not have any pungent smell
Available in three types of sheen
One bucket has enough paint to cover the stain about 400 square feet of space
7. Rust-Oleum 2004 Zinsser Bulls Eye 1-2-3 Primer – 1 Quart
This Zinsser Bullseye is great at making paint last on any kind of surface you put it on. It's a great water-based primer that has been chemically induced with a rust-inhibiting factor that makes it suitable for covering metal surfaces as well as wooden ones.
This water-based formula is great at adhering to surfaces and filling up their dents. It works so well that it has been tested to make unsanded wood smooth as well. If your wood is sanded, this primer will make it all the more smooth and shiny so that the paint forms an elegant layer on it that cannot be broken through.
The thick viscous paint forms great adhesion with the surface of the wood and makes it super easy to clean with just mild soap and water.
This primer can be used for exterior areas as well as interior spaces. Surfaces with very high pH levels like concrete will also get good and stable protection from it.
Highlighted Features
Prevents the growth of mildew
Keeps the paint stable in composition and prevents peeling
Can be used both in interior and exterior projects
Suitable for use on metal surfaces due to the rust-inhibiting chemical mix
Neutralizes surfaces with high pH levels
Has to be applied at a temperature of 35 degrees Fahrenheit
8. Zinsser 03504 Cover Stain Interior/Exterior Oil Primer Sealer – 1 Quart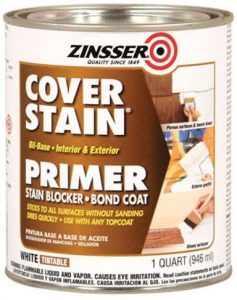 If you are getting your wooden furniture polished or newly made, then we would recommend that you request the carpenter to use this primer from Zinsser. It is an oil-based primer that is particularly great for wood.
It is a great chemical that has a high viscosity – it flows slowly into all the deep crevices of the wood. It can be used on interior and exterior spaces for equally amazing results. Two back-to-back layers of primer are recommended. Wait one hour between coats, and then for two more hours so that the second coat completely dries.
Once this drying process is over, you will see that the wood has a sleek shine to it as it has already been painted with gloss. That is the effect to which this product shines in performance. It also is capable of preventing any kind of cover stain from seeping through to the wood.
The paint will go on this primer coat like butter.
Highlighted Features
Oil-based primer for wooden cabinet paint
Adds shine to the wood's surface
Dries within an hour
Best results will be gotten with a double coating
The complex formula of the primer blocks and prevents stain formation
Helps paint to glide on it very smoothly
---
Facts to Consider Before Buying the Best Primer For Kitchen Cabinets
The wood surface is always a bit tricky to paint on. There are minuscule ridges and tears on the wood that always get in the way of the paint. This is why you need a good primer to go on top and smoothen out the surface first.
There are many kinds of primers in the market.
So, as your well-wishers here, we'll give you more details so that you can choose better.
The main difference between primers is in their bases. The base that the primer chemical is mixed on will determine how well it works for the surface of the wood.
Water-Based Primers
Water-based primers are quite good – they get the job of smoothing out the surface, and they also don't have a pungent smell about them. They also dry more quickly than other bases.
But there are some problems with water-based primers that are stopping us from passing this on to you as a recommendation straight up.
One problem is that you can't use these on sanded surfaces – that would make the primer settle on the surface in thin lines that would show up after the final polish.
Another massive issue we have with water-based primers is that they pick up stains super fast. Like, they cling to any tiny semblance of the spot, and that also causes the wood to not look so good in the long run.
We wouldn't recommend this for your kitchen cabinet even though they are still used for the purpose.
Oil-Based Primers
These primers are better than water-based primers because their molecules are smaller than the molecules of water. Due to the smaller size of the molecules, you can get a smoother job done with the oil base.
The molecules of the oil are so tiny that they easily reach into the small ridges on the surface of the wood that is left after the wood has been sanded. This smoothes out the surface and helps the paint to make an even layer with the wood.
We will, however, warn you about one thing when it comes to oil-based primers – the smell. There is a pungent smell to oil-based primers in general, and it will take some time to evaporate. But this won't be a big issue at all.
The superior adhesion that the primer will create between the wood and the paint will more than makeup for this minor discomfort.
This primer works well with all kinds of wood, but it has a very amazing effect on oak wood in particular. If you have oak cabinets, do not hesitate anymore. Get an oil-based primer, end of the story.
Shellac Based Primers
Shellac primers are also very good at smoothening out wooden surfaces and getting them ready for paint. These primers have been used for many, many years for coating the wood before the paint goes on it. They are very good at blocking out stains, so your wood stays clean for longer.
But another added benefit of these primers is that they are amazing at keeping water, smoke, and moisture away from the wood. Thus, they keep the paint secured as well.
They dry super fast, and they also have an amazing adhesion to the wooden surface.
But these shellac primers are also not entirely perfect either. They exude powerful fumes, and the smell is worse than will oil-based primers. They also require a bit of mixing before application.
So, as a precaution against the fumes, you have to thin out the primer by adding denatured alcohol to it before you can apply it to the wood.
Latex-Based Primers
Latex primers are, in other words, some kind of water-based primer that is great for application on drywalls. These primers are extremely good at clinging onto drywalls. They won't hide watermarks as well as alcohol-based primers, but they will seal out external stains from lipstick, crayons, food color, and so on.
The best thing about latex-based primers is that there are types of them – one with trace amounts of VOC and another with no VOC at all. These primers, therefore, are super safe as well as a healthy alternative to oil or shellac primers.   
FAQs About Primer for painting Kitchen Cabinets
1. How long do I wait after applying the primer?
Ans: You will have to wait for about an hour before applying the topcoat. Your primer will take about an hour to dry.
2. What is the best size brush for a smooth, priming job?
Ans: The best brush size is about 4 inches for big surfaces and 2 inches for small surfaces.
3. Which primer base is the easiest to work with?
Ans: Water is probably the easiest to work with because it doesn't have that extremely pungent smell and also wipes squeaky clean easily.
4. What will happen if I do not prime my walls before painting?
Ans: Wood surfaces are usually filled with miniature, tiny dents. Priming fills up these small dents and makes the surface smooth, so that paint looks good on it. This is one reason for using primers. Another reason is that without a good primer, your paint will not cling well to the surface of the wood and will start to chip off very quickly.
5. Does all wood need priming?
Ans: Yes, of course! Even maple wood, which looks smooth to the eye, has tiny dents that will show up like crazy if you paint without proper priming.
Conclusion
We never want our hard-earned money to go in vain. This is why insider details, like priming, are vital to us. We hope you have understood the importance of choosing a proper primer from this article of ours.
Hope you will get the best paint for kitchen cabinets and get an awesome paint job done on them.
Good luck!