With the ever-so-increasing cost of house painters and their service, it's only natural that you choose to do it yourself.
The task isn't very easy, though, and as a rookie, you need as much help as possible from the quart of paint you're using.
Therefore, choosing the best white paint color for kitchen cabinets is so important. It will save you a generous amount of money and help you get a good painting job with everlasting results.
I have a list of quality paints in soft cream and pure, shimmery white, as well as a few off-whites and neutral greys in acrylic and latex. Let's check them out!
The 7 White Paint for Kitchen Cabinets in 2023
If patience is not your strongest suit, I don't think painting cabinets is a good idea. But thanks to premium paints like these, you get to enjoy super short curing periods, hassle-free prepping, and painting to reveal gorgeous, glossy cabinets with no help!
1. Nuvo Titanium Infusion 1-Day Cabinet Makeover Kit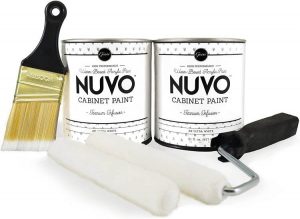 This white acrylic paint by Nuvo is going to be a great choice for adding a minimalistic marvel to your white kitchen cabinets. You can apply this paint easily with small strokes, mix it with another Nuvo color, and get a contemporary, two-toned design.
It doesn't matter whether your kitchen cabinets are primed, painted, or laminated because the acrylic paint suits everything! The same goes for common cabinet materials such as steel and wood. It has a cure time of only 8 hours. So, you can easily wrap up the work, give it a night, and get on with a second layer the next morning!
I love Nuvo because they not only have a cool range of solid colors but also offer you steel, granite, and matte antique paint at reasonable pricing. Their paints are durable, easy to apply, and cost significantly less than what you've guessed!
It goes well with countertop painting kits by Giani for a complete kitchen and bath makeover. In the box, you get two 31-ounce paint buckets, a roller arm, two rollers, and a 2-inch angled paintbrush to get the corners! Since Titanium Infusion has a long-lasting and durable finish, it can do without a sealer or a topcoat.
You don't have to borrow your neighbor's heat gun or dust off your own for a paint-stripping session. The Nuvo cabinet paint colors can be readily applied to your cabinets without the hassle of stripping and priming.
And finally, if you're running out of kitchen paint ideas, head onto the Nuvo Cabinet Paint colors or the Giani 101 blogs, where you'll find everything from modest to fun and flamboyant!
Highlighted Features
The cabinets don't need stripping or priming before painting
Compatible with primed laminate, beechwood, and steel cabinets
An 8-hour curing time
The finished paint doesn't need priming or sealing
Two 31-ounce paint buckets can cover 100sq. ft.
2. INSL-X CC550109A-01 Cabinet Coat Enamel – Satin Sheen Paint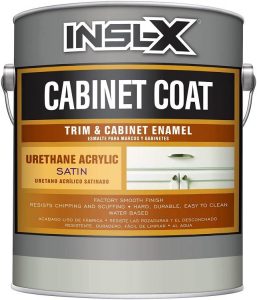 If you're looking for a water-based cabinet enamel to paint your kitchen and bath white, INSL-X has something you're going to love! Their urethane acrylic paint leaves a satin; smooth feel to your cabinets as if you hired a pro decorator to do the job.
This paint is suitable for furniture as it is for cabinets. It's also available in satin and semi-gloss finish and comes in a gallon or a quart. Unlike Nuvo Titanium Infusion and many top-rated cabinet paints, this one has a low curing time. It allows you to recoat within 6 hours from the first application.
With a water-based, premium painting solution and a scintillating finish, the best paint for cabinets is none other than the INSL-X Satin Sheen paint. It has brilliant adhesive qualities so that the paint doesn't come off the cabinet surface.
All you need is a sander for sanding the old, chipped, and cracked paint off your workpiece. After the cabinets feel smooth to the touch, you can unlock your painting prowess on your creative woodwork, furniture, and cabinets alike. So, what are you waiting for? Grab your lucky angled sash brush, dip it in this holy grail, and paint away!
Last, but not the least, this INSL-X cabinet enamel paint suits a wide range of cabinet surfaces like poly, laminate, wood, and metal. Speaking of surfaces, the pre-painting ritual is as easy as the application.
Highlighted Features
Water-based paint with a 6-hour curing period
Applies well to hard-to-paint cabinet materials
Its high-quality ingredients prevent water damage, grease, scuffing, and chipping
A gallon is sufficient for up to 450sq.ft.
Old cabinets will need sanding and priming
3. Rust-Oleum 263232 Cabinet Transformations – Small Kit
Easy, beautiful, and durable are the words that Rust-Oleum uses to describe their kitchen cabinet transformation kit. As it gets more intriguing, the brand also guarantees a hundred percent satisfaction. Let's find out what's so special about this cabinet painting kit!
First of all, this white paint is not another cheap rendition of light gray paint color, nor it has yellow undertones. It's pure white and radiates a soft sheen at every glance. You don't have to be a pro or have previous experience with a paintbrush. Go for straight, even strokes, and see how beautiful the result is coming out.
Besides, Rust-Oleum's brilliant finish makes it possible for you to paint in a carefree and casual way. It doesn't demand all that priming and prepping, unlike every other paint bucket I came across. But if you want to add more sheen to your cabinets, degloss the surface with medium-grit paper, and wipe it clean with a lint-free fabric before applying the first coat!
What's more- you can use not only a paintbrush but also foam rollers in different sizes. And the best part? This Rust-Oleum paint is of the right texture to use inside an HVLP paint gun!
That's right; painting just got more fun for you! Besides, using a paint gun can help you avoid patchy areas, visible streaks, and other hubbubs related to DIY painting at home. Needless to say, their white paint is a budget-friendly hack to make your furniture look expensive.
Highlighted Features
Suitable for wood, metal, melamine, and laminate cabinets
Available in pure white, cabernet, and espresso
Might need extra coats of paint for dark wood cabinets
Compatible with HVLP paint guns
4. Nuvo Coconut Espresso 1 Day Cabinet Makeover Kit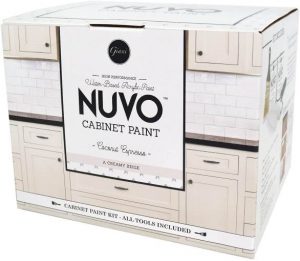 This is a 2-in-1 paint and primer combo that gives your worn-out kitchen cabinets a fresh look. I like this one a lot because it is completely odor-free and low in the VOC count. And just like with any top-notch paint, you can finish refurbishing your white kitchen cabinets in less than a day with Nuvo Coconut Espresso.
With a curing time of only eight hours, this brilliant white acrylic paint is another masterpiece by Nuvo. Previously, I tried out their Titanium Infusion only to see a stellar outcome that moved our friends and neighbors. That said, I would be lying if I said I didn't expect the very best from their Coconut Espresso. And thankfully enough, it proved to be better than what I expected!
For example, you don't need to prime the surface if it's moderately new. Just one bucket can cover a hundred square feet of cabinet area. It's the standard total cabinet size in most American households. However, if your cabinets are of a darker shade of beechwood, you are going to need over one pass to get that snowy white finish.
Just like Titanium Infusion, Coconut Espresso can be paired with other Nuvo colors from their Rustic Collection and beyond. Hearthstone, Olde Sage, and Cocoa Couture- Nuvo paints have an irresistible charm to their colors. A single pass will adorn your white kitchen cabinets for years without the slightest hint of chipping or cracking.
Highlighted Features
Doesn't require priming or sanding if the surface is smooth enough
A generous 100sq.ft. coverage for standard cabinetry
Odor-free, low-VOC acrylic paint
Renders a soft, shimmery finish with only 8 hours of curing time
Compatible with laminate, wood, and metal cabinets
5. Diamond Brite Paint 40400 1-Gallon Kitchen and Bath with Mildew Protection Semi-Gloss Latex Paint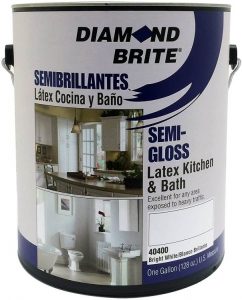 The wonders a gallon of Diamond Brite can do will leave your kitchen cabinets glossy and you speechless! Speaking from our own experience with Diamond Brite, it easily makes the best white paint colors for the kitchen and bathroom with its excellent coverage, whopping size, and professional results!
The first feature that attracted us to Diamond Brite is its unbelievable resistance to mildew. It makes the paint more suitable for bathrooms where mildew growth is a matter of time.
Additionally, it will resist splatter damage and fading so that you don't have to renovate your showering space and bathroom tiles for a fresh look.
Although maintenance will play a huge role in how Diamond Brite holds up on your cabinets and shower tiles. I'm just saying that this wonderful paint does pretty well on its own- taking priming and good maintenance out of the picture.
I think we've spoken enough about the extraordinary durability and finish of Diamond Brite. And before I move on to the next kitchen cabinet paint line, I suggest that you use a high-quality PVA latex primer for use on your bathroom door and walls. It will help Diamond Brite to adhere firmly to your doors, walls, and cabinets for a true semi-glossy finish.
Highlighted Features
Resists fading and mildew growth
Using a PVA primer-sealer before painting is recommended
It becomes easy to remove stains, grease, and fingerprints from the painted cabinets
Can be used with a paint sprayer without a thinner
6. Nuvo White Cabinet Paint (Titanium Infusion)
If you're looking for a budget-friendly acrylic paint that can provide you a service similar to premium latex, would you bother thinking twice? It does seem like a dream, but this cabinet paint from Nuvo has indeed made a dream come true. With a simple roller and brush, you're getting a professional touch on your cabinets without any priming. Seems amazing, no?
But that isn't its only positive feature. In fact, there are plenty. This here is one of the easiest white paints to use. It takes minimal prep time and all you have to do is take your roller brush out and start painting- no need for cabinet removals with this one. The paint is fully water-based and dries out within a few hours.
A single quart of this efficient paint can cover at least 50 square feet of your wall. This kitchen cabinet paint colors, commonly known as titanium infusion, offer you an ultra-white and satin finish that is comparable to only the best ones out there. The whole process would take less than a day to finish. Apart from the long 14-day cure time, this can compete with the best options out there.
Last but not least, its durability, even in the busiest of areas, is praiseworthy. It doesn't chip or crack easily, nor does it let you down. What else are you looking for in quality white paint?
Highlighted Features
Comes with multiple attractive shades
Gives you an ultra-white, satin finish
Safe and low on odor water-based acrylic paint
Very easy to use and doesn't take much time to prep
Quite inexpensive considering its premium features
7. INSL-X PRODUCTS CC4510099-04 Quart Satin White Cab Enamel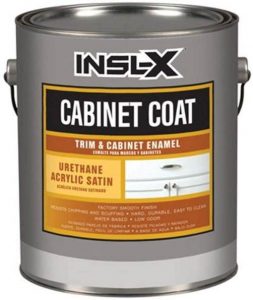 Regardless of all other features, quality kitchen cabinet paint must have one thing- resistance and endurance. The kitchen is easily one of the busiest areas of the day, and to withstand the strain and pressure, the paint needs to be versatile and durable. Fortunately, this one from INSL-X covers it all. It is a premium white paint color that will give you paint to remember with its fast-drying features.
Perhaps the best feature of this top-notch product is its ultra-smooth finish. A good finish is mandatory for long-lasting paint, and it will easily pass as one of the top ones in that category. This one specializes in refurbishing worn-out or damaged cabinets. It can tactfully cover hard-to-coat surfaces, that too, without a primer!
With a Urethane-acrylic formula, this product is as versatile as it can get. Not just kitchen cabinets, they can be used in other furniture, woodwork, or even door trims! It has a self-priming feature, so the time it usually takes to prepare the paint drastically decreases. Besides, no matter how many times you wash it, the paint will resist and endure for sure. Last but not least- the coating it provides is tough and efficient at the same time!
Highlighted Features
Very easy application and doesn't require a primer
Can cover hard-to-coat surfaces easily
Dries out faster than most other products
Can easily resist chippings and stains
Rich color with highly washable resistance
Things to Consider Before Buying the Best White Paint for Kitchen Cabinets
I get it; paying a chunk load of cash to your neighborhood paint worker for painting your kitchen cabinets white is not the best feeling in the world. The cost is only getting higher when your bathrooms need renovation at the same time.
While you might be scorning yourself for having no hands-on experience with painting, we're here to tell you that it's not too late.
In fact, with the right tools and the right strokes, you can paint your cabinets and bathroom just as well as a professional. But for that, you need to know what type of paint suits your white kitchen cabinets the best. I have written it all down for you right here!
Paint Type
When it comes to painting your kitchen cabinets, there are two common options for you to choose from. As effortless as it seems, picking the best from acrylic and latex paints is quite hard.
It's because both of them have their fair share of pros and cons. I prefer acrylic paint because of its huge availability and ease of use. Nuvo Coconut Espresso is a low-VOC acrylic painting with an eight-hour cure time.
It's perfect for laminate cabinets as well as wooden shelves and countertops. Got an ugly metal safe in your home? Not a problem either. You can paint smooth metal with flawless adherence and coverage.
Acrylic Vs. Latex: Which One is Better?
First, water-based acrylic paints are well-known for their spreadability. It means that acrylic can easily spread out on your workpiece- allowing you to wrap up the project much sooner.
Whereas latex paints, while another variant of water-based paints are a bit thicker inconsistency. Its extended curing time and lower elasticity are two reasons why some people might avoid latex.
On the plus side, latex is more durable and less dangerous to be exposed to.
Durability
Unless you're an avid woodworker or a simple someone with lots of time and patience, I don't expect you to paint your kitchen cabinets again any sooner than two years.
That sums up how important durability is when a DIY painting session is involved. Keep in mind that prepping the surface in the best way amounts to the better part of the paint life as well as its sheen.
The Final Look
Matte, semi-gloss, and glossy are 3 different types of finish paints that can offer you. I especially liked the semi-gloss Diamond Brite latex paint for making your old shelves, cabinets, and doors look brand new.
The white color is radiant with the rich feel of latex and looks breathtaking on your kitchen walls.
If  I'm to pick its acrylic alternative, Nuvo Titanium Infusion hits all the right spots with its premium elasticity, short curing time, and silky smooth finish.
FAQs About White Paint for Kitchen Cabinets
1. Are latex paints as durable as acrylic?
Ans: Water-based or acrylic paints have the ability to dry a lot quicker than latex paints- offering you a shorter curing time before layering the second coat. Therefore DIY enthusiasts and woodworkers love acrylic paint.
Latex paint also has a water-based formula, just like acrylic. Its chemical compounds are more durable than acrylic, and it doesn't produce any fume.
2. Is an HVLP paint gun more effective than a roller brush?
Ans: With an HVLP paint gun, you can evenly cover a large area in a short time. Using a paint gun also puts less strain on your arms. However, when it comes to roller brushes, you can never be too careful. If you go over the same area mistakenly, the color will be more saturated and patchy there. Either way, new DIY painters find using an HVLP gun much easier and cleaner.
3. How to prepare the cabinet surface before painting?
Ans: If you don't prepare the cabinet surface before painting it, the paint can easily come off and get chipped after a short while. To avoid that, you have to prep the cabinet with cleaners and degassers. You will need spackle paste, a cleaning cloth, a sponge, a tarp, medium to fine-grit sandpaper, a good TSP cleaner, and painter's tape.
First, you have to start with cleaning and wiping. Apply a liquid deglosser if you're not comfortable with sanding. Wash it off, and that's it.
4. What happens when I apply the second coat before the curing time?
Ans: Painting a simple cabinet is not just stroking wood with a paintbrush in different directions. You have to spend a considerable amount of time prepping the surface.
When you apply the first coat, you must wait out the curing time before applying the second. If you do it too early, the painting is sure to peel off- resulting in uneven coverage, streaks, and a furrowed finish.
5. What does deglossing mean in painting?
Ans: Deglossing is the process of loosening up the old paint on your cabinets. It's an effective substitute for a rigorous sanding process. You can apply liquid deglosses with synthetic paintbrushes. One thing to note- deglossers cannot cure a rough, uneven surface. It only disintegrates the present color so that the cabinet can receive new color with better absorbance.
Final Words
Modern water-based acrylic and latex paints created a breakthrough in the way you paint, the way your paint looks, and lasts on furniture for years on end. The best white paint colors for kitchen cabinets are what you need to rejuvenate your decor with timeless elegance. I hope our meticulously made list of the best white paints was of help to you. Best of luck!