It is not possible to throw away the expensive cast iron skillets every time it gets rusty. So, what's the way to bring it back to life? How to clean rusty cast-iron skillet at home and season it?
Don't worry! I have an easy trick to clean your rusty cast-iron skillet without too much equipment and ingredients! All you need is to get ready for it and you can clean it at home!
Check the process and do it!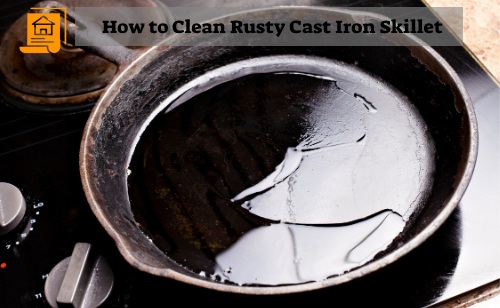 Step-by-Step Process How to Clean Rusty Cast-Iron Skillet
Follow these steps when your 12-inch frying pan skillet of cast iron is rusty! You will surely end up getting a new skillet, I bet!
Step 1: Scrubbing
Yes, you always hear that you have to be gentle with the cast iron skillet. But it is time you forget it! Yes, you heard right! If you are planning to learn how to clean a cast-iron skillet preserving the seasoning, it is necessary to be very gentle with any appliance that is constructed with cast iron. If you read about iron, you will know that it is virtually indestructible.
So, here, all you have to do is strip away the layer of rust from your cast-iron skillet. If you are worried about the seasoning, then let us tell you, I will season it later and so, forget about the seasoning for the time being. You will need elbow grease for cleaning it in this position. Also, a hard, abrasive tool is necessary here. Firstly, wet your pan with some water and add some soap there.
Get your hands on the scrubber in this position and start the scrubbing process. You should get a tough sponge for this part. While scrubbing, make sure you are following in a circular motion and the circles should be small. This process requires time and energy. You have to keep the scrubbing until you see the iron underneath the seasoning. After a while, you will see the black iron inside.
Step 2: Rinsing
To learn how to clean rusty cast iron skillet, you must get the rust off! Once you get to see the original iron beneath the seasoning, be sure that you have got some copper-brown mush. Things are already dirty now. So, it is time for you to remove the dirt. For this, get some water and start cleaning it with water.
Keep in mind that the rinsing process is necessary so that you can move to the next step without any spot of the gunk. After rinsing, stick to the next part of scrubbing. Yes, you are going to scrub it once again!
Here, you have to get a soft-soapy sponge throwing away the previous tough sponge. Start scrubbing with the soft sponge so that you can clean the while skillet once again. Take off all the rusty bits along with the residue left there. Now, you can move to the next step for the drying process.
Step 3: Drying
When you see that you are having a properly cleaned cast-iron skillet, you have to emphasize drying it. In this position, the skillet made of cast iron will look normal. However, there will be no seasoning at all. The cast-iron skillet in this position will be completely in a matte finish and the color of the finish will be dark gray.
Now, search for a clean dish rag. With the help of this dishrag, you have to dry the cast-iron skillet. Slowly, dry it. After you are done with using the dishrag, there will still be some water on it. To make the drying process faster, now you have to switch on the stove. Turn on the heat, hold the skillet and place it on the stove.
You must keep the skillet on the stove for a few minutes. Slowly, the moisture that is on the stove will start evaporating. After a few minutes, the skillet will be completely dry and ready for the seasoning process.
Step 4: Spreading Vegetable Oil
Now, you have learned how to clean a cast-iron skillet with rust. It is time you need to re-season it. As you have already taken off the previous seasoning, it is not yet ready for the cooking procedures. So, seasoning is a must in this part. The skillet is now on its base layer. For the seasoning, you must get your hands on some vegetable oil.
Now, drop one tbs. of vegetable oil on the skillet first. With the help of a paper towel, all you have to do is spread it all around the pan. If you don't want to use any paper towel, you can also try using your finger. However, you have to make sure that the whole pan gets the vegetable oil evenly. Also, ensure that you do not burn your finger or the paper towel.
So, after the previous step, let it cool down and then move to this step. Along with the inside portion, you have to spread the vegetable oil out of the cast iron skillet too. Here, don't forget the handle, my friend.
Step 5: Heating
After spreading the vegetable oil on the whole body of the cast iron skillet, you have taken off the extra oil. As you have used oil, you will surely see some soil dripping down the cast iron skillet. All you have to do is wipe off the excess oil so that you can work properly.
Keep in mind that when you are pouring oil, you must take only a drop of oil and not more. All I need is a lightly greased pan and nothing else! Search for a napkin and slowly, wipe the extra oil from the pan. Now, get your oven ready. Set it to 350 degrees first. Then, purchase some aluminum foil. Check the bottom rack of the oven and place the foil on that part.
You have to place the skillet on this foil to ensure the seasoning process is done accurately. Get the skillet in your hand and put it inside. Certify that you have placed the skillet in an upside-down position on the upper rack of your oven. Here, you have to keep it for about 60 minutes. After heating it for one hour, it will be almost ready.
Switch off the oven and wait for it to cool down. You are done! If you want a glassy finish, you can repeat the seasoning process and make it the perfect cast iron skillet for your everyday food!
Wrap Up
Isn't it easy to clean a rusty cast-iron skillet? Yes! All you need is a bit of time and a little effort! You don't need to throw away your skillet just because it is rusty! Clean it off, put in new seasoning and you are ready!
Don't forget to check out other kitchen solutions! You get all the kitchen solutions here! Check for it on our site and make your cooking life interesting!