Your kitchen reflects your style, so we all decorate it as we like. And as for appliances, being stylish is sometimes more important than being effective. Of course, ease of use is necessary, but so is looking good. A dish rack is pretty much a compulsory appliance in every kitchen. It organizes utensils, keeps your kitchen dry, and contributes to kitchen decor. But what type of rack should you put in your kitchen?
There isn't anyone solution to the question. It depends on a lot of things: from your personal taste to the free space your kitchen has. But if you want an eco-friendly rack, and hate plastic, Bamboo racks can be a good choice. This article is for people looking to buy a bamboo rack; So let's read in and get the best bamboo dish rack out there.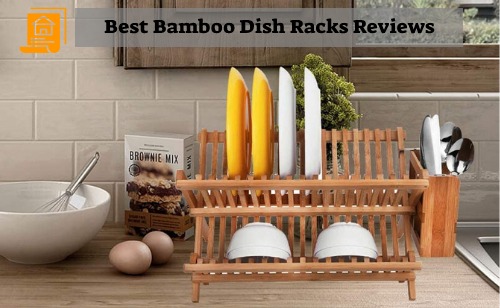 Top 5 Best Bamboo Dish Rack Reviews 2021
Here are our top 5 latest picks of the bamboo dish rack. Check out them below and choose your best one!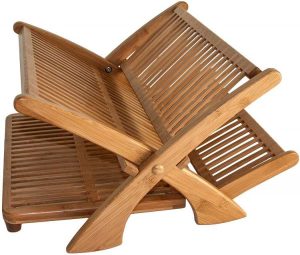 What we're presenting today is one of the best bamboo dish drying racks out there. Bamboo is a fascinating product, it's stronger than average wood. While metals might rust or corrode and wooden materials might have bacterial, fungal, or insect infestations; bamboo does a better job at keeping everything proper. Thus, bamboo has made a name for itself and is giving other products a run for their money.
The purpose of a dish rack is to keep your dishes organized and dry them properly. Unless dried well, metallic products can have a hefty amount of rust from droplets of water or might get damaged from improper storage. However, if your dish rack does its job well, it's nothing to worry about. But, metal products might cause you a bit of hassle, thus we bring the best bamboo dish rack out there: the Totally Bamboo Eco Collapsible Bamboo Dish Drying Rack.
Important Features:
Product dimensions 17.5″ x 19.7″ x 9.2″.
Weight:2.25 pounds without the dishes.
Completely handmade.
Made out of natural
Comes in two colors, one is a natural light shade of bamboo, the other is a darker shade (similar to the color of honey) made from cooking or steaming the bamboo.
Large in size with three separate layers to hold different utensils.
👍 Pros
Made out of completely natural material, instead of its metallic counterparts
Bamboo is much stronger than convention wood, and isn't damaged by water
Food safe, BPA, and chemicals free
Bamboo Colors are natural
Can be folded down to only 4 inches when not in use
Very easy to clean
Extra-large in size and can hold a sufficient number of plates, glasses, pots, and other utensils
👎 Cons
Slightly expensive.
Can get moldy, unless cleaned on a regular basis.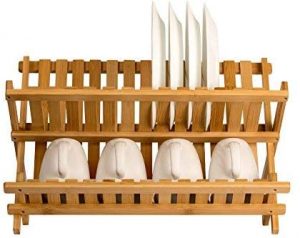 On our top pick, we present to you Sagler's wooden dish drying rack. It's a foldable wooden rack that can hold all your dishes at once. With fantastic durability, it also comes with stunning looks.
The dish drying rack is perfect for your household if you're looking for a compact dish dryer. It can easily fold and not waste your precious space. It'll drain and absorb the water of your dishes faster than other dish racks.
For people who find dish racks harder to clean, this one is a bliss to work with. You have only to use water to clean it. A little mixture of water and soap will make it look as good as new.
The rack is amazing, withholding more oversized kitchen utensils. It can fit fourteen different, large utensils. From iron skillets to glass plates, you'll never have to worry about the spacing on this drying rack.
The craftsmanship on the drying racks is exceptional. The entire rack is built out of high-quality wood and screwed tightly. It's free of sharp pins. Hence, you won't have to worry about pins coming out of your rack after a few days of usage.
Not only is it affordable, but it also doesn't compromise on its heavy-build, aristocratic quality. The rack will surely make drying your dishes easier and more convenient once you give it a go.
👍 Pros
Budget-friendly
Foldable
Very Sturdy
Long life-span
Fourteen drying slots
Easy to wash
👎 Cons
Unstable screws
Takes time to dry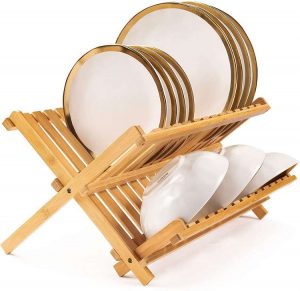 Next on our list, we have Bellemain's folding bamboo drying rack. This rack is made out of exceptional wood quality. The design is specially made for attaining the maximum convenience for its users.
The beautiful rack holds up perfectly in your kitchen. You can put tons of weight on it, and it won't move around. If you're mainly looking for an over the counter drying rack, nothing can suit you better than this product.
The drying rack manufacturer focuses entirely on picking out the best bamboo for their drying racks; with quality assurance, you get a few extra years of use out of your bamboo drying rack.
Many people complain about their organic drying racks catching mold. However, with Bellemain's drying rack, the bamboo will not persist mold. It's infused with anti-microbial properties and stays fresh for a long time.
The measurement on the dish racks is perfect. You can store up to fourteen dishes and the glasses on the spacious drying rack for these reasons. It can save your counter space when you're done drying the shelves as well.
When it comes to cleaning the drying racks, it's super easy. You can warm up a little water and mix in some soap, and hand wash the frame, and it won't lose the quality and the shine. The bamboo will be completely free of dirt in no time.
👍 Pros
Extremely durable
Made of high-quality bamboo
Mold resistant
Easy to clean
Can be used for drying glasses
Natural grain surface
👎 Cons
Harder to store for the bigger structure
Delayed customer service response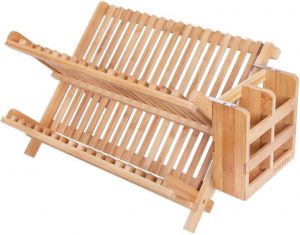 The bamboo rack accommodates not only dishes but also forks and knives. The uses of the drying rack are vast. It's also foldable. Hence, you can quickly put it away anytime.
The rack is foldable so you can store it away when you're finished. It is lightweight so you can hold it comfortably when you choose to dry your accessories and during storage.
The drying rack is planned to be well-sized to work in dorms, compact kitchens, and RVs. This bamboo structure is organic, where it can be cut and developed again.
The bamboo structure has an antibacterial fragrance that makes the bamboo last for years. The bamboo content is immune to soaps, pans, water, and fruit.
This bamboo rack is eco-sustainable, easy to maintain, and doesn't hold onto scratches. The bamboo rack will surely never fail to add the essence of nature to your kitchen.
Throw out your metallic, rusty rack and opt for this one. If you're mostly a fan of having a shelf with metallic prongs as utensil holders, you'll love this rack for sure.
👍 Pros
Optimized with metallic utensil prongs
Scratch-resistant
Foldable
Made of natural bamboo
Extremely sturdy and balanced
Easy to assemble
👎 Cons
Flimsy Hinges
Tough to collapse the rack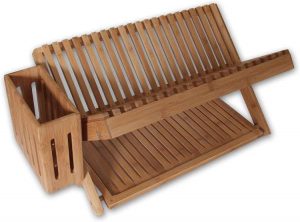 Last but not least! When you get a bamboo dish drying rack, you might not want to go back to the globe of plastics and also stainless steel dish racks. So if you known with bamboo dish racks, this can be a good selection. The dish rack from Island Bamboo has a two-stage design.
The dish rack is developed and constructed to optimize security as well as resilience. The rack can maintain severe usage and is extremely resilient.
The bottom line of bamboo is the health variable compared to average wood (oak/maple). Bamboo is normally anti-microbial, there is no factor to be worried about the rise in microbial development.
The style of the rack is fairly the same as other bamboo racks (e.g. the one from Totally Bamboo). The two-tier rack is collapsible for easy keeping. The rack is generously sized and rather massive. It can conveniently make space for every one of your tableware, flatware, cutting boards, or serving things. It is 24 inches or more feet in length, meaning any kind of big pans or bowls will certainly fit conveniently in it.
The highest possible rack maintains the plates upright for fast and also fast-drying, whereas the all-time low level is for the mugs or different offering things. The shelf furthermore includes a removable flatware holder, which is fairly larger too. This dish drying rack is rather huge and also very stable.
It offers a lot space for drying out as well as stands up well for several years. Island Bamboo additionally offers a replacement for malfunctioning products.
👍 Pros
Made of bamboo that is 16 percent more powerful than timber.
Has anti-microbial buildings.
Collapses flat for straightforward storage.
Consists of a detachable utensil holder.
👎 Cons
Might not fit in a smaller sized kitchen
A little bit expensive
No drainer tray suggests damp countertop.
You May Also Love to Read:
Conclusion
Right now, keeping in mind the current condition around, we have a bit of responsibility towards nature as well. Thus, all of our actions and purchases should look towards the greater goal of protecting the environment. Having a dish rack is very useful, but spending a bit of money to get some that are not only sturdy and strong but also don't add to the world's huge rate of pollutions, carbon footprint, and environmental damage. Thus we suggest investing in the best bamboo dish rack, which without a doubt is the Eco Collapsible Bamboo Dish Drying Rack from Totally Bamboo.