Concerning the art of chairs, you can't forget about the Eames chair. One of the decorated and designable affordable chair brands they are.
You might have seen countless Eames chair, but do you know the story of the Eames brand? Today I will talk about the history of the Eames chair.
A Long History of Eames Chair
The Eames chair is also known as the Eames lounge chair. One of the spectacular and unique chair brands it is. In 1948, Herman Miller Furniture Company arranged an international low-cost furniture making competition.
A furniture designer couple hears about it and they wanted to participate in this competition. To win the event intentions, they designed the Eames lounge chair.
Basically, it was made of plywood, low-cost fiberglass, and lather. It was structured as a relaxing chair. The majority of relaxedness chair comes with higher prices. That's why they tried to make an affordable one.
Unfortunately, they didn't win that contest but they got huge positive admires.
In 1956, they added some additional convenient features on their Eames' lounge chair. Those features responded all over the market. For this reason, it becomes a permanent collection in the "Museum of Modern Art".
At that moment, Herman miller bought their chair design and campaigned for a lot in the market about it.
Then Vitra launched the Eames chair in the European continent markets. Eames 670 and 671 becomes super selling chair worldwide.
In 2006 Herman Miller and his company celebrate the 50 years of Eames chair.
Overall, the history of the Eames chair is pretty interesting and they provide us with some outstanding featured-able chairs. Especially, thanks to the Eames couple for bringing these amazing chairs in the market.
Who are the Inventors of Eames Chair?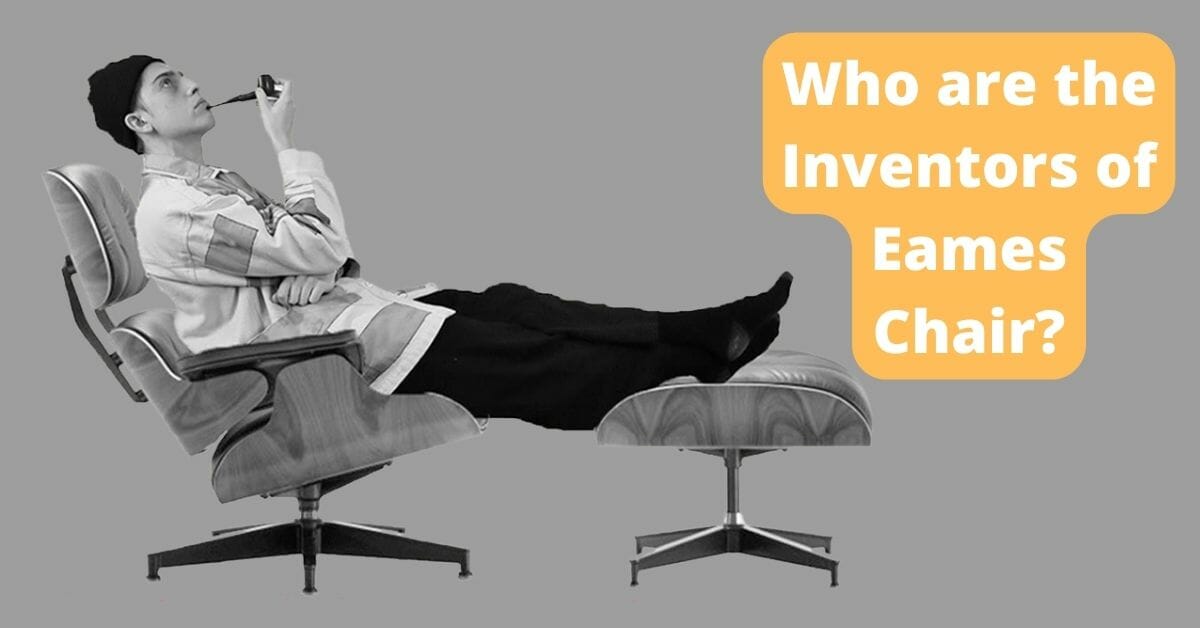 Unfortunately, people think that the inventor of Eames's chair is Herman Miller and his manufacturers. In truth, Herman miller isn't the actual inventor of Eames chair.
The truth is, in 1956 two of the designer in the Herman Miller furniture company Charles Eames and Ray Eames a couple designed this chair. But they made this design at the end of 1948, and Herman Miller was impressed with their design.
That's why he asked them to join his company. Eames couple made a lot of changes in it and launched it in 1956. Their chair design idea got a huge response from other designers, stuff, and especially own Herman Miller.
Which chair called the art of the chair?
Eames Lounge (670) and Ottoman (671) are called the art of the chair. These two are the best-designed chairs from the Eames couple via HMFC (Herman Miller Furniture Company).
The molded system makes it an exceptional item in the market. When it was invented there has no chair to look like it's and that thing makes it a special one than others.
Because of its affordability, response, and flawless design, museums got a huge interest in it. For instance, New York's modern art is a museum keeps it in their collection as the once in a lifetime chair design.
Features of Eames lounge chair it has from the beginning
We both know how popular Eames lounge chair is. It got popular because of its unique and fantastic features. For your kind information, I gathered some features of the Eames lounge chair and I will talk in detail about these features specifically.
Soft cushion
Normally, it is made with a structure so people can take a rest or relax on it. Manufacturers attached a well-known cotton-based soft cushion to it. You will not feel its softness until you jump or seat on the cushion.
Leather
For making the Eames lounge chair more durable and attractive, smooth leather is added all over it. From the upper side to the leg side, every single area is structured with leather. This Italian aniline leather is very stable and will protect your chair from dust and water.
Colors
Did you know when the Eames couple got the reputation of their chairs? When they bring lots of colors in their designs, after that their product becomes renowned. Colors are available such as black, grey, white, brown, and sky-silver.
Wood quality
One of the main reasons Eames lounge chair is significantly stronger is plywood. 7-ply laminated molded plywood is the major wood material in this chair. Alternative wooden chairs are also used to make palisander, walnut, white oak, and ebony.
Warranty
You are going to spend huge amounts of money and without a warranty, that doesn't make any sense. Shipping causes a lot in the chairs, that's why HMFC provides guarantees on their chairs. If you purchase it you will get 3 years of guarantee.
What is the price of the Eames chair?
The price of the Eames chair all depends on the size and quality you are choosing. For example, a cheap chair doesn't come with stronger materials. In other words, well-designed and stable materials chairs are expensive to purchase.
Eames chair price range could be a minimum of $870, $1450, and $1800. Mostly, heavy and super quality Eames lounge chairs could cost you up to $2500.
Or else, to purchase a low-quality and smaller lounge chair. Probably you have to spend $1000-$1100 on retail price.
Where I can buy an Eames chair?
Herman miller already launched a number of the stall in every particular country. From the beginning, the campaign a lot to increase their product popularity.
At first, they launched it in the USA, and after that; they launched it in the UK. But not their stall spreads all over the cities.
You can find these lounge chairs and ottoman 671 near the shop. Or else, you can search these on online stores such as Walmart, eBay, and Ali-express.
Final Verdict
It's time to wrap up the whole article about the history of the Eames chair. Specifically, it tried to clarify all the issues, history from the beginning, questions you are getting, and its features.
Overall, I hope you enjoy this article and gained some authentic information about the Eames chair.
You May Read Also