Are looking for some iconic furniture with a vintage look? If yes, then an Eames lounger chair and ottoman can be the best option. Every chair comes up with soft upholstery that gives you ultimate comfort. Along with that, you will have a remarkable design, style, and guarantee of durability. Because of its quality, the Eames lounger chair replica is considered the gold standard.
If you are searching for something best for your office or home lounge sitting arrangement, here is the solution. The Eames lounge chair and ottoman include everything you need. It brings an astounding design, signature style, unbelievable comfort, and extremely durable chairs.
In this article, you will know the history, specifications, pros & cons, and some tips to buy an Eames chair and ottoman.
An Overview of An Eames Lounger Chair and Ottoman
Eames chair and ottoman have become one of the most preferable furniture since their inception. It has been in continuous production since its start. You will find several legends regarding the origin of the Eames' lounger chair.
Some people think that Charles wanted to create a chair that will fit just like a baseball glove. Whereas some others believe that a gentleman's club chair is what Charles wanted to make.
No matter which one you believe, no one can ignore the combination of rosewood and Scottish leather. The beautiful craft, and down filling, make justice to the expensive tag that it has.
With 20 separate components, it is the most complicated piece of furniture available. The construction is complex, which makes it one of the most expensive pieces of furniture as well. Throughout the time it has stood out from every other test. Over time, it has changed its design, style, and look so that it remains at the top of people's demands.
Generations
As time passes, any product goes through certain changes in different aspects. The improvement in the look, quality, and other aspects are divided into different generations. Like other Eames loungers, chairs and ottomans also have certain criteria for each generation.
1st Generation
The chairs of the 1st generation had 3 screws and later it was brought down to 2. Moreover, it had goose-down feathers to fill the cushion. Later they changed it because, over a time of use, it gets flat and sagged. The chairs were made of only Brazilian rosewoods back then. The aspects were like this:
Rubber back mounts.
Push on the boots of ottoman
Down feathers level
Silver cushion clips
Rosewood
5 Ply build
2nd Generation
As a part of the improvement, they changed the number of screws and dropped the glides. The rosewood was still the material to make chairs. Other criteria were:
Screws in ottoman feet
2 arm screws
Silver cushion clips
Rubber back mounts
5 Ply build
Down feathers level
Rosewood
3rd Generation
Cushion clips were where the major change they made. The circular silver hooks are no more in use. A black rectangular type replaced that. Though it was functioning, modern methods came in and replaced that too.
2 Arm screws
Plastic back mounts
Screws in ottoman feet
Fiberfill label
Black cushion clips
5 Ply build
4th Generation
In this generation, there was not much change. However, the 5th generation saw a drastic change in everything.
5th Generation
2 Arms screws
Plastic back mounts
Screws in ottoman feet
Black cushion clips
7 Ply build
Fiberfill label
Cherry/ Ash/ Walnut/ Santos
Buying guide!
Well, you may be thinking of buying an Eames' lounge chair and ottoman would be a great idea. I want to warn you that you can get into the trap of fake furniture. Because of its popularity, many fake producers are manufacturing furniture under the name of this brand.
So, how can you be sure that you are buying an authentic one? Similarly, you should know what makes it valuable. Here are some tips that will help you buy an authentic Eames' lounge chair and ottoman.
Labels And Stamps
You have to check the labels and stamps first. You will find at least one level on the lounge chair. Sometimes, there can be two as well. In the initial versions, we saw there used to be two labels.
One was from the manufacturer, Herman Miller, and another one was a paper label because of the upholstery. The later models changed this pattern as well. They normally have a quality control label, a bar code label with the manufacturer's date.
Check If It Is Original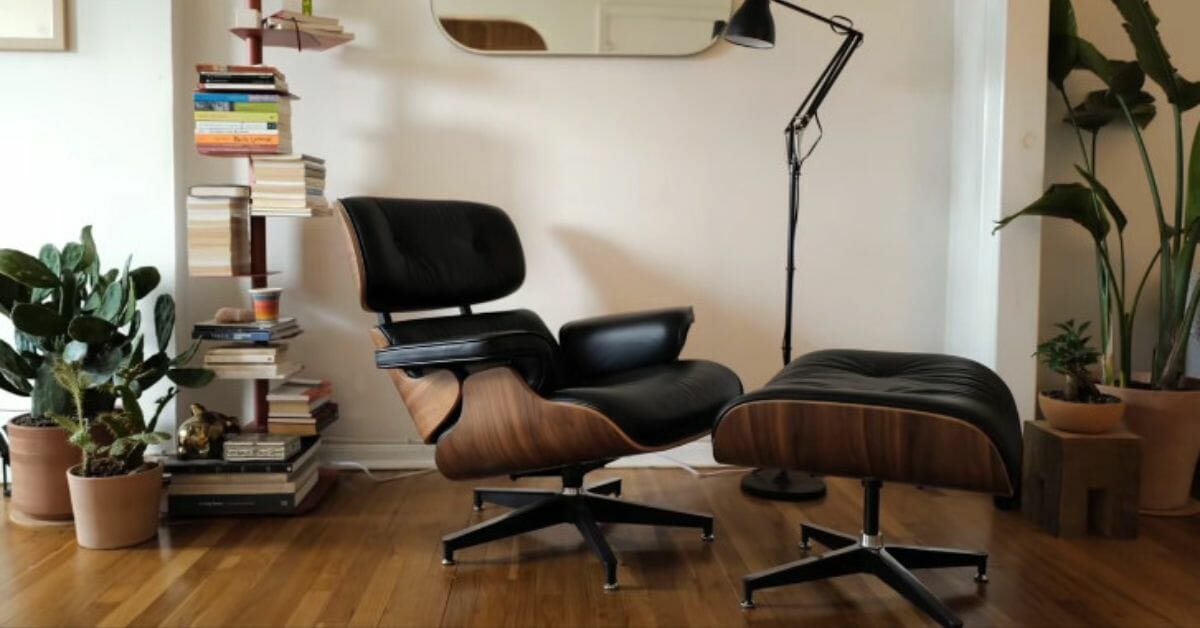 As I said before there have been some fake furniture makers who copy the original version of the Eames lounger chair and matching ottoman. What can you do in that case? You should check the manufacturing date and the generation of it. If it doesn't match, then it is not the authentic one.
Some Chinese companies are constantly copying the original version. However, they cannot copy the vintage look.
Ask for a Certificate of Authenticity
Many fake producers claim their ottoman, and lounge chairs to be authentic. Do not buy the fake one. Ask for the certificate of authenticity. If you do not ask for the certificate, you might end up buying the fake one. As a result, you will have a lower quality product. If there is no way of doing that, go for the vintage seller of Eames chair and ottoman. Trusted sellers never do any fraud.
Compare generations
Each generation of furniture has some unique features to identify. Find out the generation differences from the generation section of the official site. To find out the differences you have to check the number of ply layers.
Initially, the number of ply layers was 5. But in the 70s, they changed the number to 7. An increased number of layers provided better quality. Compare the generation of chair and ottoman you buy with the information given on the website. That can help you buy an outdated product.
Look for The Universal Thread or UNC
Well, this is a good method to find out if you are buying a genuine product or not. Check the chairs thoroughly. You will find a certain kind of UNC or universal thread under the arms. You will find the same in the ply panels and under the cushions. A metric thread or a hex key fixing is found in approximately every vintage collection.
Cushion
To make sure if your chair and ottoman are original, you need to check the cushion. Check it very carefully. Unzip the cushion and make sure everything is according to your expectation. As each generation has a different type of cushion, make sure everything is alright. Match the marking and initials of the cushion with the ottoman. Therefore, there will be no confusion.
Ask a lot of questions
When you go to buy a lounger chair, ask many questions regarding quality, durability, and origin. Have some knowledge about the original version before you go to buy. Apply that knowledge while buying. Remember, the owner of the original furniture will know every bit of it.
Scrutinize The Furniture
Sometimes you cannot identify if an Eames lounge chair and ottoman are fake or not. Because not every part is fake. Some frauds copy Eames furniture using some original parts keeping some other parts fake. So, it becomes tough for anyone to ensure originality.
For this reason, you have to check the whole chair and ottoman fully. Leave no parts unchecked. Match all the labels. Find out if the shock mounts are genuine or not. Sometimes, they use different feet for the same chair. In that case, you have to check every foot from up close.
Repairs And Replacement
The authentic company will allow you to replace the product if there is any problem. We often see the failure of the lounge chair occurs in the design of the mount. Sometimes, they get broken very easily. Similarly, if there is a weak repair then you can replace it.
On the other hand, the quality of a fake Eames lounge chair and ottoman will not be the same. So, it may break off. But they will not always allow you to replace or repair.
Pros:
Rich leather
Groundbreaking designed plywood shell
An extreme level of Comfort
Elegant Style
Vintage and classy look
The brand name
History of a successful brand
Extremely durable
Cons:
(FAQs)
How should I confirm my lounger chair and ottoman is authentic?
Check out the whole furniture, ask for an authentication certificate, and compare the generation.
Which is the best option while buying office furniture?
Eames chair, and ottoman is the best option for you while buying a lounge chair and ottoman.
The Final Words
Eames lounger chair and ottoman is the best choice. But buying a genuine chair and ottoman is no easy task. The materials they used to produce the final furniture are always of high quality.
Over the years, they have been able to attract people's attention because they never compromised quality. Many furniture companies came and went, but the hype of Eames lounge chair and ottoman is always at the top of public demand.