It's no hidden fact that the right pair of blinds and curtains can make a design statement for your home and can fundamentally change the overall look of your room.
Incorporating curtain over blinds makes windows look good and increases the ability to control sunlight and other uninvited rays.
The combination of curtains and blinds adds depth and stylishness to windows. Mounting curtains over blinds is an ideal way to meet all of your demands without sacrificing style or any other functional aspect.
How to hang curtains over blinds that stick out? Many homeowners believe that protruding blinds can spoil the appearance of windows and cause them to fall.
But, according to window designers, you can still cover up these types of blinds and create an elegant and versatile look for any space.
This article will show you the different ways to hang curtains over blinds sticking out to enhance value to your space while creating flexible decor.
How to Hang Curtains over Blinds: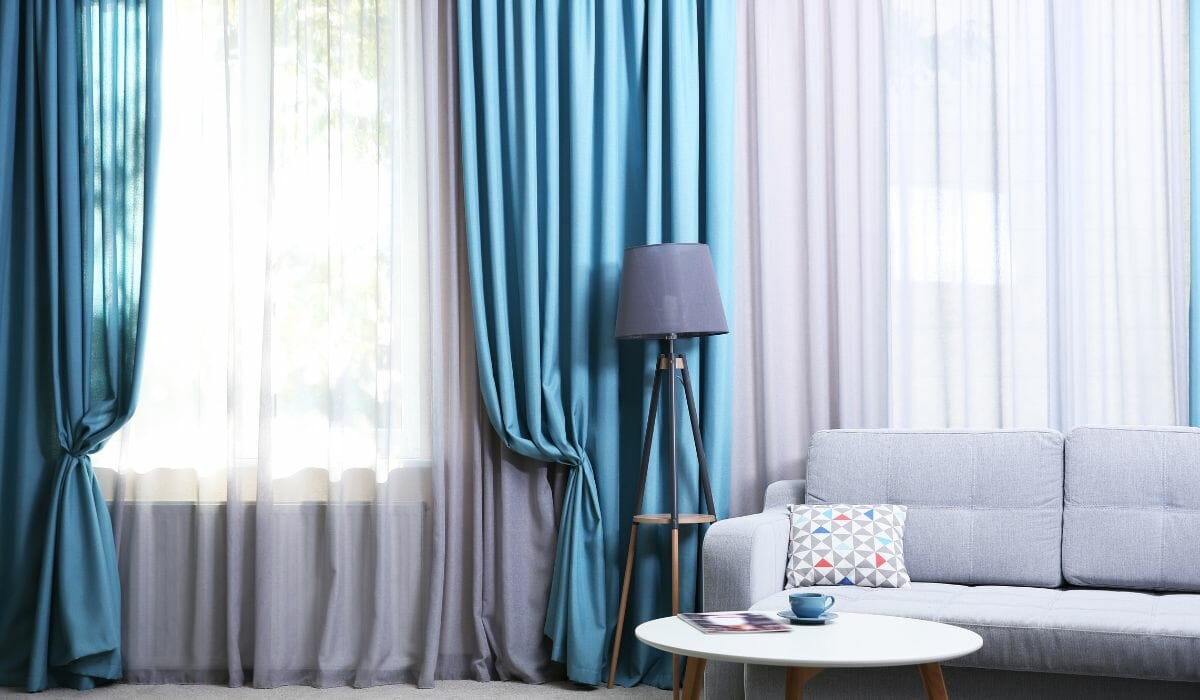 Design Ideas For Curtains On Blinds
Are you ready to install blinds on your house shutters? Here are some of our favorite blind designs.
Horizontal Blinds
Installing horizontal curtains or blinds is a modern look. You can open, close, or slant them completely at different angles to get the right amount of light or privacy.
Horizontal blinds are obtainable in various materials, including wood, vinyl, aluminum, and synthetic wood.
Roman Shades
Roman shades are a personalized alternative to traditional blinds. Roman shades are typically opaque and can only be raised or lowered, providing fewer light control options.
Cellular Shades
When you need more privacy, insulation, and light control, cellular shades are perfect. Honeycomb construction allows light to penetrate, but still offers an impervious coating. Internal cells keep hot air outside and cold air inside, making it a convenient energy-saving option. Black-out options are also available for complete privacy.
Vertical Blinds
Vertical blinds are great for sliding doors and large windows because they open left and right rather than up and down.
Vertical shades are available in a variety of styles and widths. You can easily chain them down to prevent the slats from moving when the windows are open.
Roller Blinds
Roller shades have come to a long road from their white vinyl predecessors. They're affordable and available in a wide variety of materials, so you don't have to go out of style to live within your means.
If you require complete lighting during the day and thorough concealment at night, roller shades are the best choice.
How To Drape Curtains over Blinds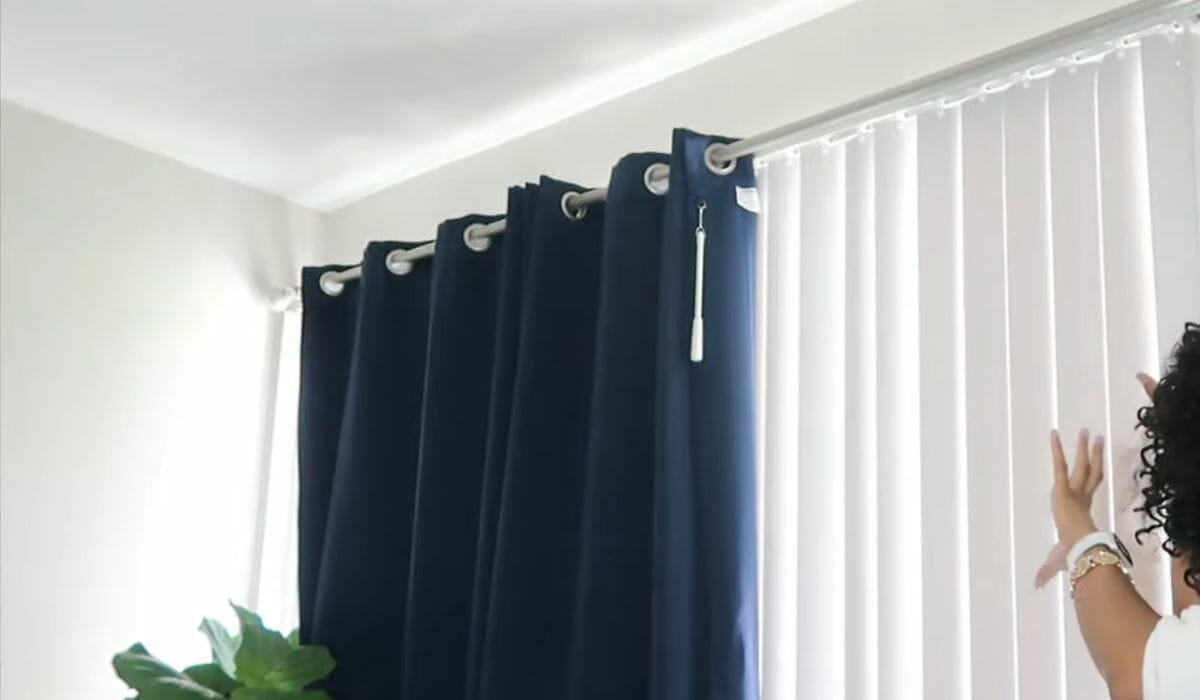 Blinds alone can feel unfriendly and incomplete and may allow in excess light or not provide the level of privacy you need. This is why the combination of blinds and curtains can help you achieve the look and functionality you want.
First, a few things to do and not do to get started.
Consider The Color – Toned wooden blinds with colorful curtains can create a cozy ambiance. Alternatively, white curtains over white blinds can brighten and lighten a room. What look are you trying to create? The colors you choose for each item can make a big difference.
You Should Explore Structured Treatments – soft fabrics and wood aren't always ideal. Textured treatments, such as wood or velvet curtains, can add depth and style to your room.
Add Curtain Tiebacks For Elegance And Purpose– Holdbacks and tiebacks are impeccable addition to your curtains. They add disposition to your windows, showcase your curtains, and effortlessly display exterior views.
Do Not Mount The Curtains Outside The Window Frame – if you cover the curtains, it's imperative to bring out the best from your window space. Installing curtains on the outside of the window frame reveal faulty mounting hardware and look sloppy and unfinished. If you wish for your windows to appear larger, use interior support for longer curtains and rods to accommodate wider curtains.
Don't Overdo It With The Designs– choose a printed, solid color for the best effect. Remember, if you raise the curtains during the day, they will no longer be visible. So if you wish to display an attractive pattern, be certain it's on the curtains, not the blinds.
Don't Follow A Single Pattern For All Aspects Of Your Home – It's best to choose different blinds or curtains for the whole house. If you have identical curtains throughout your home that you can't replace, choose new curtains to give each room a unique personality.
How to Hang Curtains Over Blinds That Stick Out?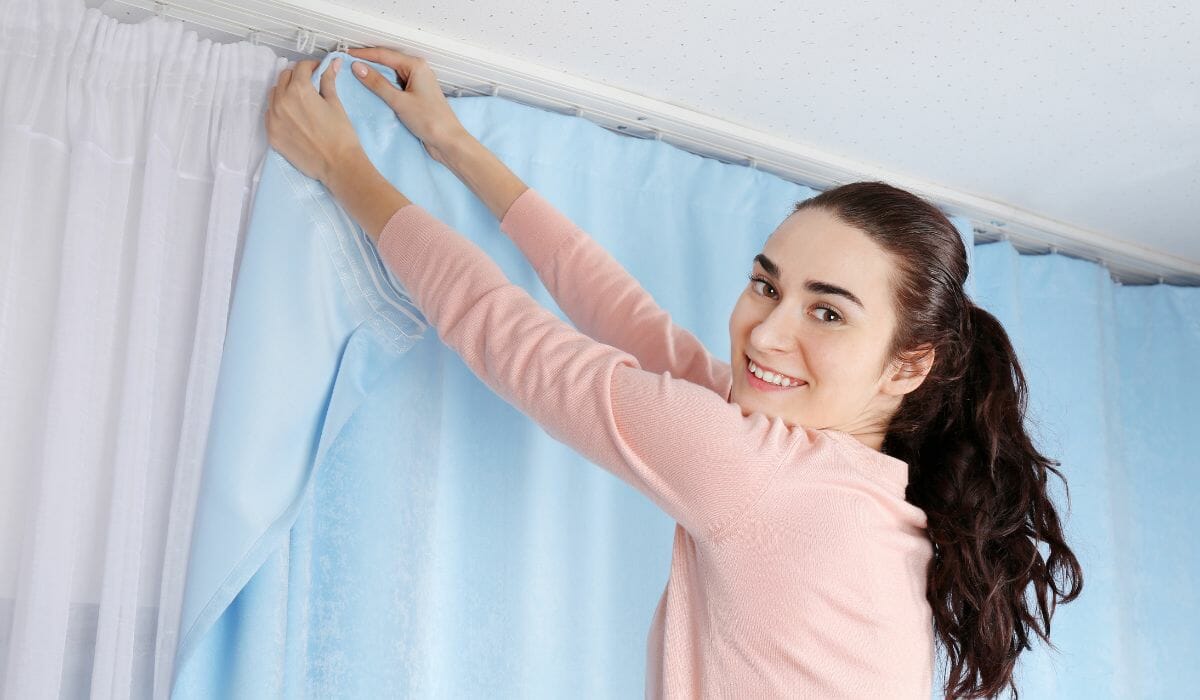 Find out ways to hang curtains over blinds sticking out that will augment style to your room. Once you've selected the style and design, measure your curtains and choose the one that suits your decor.
Use your time and effort to select the curtain you want and hang it correctly to ensure a rich and striking look.
– Tension rods are the best option for hanging curtains when blinds are sticking outside windows. But these rods are suitable for light curtains because they are not designed to support a lot of weight. First, you will have to place the curtain between the frame and the blinds.
– Now clean the inside of the cloth and remove all dust and unwanted particles. Attach a side of the velcro to the cornice and leave the other side open to stick with the curtain. Make sure the velcro is evenly aligned.
– Attach the brackets on the cornice to hang the curtains in front of the blinds.
– Take a screwdriver and remove the cornice, place the curtains on the rod and hang them on the brackets.
In addition to the connecting rod and curtain rod, several other options are available, such as hanging rods and more. You can also choose to hang the curtains above the blinds.
You can also hang curtains with hooks that include clothes, hooks, and control hooks. These uniquely designed hooks help curtains hang virtually from above.
Make sure they are fixed in the correct position on the windows for a neat and meticulous look. Considering the weight of the curtain, you need to increase the number of hooks manually.
For example, two hooks are sufficient for light or narrow curtains, but more is required for heavy curtains and rods.
The best part about these hooks is that they are available in different color options to match the existing wall color and decor style. If you live in a rental home, these hooks are a great option.
Faux Wood Blind Review
Faux wood blinds offer the attractiveness and charm of real faux wood blinds at a low price. Faux wood is usually made of composite wood or PVC vinyl, and these synthetic materials are incredibly easy to clean and durable.
They are perfect for rooms or homes in humid areas, windows with direct sunlight, or high-traffic areas. Pick from a variety of stains and painted colors and customize the slat size as you wish.
Features
– The natural look of real wood
– No deformations, splits, or cracks
– Ideal for extreme or humid climates.
– Long-lasting
– Variety of colors and finishes available
Measuring Tips To Consider
– Before hanging curtains, correctly measure your windows; determine the area that requires full coverage
– Take a tape measurement and measure from the top of the curtains to the bottom window sill.
– Define the length from the floor to the top of the blinds.
– Drape the curtains high to cover entirely the sticking-out blinds.
Conclusion
When selecting a curtain, be certain it matches the type of blinds and interior decor you already have. Take a guise at the color or style of fabric you have chosen to create the perfect visual contrast in the surroundings.
This way, you can easily hang the curtain over blinds sticking out. If you experience any problems installing them, please consult professional designers and get the job done quickly and easily.
You May Read Also