Your kitchen is an important part of your house, it's a place where the magic happens. But keeping everything clean and organized in the kitchen isn't always easy. Especially when you have a small kitchen, and you need to utilize every inch of it.
Take a dish rack, for example. Your dishes need to be cleaned and dried regularly to prevent bacterial growth. But every kitchen is unique and needs a different dish drying solution. While one kitchen may have plenty of countertop space, another may have little. So you should always identify your own requirements and weigh all the options before making a decision.
Why Should You Buy an Over The Sink Racks?
An over the sink dish rack can be useful if you have a small counter. It's placed over kitchen sinks and is a great option if you are running low on counter space. Also, the water from the dishes trickles down directly into the sink. So you don't have to worry about wet counters anymore.
The online market nowadays is very saturated and full of products that don't live up to the hype. So we decided to review and filter the good ones out from the bad. We took the design, build, space, and customer reviews into account and decided whether they are good value for money or not.
Top 6 Best Over The Sink Dish Rack Reviews 2021
Here are our Top 6 Over The Sink Dish Rack Reviews. Check them out on the below and pick your best one.
First up on the list is the KRM-10 dish drying rack by Kraus. This rack, in particular, should not be confined only to the task of drying dishes. It can do a lot more than just drying. It also rolls up to save space: you can fit it easily inside a cabinet drawer for easy storage.
The rack's made of silicone-coated steel rods. The silicone layer protects the steel from rust and makes the rack heat resistant. You can use it for air-drying large cookware, glassware, and other dishwares.
Manufactured by Kraus, it's a well-built product that has been loved by the customers. Apart from dishes, you may also use it for dripping water from fruits, vegetables, and more. It can serve as a heat-pad too if necessary.
The dish rack measures 20.5 x 12.7 x 0.2 inches. It weighs 1.65 pounds which is fairly lightweight.
This thing is made of high-end stainless steel with a thick silicone coating on the surface. The coating makes it completely dishwasher safe and food grade. Also, the use of silicone makes it rustproof and easy to clean.
it's strong enough to hold a lot of weight without bending or breaking.
The rack can be used in multiple ways. The design allows for a lot of versatility. It can be used to clean and dry fruits and vegetables as well as utensils.
This roll-up rack can withstand heat up to 400°C. You can use it to cool your foods without damaging the countertop. Overall Kraus KRM-10 Dish Rack considered as one of the best over the sink dish drying rack.
👍 Pros
Lightweight
Easy to fold and store
Can be used in multiple ways
Heat resistant up to 400°C
Rust and BPA free
👎 Cons
Doesn't have clamps inside to hold dishes and bowls.
Can't function as permanent kitchen storage.
Verdict
We chose this foldable, multipurpose rack as top-rated because of its versatility and innovative design. Not only is it a dish drying rack, but it can also be used to wash and dry fruits and vegetables. The biggest downside is that it's not designed to store dishes; you should only go for it if you don't intend to use the rack for storing pans and pots.
Next up on the list is the dish rack from Sorbus. This rack perfectly implements the classic above the sink design, making it one of the most popular dish racks on Amazon.
This iron made rack has a supreme finish that looks and feels classy. It's got space for almost everything: from dishes and bowls to cutting boards and cleaners. There's a dedicated compartment for holding knives and a plastic cutlery box right alongside it. It can hold up to 10 full-sized plates or at least 12 bowls easily.
With a geometric design and metallic silver/matte black finish, it'll fit in any kitchen decor easily. So if it matches the length of your sink, we highly recommend that you buy it.
The dimensions of the rack are 34.25 x 12.87 x 20.5 inches and weigh around 11.65 pounds without packaging.
Moreover, the entire rack is a multifunctional set of components. These include a fruit and vegetable basket, a plate rack, a bowl rack, a knife holder, a utensil holder cage, a chopping board holder, a square basket for cleaning supplies, and hanging hooks.
The rack is designed to be strong and sturdy. It can hold up to 12 bowls, or 10 plates at a time easily.
It's made of galvanized steel, which is completely rustproof.
👍 Pros
Stylish Geometric design looks good with most sinks
Uses Galvanized Steel to prevent rust
Has multiple holders with sufficient space
Easy to set and assemble
Has divided slots for plates, bowls, and cups
👎 Cons
Not adjustable to sink length.
Slightly heavier than other options.
Verdict
This, without a shred of doubt, is a well-built dish rack. It's a good choice if your sink is 26 inches or longer. Since its length can't be adjusted, be sure to measure your sink before buying. Only buy if your sink's length is less than that of the rack's. However, if you have limited space in your kitchen and don't have a cabinet for dishes and utensils, this rack will be a very good buy.
This compact, beautiful dish drying rack by HEOMU is ideal for large kitchens. It's made of high-quality stainless steel, it's rust-resistant, and can hold a large number of plates and utensils.
The HEOMU 2-Tier Dish Rack's length can be adjusted between 33 or 36 inches. So if you have a large 36 inches sink or you want to replace it later, rest assured that this rack will fit over any sink.
This versatile kitchen appliance contains a number of racks, which include separate holders for plates, cutlery, bowls, detergents, etc. It's also capable of holding large pans and dishware. In short, It's everything you need for an organized kitchen if you're in shortage of storage space.
The Rack measures 36.5 x 11.5 x 31 inches. Being adjustable, its length can be increased to 39 inches if necessary. It weighs around 9.5 pounds.
This thing is made of 304 stainless steel, which is rustproof and durable. If properly used, it can easily last at least four to five years.
The rack features a number of compartments including a dish Rack, plate rack, fruit & vegetable basket, chopsticks drain rack, knife holder, chopping board holder, and hanging hooks.
👍 Pros
Affordable price tag
High-end, stainless steel build
Adjustable length by sliders
Lots of space, multiple racks, and holders for organizing
Easy to assemble and dismantle
👎 Cons
Too big to fit in kitchens with smaller sink and counter.
Slightly flimsy when full of dishes.
Verdict
Though it's not as sturdy as the former product, it's a great option considering the price. The adjustability feature is very helpful for people thinking of renovating their kitchen. However, it's in no way suitable for small places and counters. So if your kitchen is small, I suggest you look at other racks that'll fit in there.
Next up is another amazing dish drying rack from iSPECLE. Made of premium stainless steel, it can hold more weight than its own body. The premium finish also adds a touch of class to your kitchen design aesthetic.
Just like the rack from HEOMU, this rack has a place for everything you have in your kitchen. It's intelligently designed to use vertical space efficiently. It has a plate rack, a bowl rack, 8 hanger hooks, a cutlery holder, and more. Its rubber feet provide stability and protect the counter from scratch.
This space-saving rack can be used in most kitchens due to its smaller build. However, it can hold a great number of kitchen appliances and tools, and It can genuinely be your one-stop for everything in the kitchen. From tools and utensils to fruits and vegetables, everything can be stored with ease.
Its dimensions are 34 x 11 x 23 inches and it weighs around 5.9 pounds.
Made of rust-resistant201 stainless steel. Due to the strong build, it can hold up to 28 pounds of weight.
In order to make sure the rack is stable and holds itself well, rubber pads have been placed at the legs. This provides a good grip on most surfaces and keeps the rack still.
The product comes in 6 parts, which are: plate rack, bowl rack, knife holder, chopping board holder, movable hooks, and washing tools stand.
👍 Pros
Premium stainless steel build
Relatively lightweight
Can hold a lot of weight
Easy to assemble and dismantle
Anti-skidding rubber feet
👎 Cons
Only available in one size
Extra-large bowls don't fit
Verdict
This sturdy over-the-sink shelf is very efficient for smaller homes. It's lightweight but powerful enough to hold almost everything for a small family. If you think it a good match and are willing to spend the money, go for it.
Presenting to you what's possibly the best in sink dish rack on the market right now. The benefits of having an in-sink rack are many, especially in kitchens with limited counter space. Also, it complements the design aesthetics of the sink and brings about a modern vibe to the kitchen itself. Moreover, as the water drops directly to the sink, it does its job perfectly without creating any mess.
This budget-friendly sink rack appeared on amazon in 2015 and has been a popular choice since then.
Neat-O has a very simple philosophy: "Simple is Best". Emphasizing the simplicity of a product that doesn't need all the tinkering. Using the very best material available, with very simple yet sophisticated designs at the minimal pricing possible.
This Over-The-Sink Dish Drainer is no different, it's designed to be simple, but it does its job beautifully. Perfectly sized to fit into most kitchen sinks, yet leaves enough room for you to clean dishes properly. Also, it can be moved anywhere in the kitchen while not in use to save space. Overall, it's sleek, affordable yet very functional – something that can save your time in the kitchen by a mile.
The rack measures approximately 13.00 x 8.27 x 4.92 inches. The smaller dimensions enable it to fit into most sinks regardless of size.
It's made of plastic-coated stainless steel wires. The coating prevents rust. The base handles are also covered with plastic pads to prevent scratches.
A stylish, elegant chrome finish makes it look above the notch.
It drips directly into the sink, so your countertop stays always dry and germ-free.
👍 Pros
Small and sturdy, perfectly sized for a family of two
Can be used both inside and outside of the sink
Plastic-coated wire for rust resistance
Can hold the weight of a lot of dishes
Low priced compared to its quality
👎 Cons
Might be a bit too small for a large household
There is no drip tray to collect the water droplets
There are no separate holders inside the rack
The product doesn't come with a warranty
Verdict
It isn't always the extra stuff that makes kitchenware great. Sometimes It's the simplicity, functionality, and affordability which make the cut. Thus, spending wisely is very important; you don't want to buy something and then regret it later. If a product gives the person ease while working, it's worth it and that's exactly what this rack brings to the table. Simple, yet elegant and overall "better". Neat-O sticks to their motto with their product, and what you get is the best in sink dish rack available.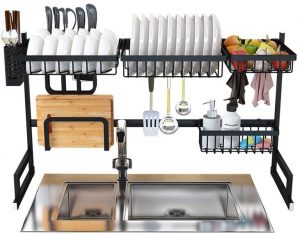 For the last entry of our list, we tried to include something unique, something that's not too popular, something uncommon. We chose this rack because it re-invents the classic above the sink design as well as adds more functions to it.
This rack is very well-built. It's sturdy, strong, can perform a lot of tasks, and can make the most monotone task of cleaning easier. From storage Saving to maximizing use, this over the sink dish rack can do you a lot of favor. An over-the-top dish rack does a lot more than just helping the dishwashing part, and that's what makes this over-the-sink drainer so special. Made of stainless steel, this 16-pound beauty is something special. Very easy to assemble and dismantle whenever necessary, it is definitely one of the best over the sink dish racks out there.
The product has dimensions of 33.5 x 14.2 x 6.1 inches and it weighs around 16 pounds. The weight makes it very sturdy and strong. Also, the weight works to prevent the rack from tipping off, making sure it holds up the weight of the dishes.
It is made of 304 stainless steel, which is completely rust-free and durable for a very long time.
The products come in a package of Dish Rack, Plate Rack, Fruit & Vegetable Basket, Square Basket, Chopsticks Cage, Knife Holder, Chopping Board Rack, and Hooks.
It can be used as a rack for drying fruits and vegetables as well as dishes, thus making it multi-functional and much more effective than other dish racks.
The compartments are removable and can be reattached easily. This is useful for cleaning the rack or simply for storing it.
It has four anti-slip caps on all four sides in order to prevent it from slipping.
Consists of separate free, anti-scratch, decontamination, and abrasion-free layers.
👍 Pros
Great space saver as it makes everything more accessible and close to the sink
Made of rustproof 304 stainless steel
U shaped structure for rigidity and stability
Parts can be easily assembled and dismantled
Has anti-scratch, decontamination, and rustproof layers to increase longevity
Can be easily opened for cleaning
The black matte finish makes it fit into any kitchen aesthetic perfectly
👎 Cons
Slightly expensive
A bit heavier than other racks
Verdict
Despite its price, this rack has the qualities to make kitchen chores far easier. It's the strongest and sturdiest rack we have featured here. Small or big, it should fit in most kitchen decor and various sizes of sinks.
It's not just a great dish rack, but a kitchen organizer and something that improves the aesthetic by a great amount. Even though the pricing might set you back, you're in for a real treat if you decide to pay the price and get your hands on it.
You May Also Love to Read:
Conclusion
We reviewed six different racks and explained their strengths and weaknesses. Please keep in mind that there's no winner or runner-up here. Every rack's unique, and so is every kitchen. Always ask yourself: what does my kitchen actually need? Only by finding the answer, you can find the best over the sink dish rack out there.