The kitchen is one of the most critical places in our houses. A decorated kitchen with all the necessary items can easily allure us to spend our time in the kitchen with satisfaction.
If our kitchens' size is large and considerable, then we can decorate and furnish our kitchens as per our choices. But in recent days, most of us have tiny kitchens due to many limitations, and that's why we can't arrange our kitchens decently.
In small kitchens, different up-to-date and potent dish racks can help us through saving spaces from the mini-kitchens and reasonably arranging needed things. Today, throughout this article, we will describe the best dish drying rack for small kitchen.
How to Choose the Best Dish Racks for Small Kitchen 
Here we are presenting the 8 best dish racks for small kitchen or spaces that can help you have a small rack.
The first dish rack that we are talking about is the Umbra Sinkin small Dish Rack. This rack is made of metal wire and polypropylene that make this dish rack more attractive and durable. This rack is specially designed in consideration of the small kitchen to save space.
Umbra Sinkin Mini Dish Rack is 14 x 5 x 11 inches in size, which can be easily placed anywhere in your kitchen, even on your sink also. This dish rack has non-slip rubber feet that help to avoid scratches in your kitchen. It is one of the best small dish rack.
Another dish rack that is very useful for a small kitchen is the Tower Dish Drainer by Yamazaki. This stylish and sleek rack can enhance your kitchen's functionality by organizing your plates, pots, pans, bowls, cups, and other cutlery items in one place.
The thin and solid design of this dish rack alone with a self-draining board is one of the best criteria of this dish rack that make it different from other brands. This dish rack is made of steel, but it is very light in weight. You can place this dish rack anywhere in your kitchen. Also, it has an excellent drainage system.
The RigTig Dishy Dish Rack is a two-in-one solution for compact dish rack and washbowl. This Rack size is 17.72 x 4.72 x 10.24 inches and It is a thing of multiple use with a unique and classy design. It also contains a drainboard and space for utensils. This is known as one of the best drying racks for small kitchens to free up space
This dish rack is a stainless steel product solid in design and space-saving. This dish rack has a stainless drip tray that collects all the excessive water run-off. This rack dimension is 16.5 x 7.25 x 3.75 in inches. It can hold up to 14 plates in its cutlery holder and has an extra cutlery space for cutlery items. It can be placed beside the sink very efficiently.
[su_button url="https://amzn.to/2YWYney" style="flat" background="#DF5D00″ size="6″ wide="no" center="yes" radius="10″ target="blank" rel="nofollow"]Check Price On Amazon[/su_button]
---
The name Oggi is not related to the most famous cartoon character, Oggi. This 3-pc set includes a drying rack, drip tray, and utensil compartment. This is a stainless steel dish rack in which you can put your plates and other cutlery items very quickly.
The thin and compactable design of this rack is beneficial for placing it in your kitchen. This is a three in one solution for your kitchen that helps to free up space and adds a classy look to your kitchen.
---
It is one of the most compatible and straightforward dish racks by Surpahs. This is a large size rack with 18.75 x 4.63 x 8.88 dimensions in inches. It can be used as both a dish rack and a dish dryer. The best part of this mat is that you can roll up this whenever it is not necessary. It is a very lightweight mat that can support up to 80 pounds. It is also a heat-resistant product. You can easily place it on the sink after washing the dishes.
---
This disk rack comes with an easily removable drainer board by Sammart. This rack is 14.6 x 12.6 x 5.5(h) inches and its height just 1.8 inches after folds. That is very compactable and can be used comfortably in any kitchen. This Rack is also a good option for use in the indoor & outdoor such as camping, BBQ, and campsite clean up. Also, this rack is BPA-free and dishwasher safe. After all, this rack is considered to be the best collapsible dish rack.
---
This is a stainless steel-frame rack that is anti-rust and stays in design with Rubbermaid and rubber arms. It has separate compartments for keeping the plates, mugs, knives, and other utensils and cutlery items. It can be placed very easily over the sinks, and it also works as a dish drainer rack.
These are some dish racks that are very useful and convenient for small kitchens. These dishwasher racks are of multiple use and are user-friendly also. Moreover, these are the superb organizer for kitchen utensils, cookware, glass holder, plate holder, Paper towel holder, and other sink accessories. So, one can choose any of these dish racks for their kitchens to get maximum services.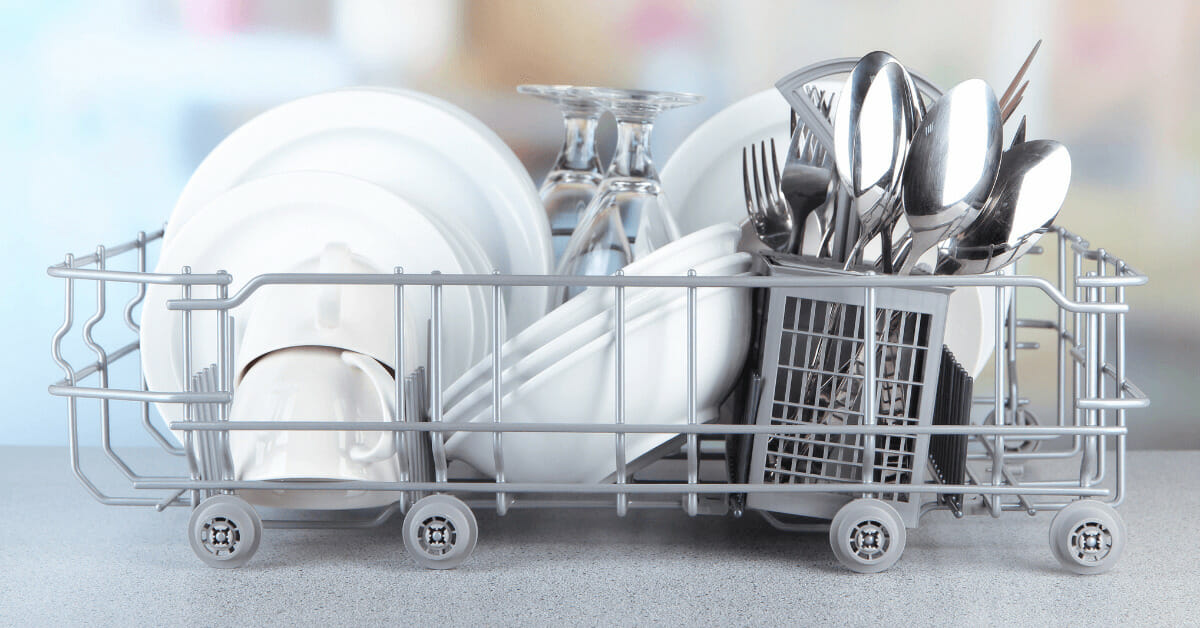 You May Also Love to Read:
Wrapping Words
Small kitchens are creating very many problems in case of the arrangement of the utensils in a proper way. In this case, questions like what is the best dish rack for small kitchen can arise. The above-mentioned dish racks can help people to answer this question. One can choose the best one according to their demand and necessity.
References