Your bedroom is a sanctuary for you and your loved one where you rest after a long day of hard work. We know that you put immense love and care into decorating your bedroom according to your taste and mood.
To make sure that your bedroom as a whole has the perfect decoration and look, you need a good quality paint finish that will complement your style. Worry not, as we are here with the perfect review just for you.
Continue reading our article to find out about the best paint finish for bedroom. Once you are done reading, hopefully, you will have learned all about the paint finishes that will complement the look of your bedroom just perfectly.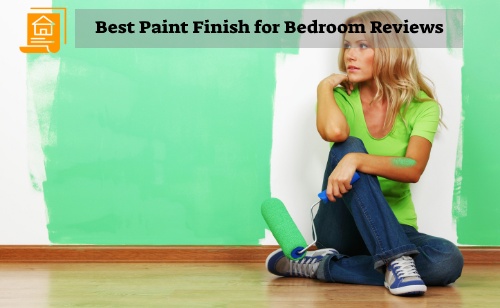 Best Paint Finish for Bedroom Reviews 2021 – Top 5 Picks
Without further ado, let us take a look at some good quality paint finish with great color and performance that are sure to improve your home décor endeavors.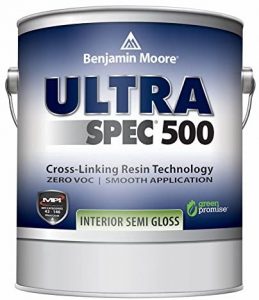 Known for their paints that they have been making since 1833, Benjamin Moore is one of those brands that you simply cannot go wrong with. No matter which type of paint finish you want, Benjamin Moore has everything to choose from.
The Ultra Spec semi-gloss finish is specifically loved for the beautiful decorative and glossy look it helps achieve. Its excellent hiding feature makes sure that with one coat, you can achieve the exact look you want to achieve. During and after applying it, less mess is made thanks to the splatter-resistant and quick-drying features.
This Ultra Spec paint finish is not only easy to apply but also easy to clean. If any dirt, paint, or food ever gets on top of this paint finish, you will not have to spend time worrying or scrubbing it off. This washable paint finish can be cleaned easily and quickly with a simple mixture of soap and water.
We know that the smell of freshly applied paint makes a lot of you feel uncomfortable or even nauseous. The Benjamin Moore paint finish has a significantly low odor, and it will not make you or your loved ones feel uncomfortable at all. As this paint finish is approved by MPI and MPI PH, you can rely on it without any worry or doubt.
👍
Pro
s
The semi-gloss finish makes the room look classy
Dries quickly and is resistant to splatter
Can be cleaned simply with a mixture of soap and water
Does not have a strong smell
Meets necessary standards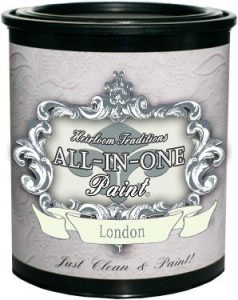 Save money, time, and hassle with this all-in-one paint from Heirloom Traditions. Thanks to its usefulness and functions, we cannot but call it the best interior paint finish ever.
Perfect for both indoor and outdoor use, this paint has many uses besides transforming your bedroom. This sage green shade with a grey undertone named London will be perfectly stylish for your bedroom. The low luster matte sheen is the perfect balance between sheen and matte, which makes sure your walls will look just splendid.
No sanding, priming, or sealing is necessary before applying this all-in-one paint. This paint will make you amazed as it can also be applied to almost all kinds of paints without removing it. As only 2 coat is sufficient for smooth application, we can bet a little bit of paint will go a long way. This paint applies smoothly and easily enough for most people to paint their walls themselves without hiring any professional!
After you are done beautifying your bedroom with this exquisite shade of paint, we hope you will not throw away the remaining amount. The all-in-one paint from the Heirloom tradition can be applied on wood, fabric, laminate, ceramic, glass, metal, brick, and so much more. It comes in 3 different sizes so that you can choose the one you need.
👍
Pro
s
Perfect for outdoor use
Needs no priming, sanding, or sealing
Can be used on a wide type of surfaces such as wood, brick, glass, metal, fabric, etc
Good for painting over other types of paints without removing them first
👎 Cons
On the pricier side
Cleaning it is a bit tough
When it comes to functionality, versatility, and a wide range of colors, no brand is as good as Montage Signatures. Thousands of positive and satisfactory customer reviews speak volumes regarding their performance and effectiveness.
The Snow-white shade from this brand is one of the classiest paint finishes you will ever see. Its low sheen nature manages to have just enough amount of sheen to make your walls look classy. As this paint finish is also perfect for exterior use, you can use any remaining amount to brighten up your outdoor walls. You can be assured that this American-made paint will not disappoint in terms of quality.
Quick application is one of the many notable features of the Montage Signature paint finish. With very little effort and amount, you can achieve maximum coverage that lasts. Its strong sealing technology delivers maximum protection against moisture, mildew, and mold.
The paint finishes from Montage Signature are extremely safe for you and your whole family. All the materials are pollutant-free, non-toxic, and go through meticulous testing procedures to ensure safety standards.
One of the features that make the Montage Signature stand out is its eco-friendly nature. Scrubbable in nature, this paint will surely last for a very long time and continue to make your bedroom beautiful. Thanks to its affordable price, this paint offers great value for money.
👍
Pro
s
Perfect for both interior and exterior use
Great coverage with little effort
Eco-friendly, pollutant-free, non-toxic, and safe for the family
Goes through rigorous testing to ensure standards
👎 Cons
Paint may develop stain easily, which may be difficult to remove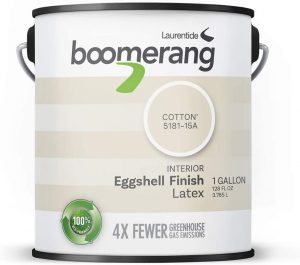 Take a look at another eco-friendly paint that poses no threat to your health while also manages to deliver flawless performance. Its availability of beautiful colors will surely make you want to choose something for your bedroom walls.
This eggshell finish paint from Boomerang is a low-sheen velvet latex paint that is perfect for your bedroom. Decorate your wall or your ceiling with this paint that can be used in most parts of your home's interior. We love the shade 'Cotton' as it is a very comfortable neutral shade that will surely help bring your bedroom's decoration to life.
With only 2 coats, you can achieve great coverage that will surely last for a long time. Because of its excellent hiding power, applying it by yourself is not difficult at all. Proven to emit four times less greenhouse gas than usual, this paint is eco-friendly in nature and thus perfectly safe for the whole family.
We all worry about the kids getting some crayon marks or some sauce stain on the wall. As this paint from Boomerang is washable, no stain will stay unaddressed or unremoved. Simply use a mixture of soap and water to get rid of any dirt.
👍
Pro
s
Low-sheen paint with great color availability
Eco-friendly and safe for the family
Great coverage and good hiding power
Paint is washable and can be cleaned easily
Applying by yourself is easy
👎 Cons
A little bit pricey
Odor is strong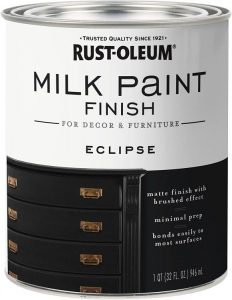 Rust-Oleum is one of the most customer-friendly brands ever when it comes to performance and quality. Available in a multitude of shades, it is a favorite purchase of many people.
We bring this suggestion for those of you who want to add a dark and gothic look to your bedroom. The Eclipse shade is a perfect shade of black and will surely make the style of your bedroom stand out. As this paint is light textured with a matte finish, it is perfect for layering and giving your bedroom a unique look.
Equipped with excellent adhesion features, this paint can achieve buildable coating in just one step. As it dries down in just 30 minutes, there is no chance of a mess to be made. The Rust-Oleum paint also poses no health threat to you or your family. The low VOC and low odor formula are suitable for everybody and surely will not make anyone uncomfortable.
The feature that will make you feel relieved is that this paint is washable. By using a simple mixture of just soap and water, you can wipe it clean and have it looking good as new. Once you are done painting your bedroom with this beautiful black color, you can use the remaining amount on other items too. Restoring antique and old furniture with this paint is like a dream come true.
👍
Pro
s
Textured matte finish that is perfect for decoration
Great for adding a unique look to your bedroom
Low VOC and low odor formula is suitable for everybody
Easily washable with a mixture of soap and water
👎 Cons
Paint tends to chip easily
---
FAQs About Bedroom Paint Finish
1. How can I clean my walls painted with washable paint?
Ans: Simply mix soap and water, wet a piece of cloth with this mixture, and wipe clean any dirt or stain. After this, use a dry piece of cloth to wipe the wet wall.
2. Are paints with odor bad for health?
Ans: Paints with odor have been proven to have both long-term and short-term effects on health. Moreover, the smell makes a lot of people nauseous and gives them bad headaches.
3. Should I wet the paintbrush before using it to paint a wall?
Ans: You should wet your brush before you paint. What you will wet it with will depend on the type of pain you are using.
4. How can I remove mildew from my wall or ceiling?
Ans: You can use a mildew remover or use a home remedy. Home remedies are quick to assemble but often not as effective as commercial mildew removers.
5. How can I prepare my bedroom walls to be painted?
Ans: The most basic preparation methods that can ensure smoother paint application are making sure the surface is clean and priming the surface. Priming the surface may not always be necessary but cleaning the surface is.
Final Words
After reading this in-depth article, we hope you have gathered enough information about the best paint finish for bedroom that has the power to make your bedroom more beautiful. No matter which brands or type you choose, we are sure that you can make your bedroom décor stand out and make it look classier than ever.
References
Guide to Paint Finishes: https://www.houselogic.com/remodel/painting-lighting/paint-sheen-guide/
Pick the Perfect Paint Finish for Every Room: https://www.consumerreports.org/interior-paints/pick-the-perfect-paint-sheen-for-every-room-a7611073067/