Climate change is evident – temperatures are rising everywhere. Under such circumstances, we have all become a bit too aware of the existence of those beautiful machines that can effortlessly mix the best flavors up for you.
So, if you have a sudden need and desperation for having a frozen drink machine at home, we get you completely. We want one as well. We want to carry around a frozen drink machine by our side at all times during the summer.
But without getting carried away now, let's find out the best frozen drink machine and get it home. We have found some worthy ones from the market through our research. Take a look, see which one you like.
Best Frozen Drink Machine For Home & Commercial Use in 2021 – Top 8 Picks
From the outside, all frozen drink machines look so confusingly similar! But no worries, we'll help you distinguish them through this list of our top 8 favorites.
If you have a specific love for margaritas, then this is the only machine you need. With this at home, you can have margaritas all day, every day – although with the concern of your health in mind, we wouldn't recommend this, you get our point.
This full-size frozen margarita machine is quite straight-forward. It has two bowls that can mix and make about 100 cups of margaritas at once.
Invite your friends over, and serve them all the frozen margaritas they want. This is the best margarita machine for home parties, and you will make your drinks hassle-free at any time!
There is an air-cooling compressor inside the machine, which will provide consistent control on your drinks and also protect the freezing temperatures.
This is quite a big machine, which you can probably tell by the number of drinks it will make for you.
The dimensions measure 32 x 16 x 15 inches. Thus, the machine is big enough for commercial use as well.
It's made with highly durable high-impact plastic that doesn't get easily damaged, while its panels are made of stainless steel. You can trust the machine to last a long time even if you have very frequent use for it.
Highlighted Features
Very durable; can be used for commercial purposes
Has a high capacity ⅓ HP compressor
Provides consistent control and protection over the quality and temperature
Make 100 cups of margaritas for all your friends, family, and colleagues at once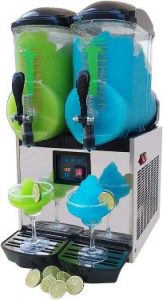 This is a high-capacity machine for margaritas and many other frozen beverages that you are a fan of. The company is trusted and has been manufacturing their products in over 80 countries all over the world.
There are two big bowls on this machine, which will combinedly make about 100 cups, which is about 6.4 gallons, of perfectly mixed frozen beverages for you. This machine will take between 30 to 45 minutes to make you the ice-churned slushy that you have been craving for so long.
If you are looking for the best commercial slush machine, this is one of the top ones we suggest for you. This machine is made with stainless steel, and it requires the standard US electrical capacity of 120 volts and 60 Hz to function at its best.
It comes with a strong air cooling compressor that will give huge refrigeration capacity over long periods. Also, it is a very solid and sturdy machine that weighs about 99 pounds and is practically unbreakable.
Highlighted Features
Requires 120V and 60Hz to operate
Makes 6.4 gallons, or 100 cups of beverages at once
Weighs 99 pounds – very strong and sturdy machine
Will take a maximum of 45 minutes to make your slushies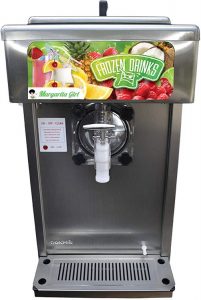 If you are someone who doesn't like to wait too long for the drinks to arrive, then this slushie machine will be your best friend.
You will get the best drinks out of this machine if you feed pulp-free liquid into it instead of crushed fruits. This is the best commercial margarita machine, and it can make around 100 cups of frozen beverages for you at one cycle within a whooping time of only 30 minutes!
This impresses us hugely; we imagine that with this machine in the house, parties will never hit low. You can get your back-to-back drinks served to you as fast as you want them.
What runs this machine is a drive motor with ½ HP and a compressor of ¾ HP that quickly cools the air inside and gives your drinks a consistency in taste and texture.
The compressor has a protection system that keeps it from getting too cold and freezing up, so you will have that to your advantage – you won't even have to keep an eye on the machine to make sure that it's not malfunctioning because that would be highly unlikely.
All the panels are made of stainless steel, and with everything in check, this machine is quite a good-looking one for sure. It measures about 32 x 15.8 x 30 inches and weighs about 176 pounds.
Highlighted Features
Suitable for heavy-duty commercial use
Makes about 100 cups of frozen beverages at once
Has very durable panels made of stainless steel
Comes with an automatic consistency control unit
Contains a drive motor of ½ HP and a compressor of ¾ HP
If you are looking for a huge machine to serve a huge group of people and keep them smiling, this is the machine that you need to get. It will serve you on every occasion without fail.
The machine has three tanks for holding the fluids; each tank has a capacity of 12 liters, so you are going to be able to make 36 liters of beverage at once.
All your drinks will stay fresh and frozen inside the durable stainless steel tank on this machine. There are great stirrers inside – they provide a broad mixing span, decrease sedimentation, and stirring continually to 360 degrees total.
Moreover, the tanks have a BPA-free grade to ensure the best level of sanitary mixing.
The compressor is very powerful, and as such, it requires about 600 watts to operate at optimum levels.
You are getting a great bit of control when you have this machine at your disposal. On the side panel, you will see a multitude of buttons and switches for that will help you make the drinks that you specifically want.
Cleaning and maintaining this machine also require the least bit of effort. The trays that hold cups and glasses are all detachable, the faucets have a great dispensing capacity, and there are big vents that will provide a good level of fluid circulation within the machine.
All in all, this is the machine you want when you think about making the perfect drinks for the perfect party, and its considered to be one of the best commercial frozen drink machine in the market.
Highlighted Features
Very easy to function and take control of
Can hold 36 liters of liquid all at once
Has three different tanks for mixing
Stainless steel holding container with a BPA-free grading
Requires 600 watts of power for the compressor to be at optimum performance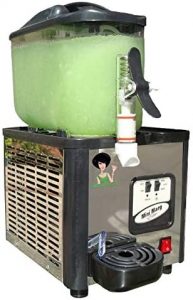 A simple and straight-forward margarita machine is exactly what you are looking at here. If you don't want all of the hundreds of buttons that are only more confusing than useful, then this is the machine for you.
It has a high-quality, durable build that is housed with plastic, whereas the panels that stand to its sides are made of stainless steel. The compressor inside has a ⅕ HP, and it can keep the temperatures cool and stable consistently so that your drink has a rich, even, and smooth texture to it.
You can call up a few friends and have a little get-together as well. This machine can make 25 cups of frozen drinks, so there will be just enough for everybody.
One large bowl on top of the compressor holds the full amount of beverage. There is not much complication to this machine – cleaning and maintaining it is also quite hassle-free.
Such simple functionality and maintenance of this machine makes it quite the best mini margarita machine in the market.
Highlighted Features
Can hold about 25 cups of drinks
Weighs only about 40 pounds
Has enough power to keep the drinks perfectly frozen
Lightweight and quite portable as well
Durable machine with stainless steel construction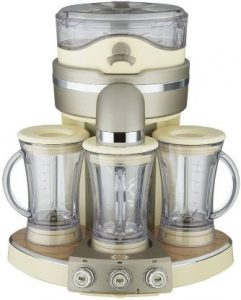 This is a deal that is made for the person who likes variety very much. It might get boring to try the handful of drinks that are the usual options when making drinks at home. With this concoction mixer from Margaritaville, however, you can add more to the menu – a lot more.
This machine has three jars for blending, and they each have a capacity of 24 ounces of liquid. In every cycle, the machine will thus produce 72 ounces of perfectly mixed drinks for you.
You can add your own mix of texture to personalize these drinks as much as you want to. There's a lot to experiment with here, and so in our opinion, this is the best margarita machine for home.
No need to visit the overcrowded bars anymore. Coladas, mudslides, daiquiris, mojitos, margaritas, and all kinds of smoothies are all for you to make at home.
The frame of the machine is half-transparent, and through this, you can see the ice churning inside – quite a spectacle to look at, actually. Your guests will definitely pay a lot of attention to you and your exquisite tastes for mixing drinks.
There ends the functionality of this amazing machine. Now let's get to the durability. Well, this machine is something you can rely on – made with bamboo wood of the most premium quality with a smooth finish of brushed aluminum on the surface, this is a machine that's built to last. Stainless steel accents have been added to the internal components that are made with heavy-duty die-cast aluminum in order to make them last longer.
Highlighted Features
Built to last with premium bamboo wood and high-quality, heavy-duty diecast internal components
Can be used to make more than 6 types of exotic drinks
Three blending jars, each with a holding capacity of 24 ounces
Ice churner has a transparent covering, which adds to the physical appeal of the machine
This machine will help you make great drinks! Well, that's actually all of the machines on this list that we have carefully curated for you.
We hold this in higher regard because not only is this machine of great quality mechanisms to make you the best drinks, but it is also an extremely good-looking one at that.
The colors on the palette for this machine are green, blue, and white – all of which makes an extremely eye-soothing combination for your table or countertop.
Now let's get to the main deal of this machine. There is a big single jar for the drink-mixing, while a transparent ice hopper sits right on top of the machine and constantly shaves and churns out ice for your slushies.
With this machine, you can make all the frozen drinks you have ever had in a restaurant without being confused by a multitude of buttons.
As far as this machine is concerned, there are only three drink selector buttons that will each hold about 12 ounces of liquid.
The machine shaves and blends ice for about 36 ounces of beverage in total.
The quantity is much less than that of commercial mixers, but when it comes to quality and ergonomics, this is the best frozen concoction maker out there.
Highlighted Features
Can make restaurant-quality drinks
Requires 400 watts of power for making iced slushies
Has three selector buttons – each will give you 12 ounces of liquid
Easy to operate and maintain – the auto programs do the whole work
You can barely get the authentic taste of fresh drinks without the best favorite frozen drink maker at home.
The ice hopper built into regular machines actually crush ice rather than shave them for the drinks. But we are now glad to present you with a machine that will shave ice for you and mix up a perfectly authentic concoction for your enjoyment.
The blending jar of this iced drink machine is the real deal – it can hold 36 ounces of liquid and make some great drinks for you. Whether you want the flavor of the tropics or the spicy party drinks you get at Halloween, everything will be ready for experimentation right at your disposal.
But you know what the best thing about this machine is? Well, it is the 4 pre-installed drink settings incorporated into this machine that will make your task all the more easier for you!
The jar is an open and pour system that really gets the job done very quickly. No mess, no hassle required at all.
Highlighted Features
Can be put into the dishwasher
Requires 450 watts of power for optimum operation
Has the capacity for about 2.5 pitches of frozen beverages
Comes with 4 pre-programmed options and two extra ones for automatic and manual blending
---
Things to Consider Before Buying the Best Frozen Drink Machine
Getting repairs done on the frozen drink machine will be a big hassle for you. And not to mention, you'll quickly receive outrage from thirsty guests in need of those frozen drinks that the machine is holding up. To avoid all of this hassle, look into some of these mentioned factors before buying the machine, and you'll be good to go.
Strong Tap and Sturdy Handle
Yes, this is obvious. The tap and the handle will be used by everyone who wants a cold drink. As they are prone to constant handling, these often get in the way of much damage. So, check if the tap and the handle are both super sturdy – if they feel wobbly or cheap, do not buy the machine because it will probably not last you as long.
Tanks/Jars
This is the container that will hold the beverage before it being mixed and poured out through the tap. Check for the total capacity of the tank and see if this will be enough for the use you want to make of it.
Also, look at the quality of the tank's material, its thickness, and whether it has any insulation to protect the temperature of your drinks.
Gauge for Measuring Capacity
You will find some labels and markings on the side panels of your machine. This will give you a quick idea about the amount of liquid that your container holds. Make sure that this tank has enough capacity for the kind of parties you want your drink maker to serve.
If more liquid is poured into the tank than its capacity, then it will start overflowing and making a mess.
Decorative Lights
Nowadays, you can get fancy drink machines that will give you a little light show while making the drinks for you. This additional feature doesn't add anything to the quality of the slushies you will get, but it will definitely be a spectacle at parties.
If you are getting a machine for your business, then we highly recommend that you get a concoction maker with cool light effects that will draw more people towards it.
Pre-Programmed Drink Settings
Nowadays, many machines come with pre-installed programs on them. If you get such a machine, these programs will give you options for the consistency you want your drink to be in – so you can choose anything from thick to soft and in-between.
Some machines also come with additional options that give you a choice between a slushie or a refrigerated drink so that you can try out drinks of greater versatility.
Feet Stability
These machines need to be on a secure plane at all times so that the internal pipings don't get clogged with the drink.
Make sure that there are rubber feet below the machine that will hold it firm even if the machine is kept on unsure, shaky ground.
---
FAQs About Frozen Drink Machine
1. Do I need to clean my drink machine after every use?
Ans: No, but you do clean it very thoroughly after it has been served every 500 drinks.
2. Can I make non-alcoholic drinks with a slushie machine?
Ans: Yes, of course, you can. You can even make drinks with milk in there.
3. Why is it required to put salt in making certain drinks?
Ans: Salt is used with some drinks to lower the melting point of water so that it stays cool for longer.
4. Why is the drink not being pulled into the tap even while I can see it from the outside?
Ans: Your drink is probably too thick to be pulled in through the pipe. Add more water or soda to make it get drawn in.
5. How long will it take for a frozen drink machine to make the mixed drinks?
Ans: It will take about 1.5 hours at maximum for non-alcoholic drinks. If there is alcohol, the process will take about 2 hours, but no more. However, it is my duty to tell you that alcohol is harmful for your health and I advise you to not take it.
Conclusion
The best frozen drink machine is an absolute must if you want to serve cool and fun drinks to your guests.
There are plenty of affordable drink-making machines that can be brought home. We hope that you have found a good drink machine for yourself from this list we made for you.
Have fun, and good luck! Enjoy Your Time!
References
Frozen Drink Machine Buyers' Guide: https://www.katom.com/learning-center/frozen-drink-machines-buyers-guide.html