Investing in the best bathroom exhaust fans with light and heater is a smart way to remove excess moisture from your bathroom as well as odors.
Bathrooms are normally moist and humid because of the warm air and water that is thrown around, and thus it makes sense to invest in an exhaust fan.
By installing a quality bathroom exhaust fan, you can keep mold and mildew at bay, both of which are culprits when it comes to destroying wooden frames and bathroom walls.
Also Read: Best Paint for Bathroom Ceiling of 2022
A bathroom exhaust fan with an inbuilt heater and light is the best bet, especially when you want to save the cost of installing separate heat and light sources in your bathroom. It also helps your bathroom ceiling to look spacious and neat.
However, there is a challenge. Shopping for the best bathroom exhaust is not easy as the market is flooded with many different models made by different brands.
To make this task easier for you, I have handpicked the bestsellers after analyzing their durability, pricing, reliability, and brand trust, among other important factors I will discuss in a few. For those who don't know what this unit is, here is a brief explanation.
It's much more convenient to have an exhaust fan that can do more than just remove moisture. The Panasonic WhisperWarm can perform other functions such as heating the bathroom and lighting it up. The exhaust, heater, and light combination make it a perfect choice for anyone looking for comfort and convenience.
It has been designed for large bathrooms featuring a reliable heating element and a 70 CFM energy-efficient fan. It also comes with a 30,000-hour continuous run and can clean up to about 8 feet up from the floor to ceiling. The blower uses a wheel design to draw air from both sides to clean faster.
This model from Panasonic comes with a heating system rated 1400W that should provide warmth when the weather is frosty. The heating element is steel sheathed with a Nichrome wire and magnesium oxide to enable heat transfer. It should take less than a minute to feel warmth and comfort.
Also Read: Best Shower Doors for Small Bathrooms of 2022
Panasonic did an excellent job of encasing the electric motor, which ensures that the fan runs silently. Most users say that you may not even know it's running. Another reason for its quiet operation is the vast blower wheel that relocates more air at lower RPMs.
This unit should provide you with a trouble-free operation for years to come, thanks to its top-quality elements. The electric motor is lubed to ensure a long-lasting service without damage. The electric motor also runs at reduced temperatures, which boosts its lifespan. The fan has been constructed used zinc galvanized steel to secure against corrosion.
The Panasonic FV-11VHL2 WhisperWarm is built to be easy to mount for DIY enthusiasts with basic skills. In case you find it too complicated, you can confirm with the manual or hire an expert to do it for you. Remember to connect it to not less than 20 Amp for the best results.
Advantages
Offers a silent operation
Has a robust build
It's versatile with a heater and light
You don't have to switch the central lighting system minutes before entering the bathroom at night. This exhaust fan heater from Broan comes with a heating element that begins working with a flick of a switch. The model has a minimalist design with fancy features that should match any bathroom.
The Broan 744 is a high-quality centrifugal fan that combines 70 CFM energy ratings to extract moisture from your bathroom and create a comfortable environment. It offers various settings to adjust, making it suitable for anyone looking for convenience.
It includes 100W incandescent lighting that should help shower after the dark in the nighttime. The bulb endures up to 25,000 task lights without on/off cycling.
Also Read: Best Shower Squeegee in 2022
The heating element of 1500 watts helps offer a suitable environment in small bathrooms. The fan, heater, and led light combo make this a whole useful unit, and the maintenance is low.
Installation is fairly easy as the package comes with a comprehensive manual to guide you through the process. A few users say that it was challenging to figure out its installation and had to call an expert to help out. The fan comes with a 6.87" housing that should fit in any bathroom. The ceiling joists make mounting easier.
Coming from one of the frontiers of the industry, this product from Broan passes rigorous safety and energy efficiency standards. It's also easy to use with simplified controls.
The motor is powerful with a safety feature that shuts off the motor in case of any issues to prevent damage. Yet, it's one of the quieter heaters with a rating of 1.5 sones.
Advantages
It's one of the quietest
Has a relatively low energy consumption
Has a strong motor
Disadvantages
Installation may be complicated for some
The Nutone 9093WH exhaust fan, heater, and light combo come with everything you need for comfort and convenience in your bathroom.
A poorly ventilated bathroom can easily provide a breeding ground for harmful germs and spores, which can severely impact your health. Check out this bathroom vent from Broan.
Its heating system is rated at 1500 watts so you can heat up your bathroom to suit your ideal temperature needs. If you hate taking showers in those chilly mornings, this fan can cycle on and off to maintain the temperatures for comfort. This fan can maintain a comfortable environment in a 100 square feet bathroom without hitches.
Also Read: The Best Toilet Paper for Septic System in 2022
Moreover, you can switch between an incandescent bulb and a nightlight for your comfort. The 100W incandescent lighting is bright enough for a large room and can help you focus on the details.
When you want to use low light, especially in the morning before your eyes adjust to the light, there is a nightlight that offers a soft glow to soothe your eyes. A 70 CFM ventilation fan is enough for most bathrooms, as it can distribute high air quality of broader area.
It is quiet with no more than 1.0 sones, with a centrifugal wheel blower that is designed to use low RPM. Broan uses lubricated motors to ensure longer life and smooth continuous operations.
Apart from lighting up your bathroom, this unit features an enamel coating that is suitable for decorating any bathroom. Installation is easier because it comes with everything you need for installation. It comes with four wall switches that allow you to install in a different location. It is energy star certified to save your bills with added convenience.
Advantages
Offers a powerful fan that eliminates moisture and odor immediately
Can maintain comfortable temperatures
It's easy to install
Has multiple light modes
When installing a ceiling bathroom exhaust fan, you need one that doesn't emit a loud noise. And if you come across looking for the best silent exhaust fan, you can end your search here. The Broan Very Quiet Bathroom exhaust fan is both powerful and less noisy.
The fan measures 11.4 x 7.6 x 10.5 and weighs just 12 pounds. Therefore, it is an easy one to install on most ceilings without a problem.
The fan operates at 80 CFM and can clean up to 75 square feet so it can do the job in most medium bathroom size. The design is so efficient emitting noise levels of 0.3 sones, so you need not worry about waking others in the house.
Also Read: Best Handheld Shower Head For Pleasure
Installation is a breeze so long as you use a GFCI circuit wiring branch for your bathroom. This design means you can install it over a shower or bathtub.
You need to use not less than 20 AMP of the circuit to ensure it operates continuously without breaking. It is easy to install for anyone with the know-how, but you can hire an expert to handle it.
This fan also comes with a lighter and heater for added convenience. The heating element offers a high output of 1500 W to get rid of humidity, moisture, and odor in your bathroom.
This model can clean up to 100 square feet, so it should provide a comfortable environment even for larger bathroom.
Also Read: What Are the Best Tankless Electric Water Heater for Large Family
There are two 60-watt bulbs to light up your bathroom. They include a 4-watt nightlight that should offer dim light in your bathroom, especially when you want to wind up after a long day.
The 36-watt incandescent bulb is bright enough for when you need enough light. It is energy-star qualified.
Advantages
Quiet operation
Powerful motors for continuous operation
Effective vent and heater
Disadvantages
You need to buy the bulbs separately, making it fairly pricey
Here is a wall fan or window installed fan with an inbuilt heater and light. This way, you don't have to look for the light switch as you head to the bathroom. All controls are placed in a centralized location, allowing you to switch on the light, heat, and fan.
The motor has been permanently lubricated; hence you can leave it running for as long as you want. The fan has a 1500 watt heater, which provides efficient heating in small bathrooms. In addition to having a reliable motor, the Broan Nutone QTX110HL is one of the quieter fans at .9 sones.
For lighting, the system employs two 60-watt incandescent bulbs and a 7-watt nightlight for the soft glow. You need to connect the system to a dedicated 20 amp circuit for it to work efficiently. Besides, there is a 110 CFM fan that should clean any small-sized bathroom.
It's easy to install this system by yourself because it directly plugs onto a power outlet. The exhaust fan comes with all the essential accessories you need for easy installation and replacement of parts.
It also includes a long tapered sleeve for fast installation. The equipment also comes with a guide that you can check for quick mounting. It is also lightweight for easy placement on the ceiling or window.
As for the construction, the unit is made of galvanized steel housing to prevent corrosion. The heavy-duty steel is also extremely durable and should offer years of reliable service. The white polymeric grille provides a cohesive look that should look elegant in any bathroom.
Advantages
Has a quiet fan
Has a powerful motor that keeps the room well-ventilated, heated, and lit
Can work with a majority of bathroom decors
Disadvantages
Installation may need to be done by an expert
By now, you can tell how Broan goes all-out to offer the perfect combination of functions to fit in one unit. The Broan-Nutone 100HL has all it needs to compete with other top models in the market. What makes it unique is the adjustable direction design that allows you to direct it in the areas you need to be warmed.
Its installation is a breeze, and you don't need the expertise to install it. For easy mounting, there is a 4″ duct connector and a 24″ adjustable hanger bar to ensure fast and flexible installation.
The design is compact and could easily fit on a 2″ x 6″ ceiling construction. Ensure that to power it with a dedicated 20 amp circuit.
Also Read: Guidelines for Choosing the Right Rain Shower Heads With Handheld
The unit features a heat outlet that allows you to adjust anywhere. This is a great feature that lets you direct the heat to other rooms apart from the bathroom. It comes with a 1500-watt heater that should offer powerful heating during those early morning cold baths.
The lighting source is an incandescent light bulb that ensures enough light in the bathroom. There is a nightlight lamp that should shower you with soft light just after waking up, although you need to buy this one separately.
Also, the Broan Nutone 100HL is HVI certified, which means it meets industry standards for performance and efficiency.
This product even surpasses energy efficiency standards, meaning you won't notice any significant changes in your bills. HVI certified fans are also guaranteed to perform to standards, and the noise level is low.
Advantages
Allows for adjustment of the direction of the fan
Offers seamless installation
HVI certified
Disadvantages
A few customers complained of noise
Now that you know the top 7 perfect bathroom exhaust fans with light and heater let's discuss several things about exhaust fans, including the benefits of having one and how to choose the right one.
What's the Importance of Using the Bathroom Exhaust Fans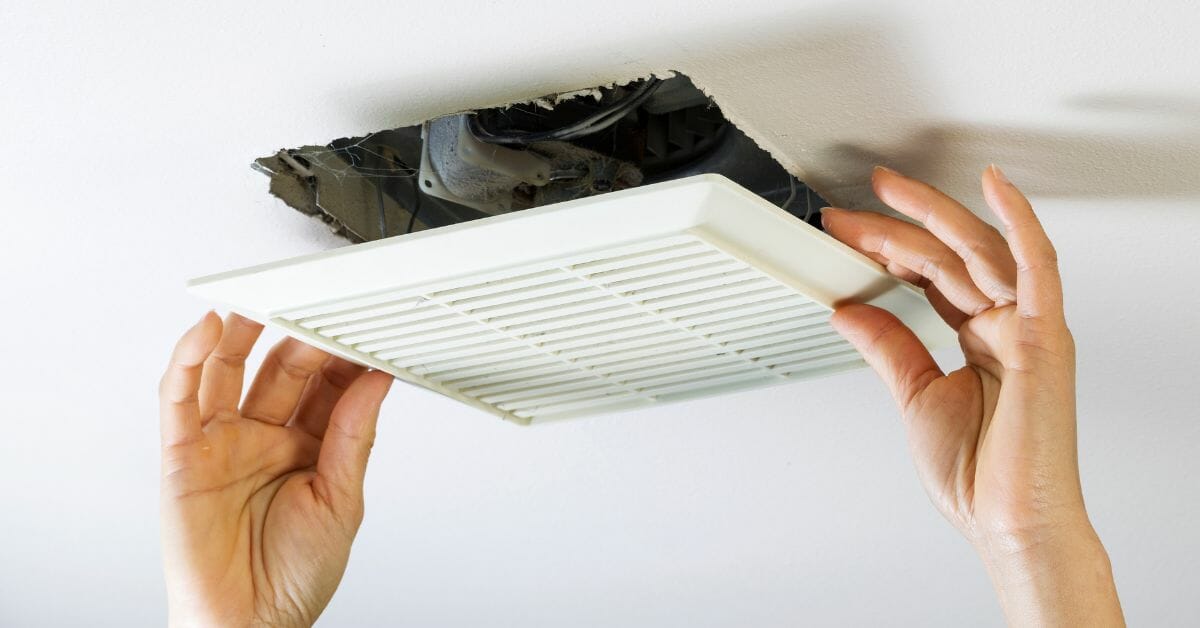 Bathrooms are susceptible to molds because of being overly humid, and an exhaust fan can get rid of this excess humidity out of your bathroom. This helps to maintain a cleaner, fresher, and dryer bathroom at all times, which can benefit you in different ways including;
Eliminating odors:
A major benefit of installing the best bathroom fan is that it removes unwanted odors. Bathrooms often have bad smells because of excess moisture being trapped in a room. Therefore, by installing an exhaust fan, you can help draw out odor, thereby keeping your bathroom dry and fresh.
Also Read: Ultimate Guide to Buy Best Hand Soap For Dry and Sensitive Skin
Drawing out excess moisture:
When the bathroom gets overly humid, there is a tendency to get its walls and ceiling damaged. If your bathroom doesn't have enough ventilation, you are likely to notice wallpapers and paint peeling off. If left to settle for some time, you will notice your doors warping.
Also, excess moisture encourages mold infestation. Prolonged exposure to mold can lead to respiratory conditions and skin allergies.
This is why installing a bathroom exhaust fan can make your bathroom a hygienic and healthy place to clean up as it will minimize the chances of mold infestation.
Exhaust fans eliminate foggy mirror syndrome:
Foggy mirrors are annoying as they prevent you from dressing well, and can be more frustrating if you are in a hurry. In most cases, foggy mirrors are a sign of an underlying issue- poor indoor air circulation.
This is caused by a lack of enough ventilation, and you can rectify this by investing in an exhaust fan. Upgrading your bathroom exhaust fan, if you have an outdated one, will help you control moisture and remove water vapor on your walls and mirrors.
Reducing maintenance cost:
Excess moisture can damage a lot of things, including paint and walls, and this is why you should do all you can to reduce the amount of moisture in your bathroom.
Also Read: The Best Toilet Brush for Your Bathroom in 2022
If not controlled, excess moisture can also cause rust to water pipes and toilet tanks, which will ultimately result in costly fixes. That's why investing in a bathroom exhaust fan is crucial if you don't want to prevent this from happening.
How to Install a Bathroom Exhaust Fan with Light and Heater
Although each fan has its way of installation and the manufacturer provides directives on how to install your fan, here are the general guidelines;
Ensure the circuit breaker that controls appliances and fixtures in your bathroom is turned off
Take out the light bulb and loosen the screws attaching to the holder.
Remove the junction box and insert a wire through the attic area
Separate heater and fan from the fan housing
Fit the fan housing and attach the braces to the ceiling joist
Locate the best place for a vent and drill a 4-inch hole
Link the duct from your vent to the exhaust and secure the joints
Fix the light bulb into the housing
Turn the circuit breaker
What You Need to Look For When Buying a Bathroom Fan with Light and Heater
There are many options in the market when it comes to bathroom exhaust fans, and you might be stuck on which one to choose. Although I have reviewed the best in this guide, I'm going to discuss what you need to look for in an exhaust fan so that you can make the right choice.
Also Read: The Best Fiberglass Shower Cleaner in 2022
Types of exhaust fans
You will need to consider the type of exhaust fan that best suit your needs. You will find the following types in the market;
Wall-mounted exhaust fan. This is ideal for homes that have limited roof areas. If you don't want to install your exhaust fan on the ceiling, this is the type to go for.
They remove humid air and odor in your bathroom at high speed. Exterior exhaust fans. These are installed by being attached to the end of the roof or sidewall. This ensures that they don't make noise and affect people in other rooms.
Ceiling-mounted exhaust fans. These use suction to remove humid air and excess moisture from your bathroom. The moisture is channeled through a vent.Light/fan exhaust fans.
These fans not only expel humid air and odor from your bathroom and also illuminate the area. Knowing these types will help you choose the right exhaust fans for your needs.
Size of fan and airflow
When buying an exhaust fan, you need to know the size of your bathroom and the humidity levels in it. This will help you choose a fan with the right airflow capacity. This is expressed in cubic feet per minute (CFM).
Every exhaust fan has its own CFM rating, and it is vital to pick one that removes all the humid air that is trapped in your bathroom.
Also Read: Bath Tissue Vs Toilet Paper – What is the Difference?
A fan with a low CFM rating is less powerful and thus ideal for a small bathroom. A high CFM rating means a fan is powerful and thus suitable for large bathrooms. Most fans in the current market have a CFM rating of 50-100CFM.
Installation process
Depending on the type of exhaust fan that you go for, you can either install your fan on a wall or ceiling. Depending on where you want to install it, it is important that you ensure it doesn't have a complex installation process.
Most bathroom exhaust fans on the market today feature a duct adapter that connects to your existing ductwork. Therefore, instead of having your fan channel air into an attic, you can have it use your home's ductwork.
The reason for this is because, channeling air into an attic means that it can be taken to another room, which in turn could lead to mold infestation.
Noise levels
Exhaust fans are different, with some running quietly while others being extremely noisy. You don't want to be distracted by a bathroom fans sounding like jet engines.
Also Read: Ways To Conserve The Amount Of Tissue Paper You Need Every Day
Unlike most other home appliances, exhaust fan sound is measured in sones. For most fans, the sone scale range from 0-6. The quietest fans are rated 0.3. As the sone level increases, so do sound. For quieter operations, go for fans with a rating of below two sones.
Energy Star Rating
You don't want to buy an appliance that is not energy efficient, and exhaust fans are not an exception. That's why you should go for appliances with an energy star rating.
However, you shouldn't compromise other features such as noise levels, airflow capacity, etc. If a bathroom fan runs quietly, is efficient in removing stale air, and is still energy-efficient, that's the ideal buy.
FAQ About Bathroom Exhaust Fans
What Is Best Bathroom Exhaust Fan With Heater?
A bathroom exhaust fan is a ventilation device installed in a bathroom to draw out impure, stale, and humid air, thereby making your bathroom smell fresh.
A properly installed exhaust fan for the bathroom will rid of excess moisture, pollutants, odors, and humidity. It also removes water vapor that accumulates on walls and mirrors.
Also Read: Best Bathroom Shower Faucets for Hard Water in 2022
Additionally, they add safety to your home and its occupants as it reduces fumes and smells of cleaning agents that could potentially cause health issues.
Are there electrical specifications for a bathroom exhaust fan?
Yes. The electrical requirement of exhaust fans varies depending on the brand. For example, an exhaust fan with heating and lighting functions might need a special circuit. However, an ordinary fan can work with a light circuit.
What is the best place to install an exhaust fan?
This depends on your bathroom layout, but it is recommended that you install the fan with your heater over the shower. However, if your fan comes with a heater, this doesn't apply. Should I clean my man?
Yes. Cleaning a washroom fan should be done once every six months to get rid of mildew and mold that might have gathered.
How long should a bathroom fan operate?
You should leave a bathroom shower for several minutes after you are done bathing. However, this depends on other factors, as well.
Also Read: How to Use a Non-slip Bath Mat and Why is It Important?
Your exhaust fan should run until it clears out moisture. It also depends on the size of your bathroom. Bigger bathrooms may take longer to clear out.
Does the bathroom exhaust fan consume a lot of power?
This depends on the size of the fan, working hours, and capacity. In general, exhaust fans consume less power compared to other house appliances.
Final Verdict
It goes without saying that a bathroom exhaust fan with light and heater offers a better value for your money. When making a purchase, in addition to considering durability, light, low sound levels, great performance, and noise levels, be sure to check your model for safety standard certifications and energy star rating.
This way, you will get a unit that doesn't use a lot of power but offers great service. I have reviewed the best bathroom exhaust fans with light and heaters, and I hope that you have found the right one from the list.