Did you ever eager to know which are the most beautiful chandeliers all over the world? If not, then let me tell you about some of the renowned, remarkable, and antique chandeliers. This spectacular decorating object was invented in medieval. You might have seen lots of chandeliers in the movies, such as Titanic, Opera House, and more. But the question is which the most attractive and largest chandeliers nowadays?
For instance, I assembled top and splendid chandeliers from the USA, Turkey, France, and Oman. Not only do these chandeliers have incredible designs and looks but also their lighting attractions will blow your mind.
What is a Chandelier?
Chandeliers are one of the highly anticipated home decorating materials. The chandelier is being used year after year. Ordinary people can't afford the largest chandeliers because of their price, weight, and size. Basically, this object is been using for decorating in the mid-age. Actually, the first gas chandelier was made in the 18th century. A few decades later inventors invented electric chandeliers in the 1890s.
Gas chandeliers are arduous and complicated to manage and a little bit risky too. That is why electric chandeliers got a huge impressive response from users at that time. Still, electric lighting chandeliers have a magnificent demand through the market. Historically, Hancock Rixon & Dunt made the world's largest chandelier, which is situated in Istanbul turkey.
4 Most Beautiful Chandeliers all over the World
Who doesn't want to capture a photo of beautiful chandeliers? It is hard to find people who don't like chandeliers. Here are the top 4 beautiful chandeliers all over the world. These lighting objects are scattered in various countries such as Oman, Turkey, France, and the USA.
Sultan Qaboos Grand Mosque chandeliers, Oman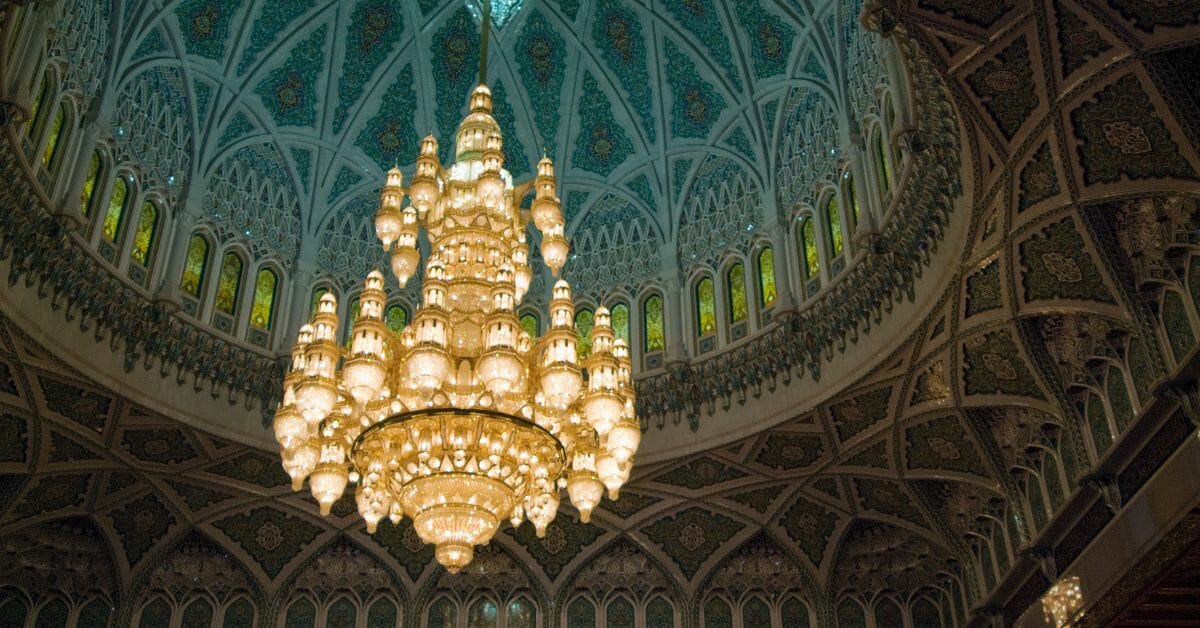 Oman's Sultan Qaboos decide to make a Grand mosque in Muscat, Oman. After considering a number of plans and several years of construction, he inaugurated this masque in 2001. Sultan Qaboos Grand Mosque applied one of the largest chandeliers right in the middle of the mosque.
This splendid chandelier's total measurement is 14 meters large and its weight is 8500 KGs.Interestingly, these days, it's been the world's second-largest chandelier. But lots of people argue about its ranking because they thought it is the only largest chandelier.
The Dolmabahce Palace, Istanbul, Turkey
The 31st caliph of the Ottoman Empire, Abdul Mejid 1, made the Dolmabahce Palace for him. This palace construction started in 1843 and finished in 1856. There has a rumor that he spends 35 tons of gold to make this palace. That 35 tons of gold today's worth is about $1.5 billion, Surprised!
The Dolmabahce Palace has the largest Bohemian crystal chandelier. It has 750 vivid lamps and its total weight is 4.4 tons. Lots of chandelier lovers and worldwide visitors visit this palace to watch this astonishing chandelier.
Phantom of Opera, Paris, France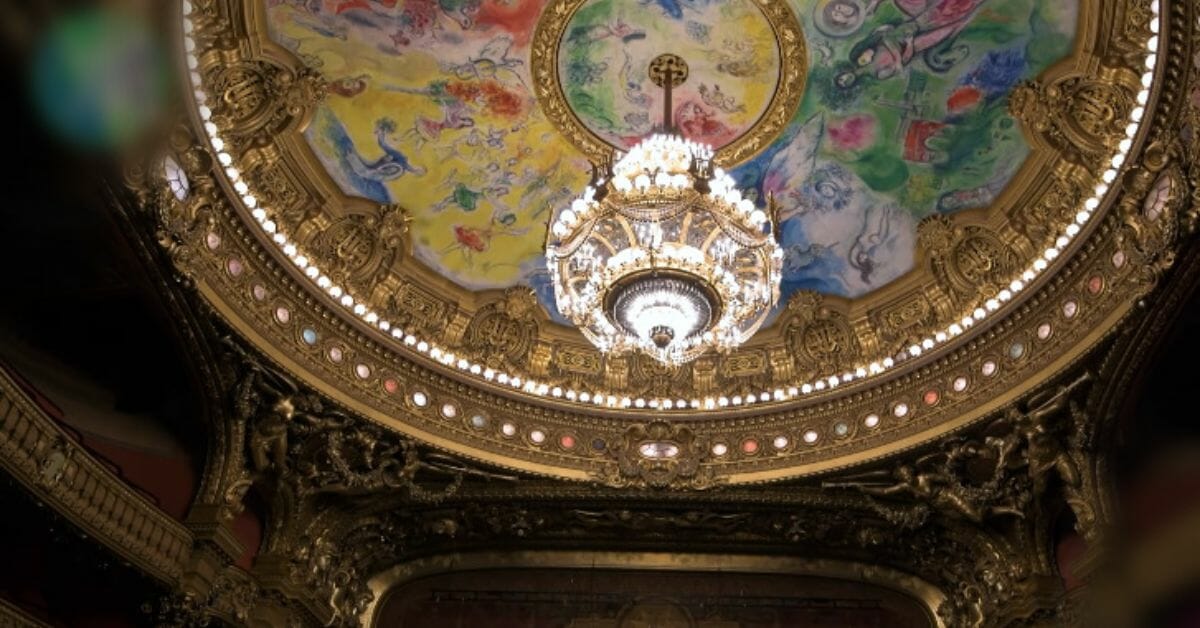 Paris opera house, which is also known as the Phantom of the Opera, is situated in Paris, France. It had a most decorative chandelier at once; because of it, many movies had been shooted in here.
Phantom of opera chandeliers made of bronze and crystal. Its approximate weight was 7 tons, and it was structured by Charles Garnier. This chandelier cost over 30,000 gold coins. Unfortunately, in 1910, during a novel event, it had been crushed down. Sorrowfully, this memorable destructor event killed a construction worker.
Kocatepe Mosque in Ankara, Turkey
We both have literal knowledge about Turkey's culture, religion, and compatible designs. Kocatepe Mosque is called Kocatepe Camii in turkey word. This attractive masque was made in 1967 and 1987, in Ankara, Turkey,
Indeed; this mosque is the largest mosque in Ankara turkey, 80,000 Muslims can pray together. As its largeness, it has one of the sweetest and most antique chandeliers. Its chandeliers look like a large lighting ball, which is surrounded by multiple round lights.
Kocatepe Mosque chandelier's total weight is 7.5 tons, which is pretty high weight. 32 sidelights and 4 corner lights and one large ball lights in its total structure.
Which is the World's Largest Chandelier?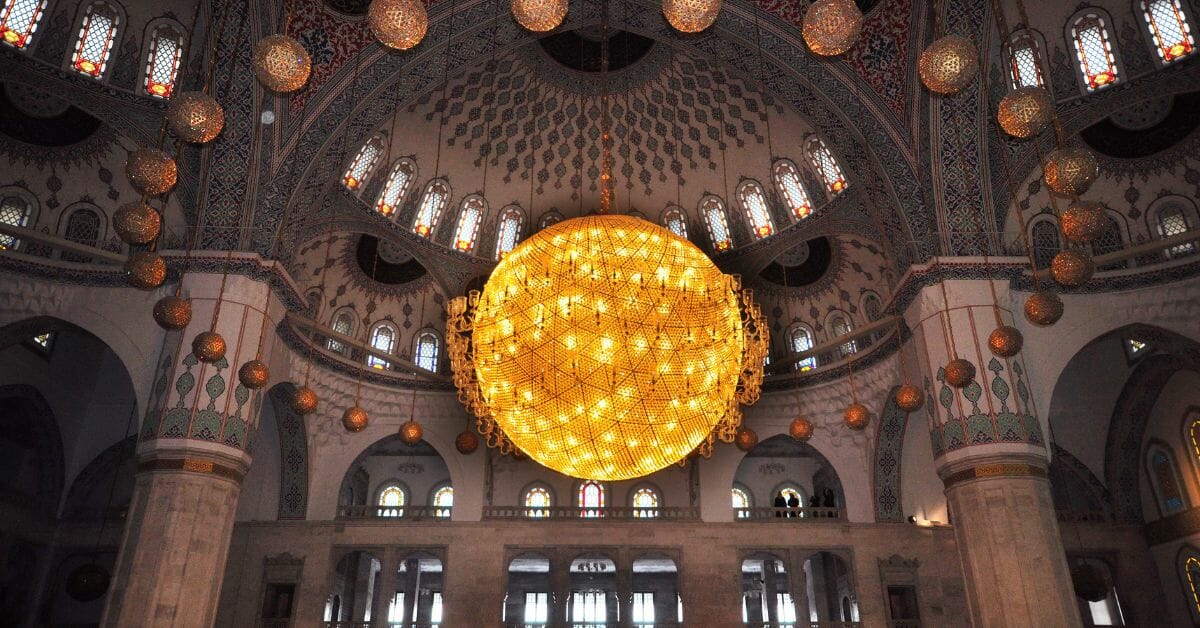 There has a lot of arguments about which is the world's largest chandelier. Some people's thoughts about the Dolmabahce Palace chandelier, Istanbul, Turkey is the largest, but some thoughts about Sultan Qaboos Grand Mosque chandeliers are the largest.
But in my consideration, if we consider the weight, then the Dolmabahce Palace chandelier is the world's largest because its total weight is 35 tons. If we consider the size, then the Sultan Qaboos Grand Mosque chandelier will be the largest one worldwide.
How much do these beautiful chandeliers cost?
As for their looks and beauty, it's hard to define their prices. The majority of chandeliers are made in the 18th and 19th centuries. That's why it's hard to obtain the price of these incredible decorative showpieces. But on average Sultan Qaboos Grand Mosque chandeliers cost over 100,000 diners (My approximate).
Can you prefer me for the best chandeliers brand?
Preferring to the best chandelier brand is pretty easy, but you have to find out what types of chandeliers you want. Saint-Louis Cristallerie is the oldest brand; they have been in this business since 1586.
If you want to buy chandeliers from today's brands, then you should try Showsun Lighting, The White Company Londo, and Venini.
What are the oldest chandeliers in the world?
In Germany, in the 11th century, a chandelier was made for Hildesheim Cathedral, which is called the Azelin chandelier. It is the oldest chandelier in the world and UNESCO declared it as the world's oldest chandelier in world.
Final Verdict
It's time to wrap the whole article about the most beautiful chandeliers. These four are the largest, historic, expensive, oldest, and the best chandeliers all over the world.
I hope you enjoyed this article so much and don't forget to support us next time.