Who doesn't love a good old quick coffee here and there? If you really love coffee as much as you say you do, I'm sure coffee shops are making you broke because you don't have a good K-cup coffee brewer.
So, for you, I'm going to suggest an amazing coffee brewer which, if you use, you can brew delicious coffee within less than 60 seconds! Now, are you wondering which coffee maker I'm talking about?
I'm talking about the famous Keurig Hot K55 coffee maker. The Keurig's K55 model has every upgrade you might ever need on a coffee maker at this time!
So, in this article, I'm going to give you a full detailed Keurig Hot K55 review, so that you can decide if it's going to fulfill your thirst for coffee! Don't believe me? Read the review till the last and you'll see for yourself.
About Keurig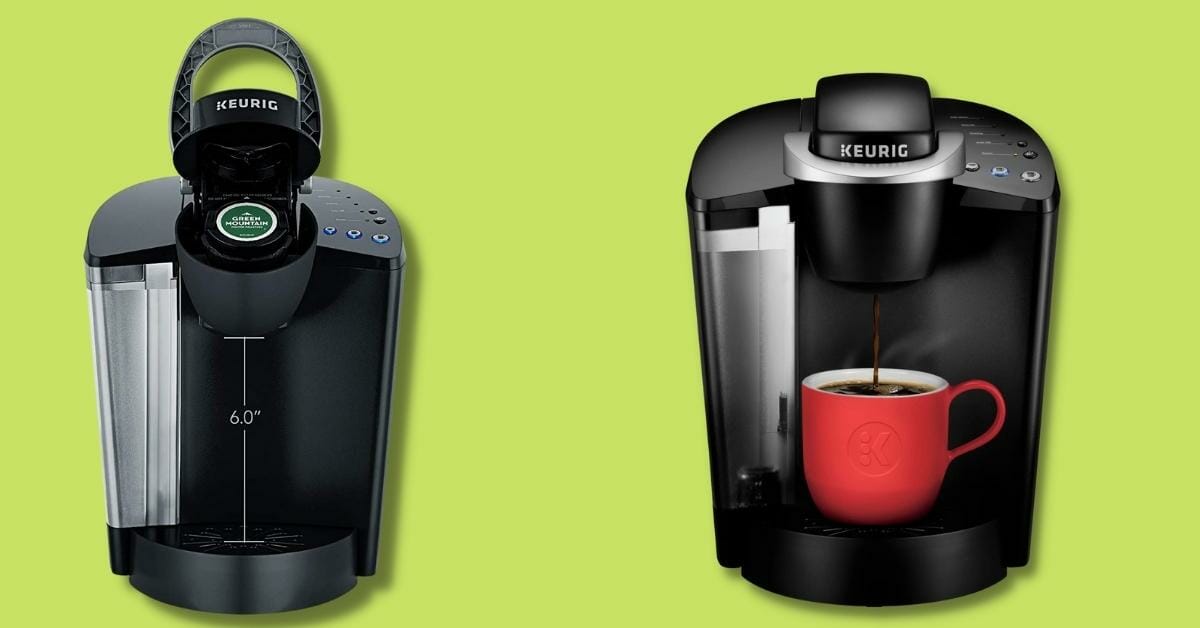 Keurig is an American company mostly popular for manufacturing coffee brewers for both residential and commercial use. This company has been launching various excellent coffee brewing machines.
And that too with no technology less than the latest ones so that they can live up to the expectation of a coffee-loving critic.
Keurig Hot K55 coffee maker can surprise you with what it has in store since it came from the stables of popular coffee companies like Green Mountain. Just read till the last as we go on the specialties of this excellent device.
If you want to enjoy your favorite and any flavor of well-brewed coffee anytime, the Keurig K55 premium coffee maker is just the thing you need.
It has this amazing technology to control the machine so that you can brew your coffee in just a minute.
Its automated system will allow you to get a perfect cup of coffee. For that, all you need to do is choose the appropriate switches for the cup of coffee you want.
Apart from this, you can also try brewing coffees like Starbuck or the Green Mountains. Moreover, you can also use this coffee maker to treat yourself to iced drinks, hot chocolates, tea, and other 400 different flavors of coffee.
Again, if you're more fan of coffee made of home-grounded coffee beans, you'll be happy to know that using this coffee-making machine with a recyclable filter.
Using that reusable filter will let you brew coffee after you ground the coffee beans for your own deliciously brewed coffee.
Product Specification:
Dimensions of the Coffee Maker:8 x 13 x 13.3 inches
Weight of the Coffee Maker:12 pounds
Water Storage: 48 fluid ounces
Brew Size: 6 – 10 fluid ounces
Water Filter: Included with the package
Strength Control: Not applicable
Temperature Control: Not applicable
Keurig Hot K55 Features:
Now the time has come for you to see the excellent features that make Keurig Hot K55 so good! You'll find out now why I'm telling you that it's totally worth it. So, let's get on with the features.
Brewing Size: Do you wish that if there was a coffee-making machine that can actually brew coffee of multiple sizes? The K55 coffee brewer is that kind of coffee machine. With this machine, you can get coffee in brew cups measuring 6 oz, 8 oz, and 10 oz.
These three brewing sizes contain coffee of different concentrations. For example, if you want to have a strong coffee, the 6 oz-sized coffee is just the one for you. You can also try the other ones, but they have slightly less consistency in them than the 6 oz brew.
Water Storage System: Filling water in a coffee machine is an annoying task, especially in the morning. Don't you think so? Answer me this, would you rather have a continuous water filling coffee brewing machine, or do you want to enjoy the morning coffee with lesser things to worry about, especially a task as annoying as filling the coffee brewer's reservoir with water.
So, if you have this coffee brewer, you don't need to fill in the water reservoir anytime soon if you already filled it before.
Finally, you can just enjoy the cup of coffee of your choice without filling the water in the coffee brewer, often within a minute of waking up in the morning.
K-Cup Pod Variety Pack:4 K-cup pods come with this coffee maker package. You'll get to taste the most elegant hot cocoa and coffee collection ever, all too just within this package. If you run out of these K-cup pods, you can always buy another pack of K-cup pods because these are available in shops pretty easily.
You can use the coffee cup pods of any brand in this coffee machine. There are a lot of options for coffee cup pods for you to choose from. You can choose them according to your budget and any flavor you want to taste.
No matter what K-cup pod you choose, one thing for sure is that this coffee brewer will give you the richest coffee experience since it is a flawless combination of sophistication and simplicity.
Descaling: For any kind of machine, you need to be aware of two kinds of maintenance activities. One is preventive maintenance, while the other one is breakdown maintenance.
Most of you must've heard about or know about breakdown maintenance. It's the maintenance activity you need to do when your machine breaks down.
But do you know about preventive maintenance? Do you know what role it has on your machine? Preventive measure is the activity of maintaining a machine so that it doesn't face any kind of technical difficulty.
For preventive maintenance, you need to maintain and clean your machines regularly following an appropriate system. You can prevent major accidents by following these maintenance tricks.
The importance of these kinds of activities is immense. Understanding this, Keurig allowed descaling to be possible in the Keurig Hot K55 model.
In this system, you can clean the excess calcium that deposits in the coffee maker every three months for brewing the perfect cup of coffee.
The user manual that comes with the coffee machine contains all the steps you need to descale the machine.
However, if you're still confused about how to do it, visit Keurig's website. Because it contains a video tutorial on how and what to do to clean the coffee maker properly.
Automated Timer: Most of the coffee makers have a manual on and off buttons. So, sometimes we might forget about turning it off after we're done using it. Did anything like that ever happen to you?
Keurig was concerned about this as well. To minimize your energy consumption, and for you to have an easier experience in coffee making, the Keurig Hot K55 classic model functions with automatic timers.
This automatic timer system turns off your coffee maker 2 hours after your last brewed coffee. This is a hugely convenient function because even if turning off the coffee maker gets out of your mind; the coffee maker smartly turns itself off after a specific time.
There is a display to show you buttons with lights to let you know that those buttons control the programs indicated on them.
For example, if the water reservoir runs out of water, the display will show an indication around the button "Add Water". Moreover, there are buttons for every activity like descaling, heating, brewing, and so on.
The Keurig K55 is highly dependent on its latest technology and programs. So, you can rest assured of its performance to be up to what you expected.
Removable Drip Tray: The main purpose of a removable drip tray is to clean the brewer. According to Keurig, when you remove the tray space under it left is equivalent to a travel mug. That is, a travel mug can fit easily under the nozzle of the coffee maker.
However, if you intend to use a travel cup of 16 ounces, it will take 2 cups of that size to fill up space below the nozzle. You can wash the K-cup holder in a dishwasher.
Moreover, you don't need to rinse the holder regularly because whenever you ground the coffee beans, the grinds don't encounter the holder directly.
Keurig Hot K55 : Product Design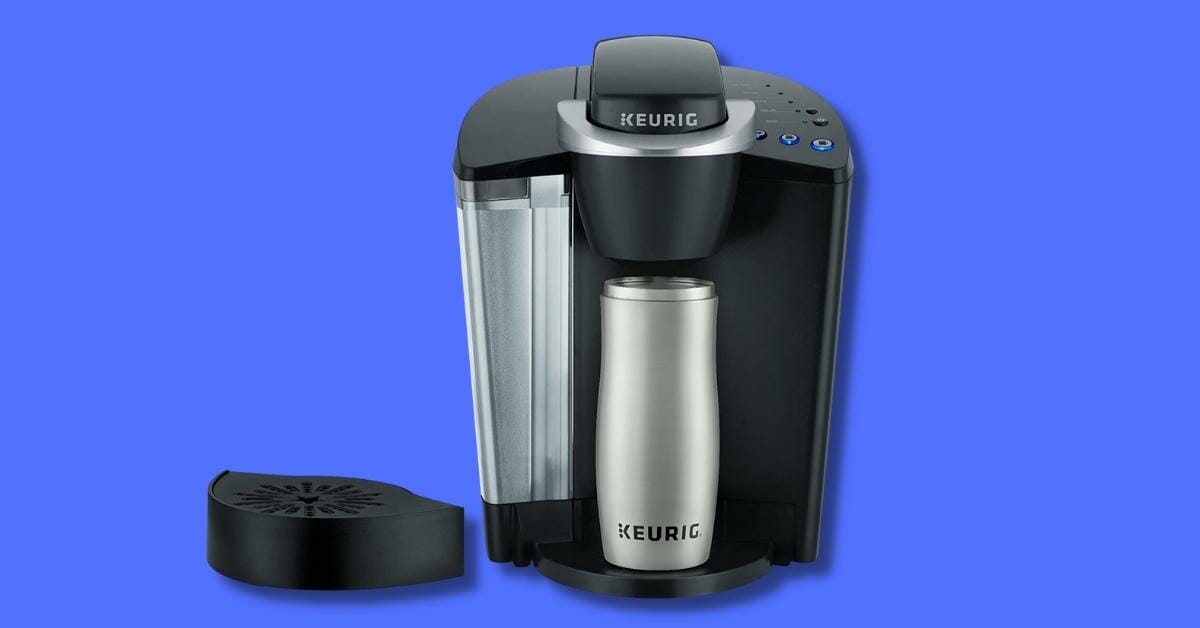 The manufacturers designed Keurig Hot K55 as simple, straightforward, and basic as possible. It has a modern and sleek look that makes it very stylish than any other coffee maker can be.
You can choose your own K55 model in whatever color you like from black, white, red, and blue. This machine will complement your kitchen and make it look more attractive because of its aesthetic looks.
The main goal of Keurig manufacturers to design it in this way is to make it simpler and easier to use. You can find all the buttons on Keurig K55 in a place that makes those more accessible.
The buttons are coffee-sized which glow in green color to let you know when they are activated or deactivated.
Keurig Hot K55 Coffee Maker: Taste of Coffee Brewed
The taste of the coffee depends on the K-cup you're using. Since you don't have the option to change the water temperature, your coffee flavor variety will be limited.
However, you can still change its taste by the amount of water you use. This mainly changes how strong or weak your coffee will be.
When you buy your own K55 coffee brewer, make sure to run two empty cycles. If you don't do that, the coffee will have a plastic flavor that might spoil the coffee taste.
There are some optional empty K-cups that you can use to make grounded coffee. However, pay attention to the measurements or else there'll be an overflow in the machine.
What's Good in Keurig K55?
There are many good sides to the Keurig K55 coffee brewer. Like –
You don't need an additional descaling solution to clean the coffee maker because it comes with its own descaling solution.
The brewing takes so little time, that is, you can get a cup of coffee within a minute.
There are two water filters to purify the water before making the coffee. And these filters are both inbuilt with the coffee maker.
You can clean the drip tray by removing it from the coffee machine and it is dishwasher safe.
The K55 coffee brewer can automatically turn itself off after being unused for a long time.
The buttons are organized, visible, and easily accessible.
The huge water reservoir can make coffee for several people several times a day.
Frequent maintenance isn't needed in the case of the K55 coffee brewing machine.
It improves the look of your kitchen, making it more stylish and attractive.
What's the Downside of Keurig K55?
Keurig K55 has its downs just as it has its ups. The downside of this coffee making machine is –
You can't adjust the temperature, so the flavor of coffee can't be changed internally.
The coffee cup sizes used in this brewer are relatively small.
Because of plastic materials, the coffee may have plastic flavors.
Its body is made of plastic.
FAQs
What kind of cup pods can I use in K55?
You can use any kind of K-cup pods in Keurig K55. So, buy whatever coffee flavor you want to have. There won't be any problem brewing in any kind of pod.
How often does Keurig K55 need cleaning?
Clean the coffee brewer once a month if you use it for coffee making. For tea, you just need to rinse the insides, that is, run an empty cycle. However, if you make hot chocolate, clean it after you're done.
What is the voltage value on which K55 runs?
The K55 coffee machine runs on a voltage value of 110V. there is no other voltage value for this coffee brewer. This is the main reason for it being a constant temperature.
Final Words
Getting a cup of coffee within a minute is truly amazing, and that too of 3 different sizes. It's the perfect entry-level single coffee brewing machine for those who can't go by without a cup of coffee in the morning.
By now, in this Keurig hot K55 review, you must've realized the greatness this coffee brewer has. So, without wasting any more time, get your K55 model today from here.