Guillotine and rotary paper cutters are a type of instrument used to measure paper. The paper can be cut in a smooth gliding style through paper cutting. It is a tool that is available in almost all important offices such as classrooms, office-court and more.
The Paper cutter has a straight edge with which large pieces of paper can be cut into smaller sizes. Paper cutters are designed to cut large pieces of paper like posters, banners, and marketing photographs in an instant.
Any type of paper from small to large can be cut with a paper cutter. Here we will talk about guillotine vs rotary paper cutter.
Which one is More Effective Between Guillotine vs Rotary Paper Cutter?
There are many types of paper cutters; different companies make different types of paper cutters. However, not all of them are standard. Two types of paper cutters are the most common in the crowd of paper cutters everywhere in the market.
Those are guillotine paper cutter and rotary paper cutter. A rotary paper cutter is a little more effective between the two cutters. Because it is usually used to cut short paper. It is commonly used in various institutional activities including classroom, office-court, etc.
It is widely used in these organizations. Because it's great for cutting small-sized paper bundles, and these types of institutions do not need to cut large bundles of paper.
In most cases, they use a rotary paper cutter machine to cut small bundles of paper. But if you want to compare guillotine and rotary paper cutter, then I will say both are good.
What are Guillotine and Rotary Paper Cutter?
If you compare guillotine cutter rotary paper cutter, you should note here that rotary trimmers are mainly used to cut 1 to 3 pieces of paper. Rather, the guillotine can cut up to 25 to 50 pieces of paper together. These two tools are specific places according to the field of work.
Guillotine Paper Cutter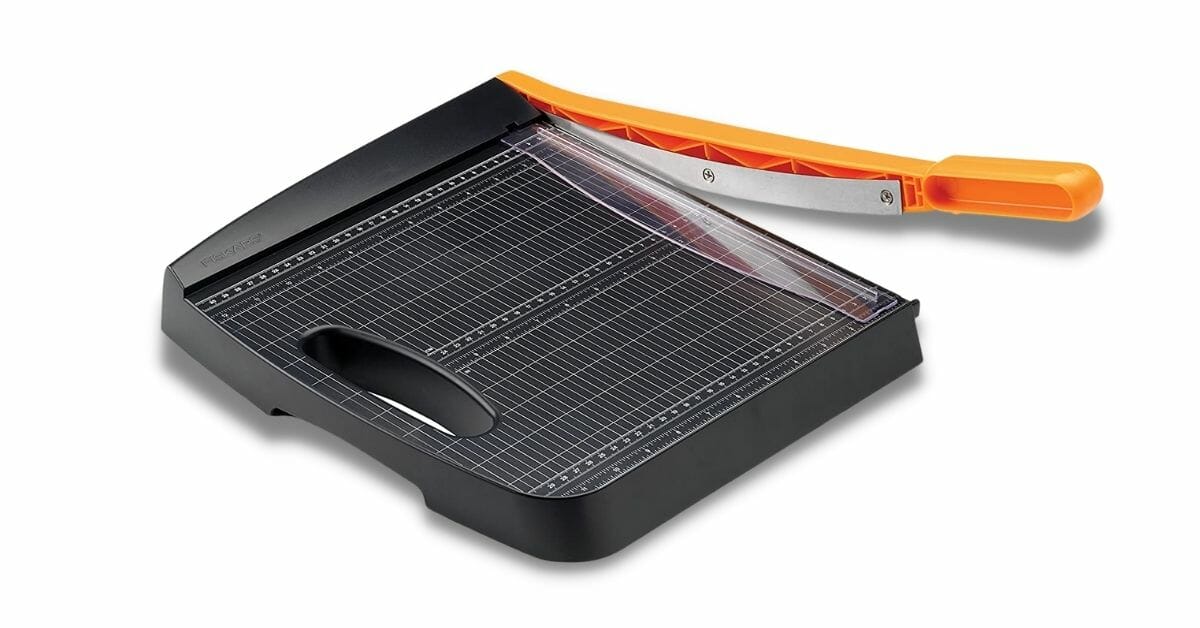 The guillotine is a paper cutting tool. It's also known as a paper trimmer. This machine is designed in such a way that huge sets of paper can be cut to an impeccable size. It has a perfect sharp straight edge.
A guillotine paper cutter has a handle at the end to hold the sharp straight edge by hand. This device usually looks like a rectangular shape. The paper set is placed in the quadrangular shape of this machine and the part to be cut is pressed with a sharp straight edge.
The fine cutting process has made this machine more popular. There are many types of guillotine paper cutters in the market. These are also different in terms of price. If you want to buy any guillotine paper cutter, you have to observe the product and then buy it.
Rotary Paper Cutter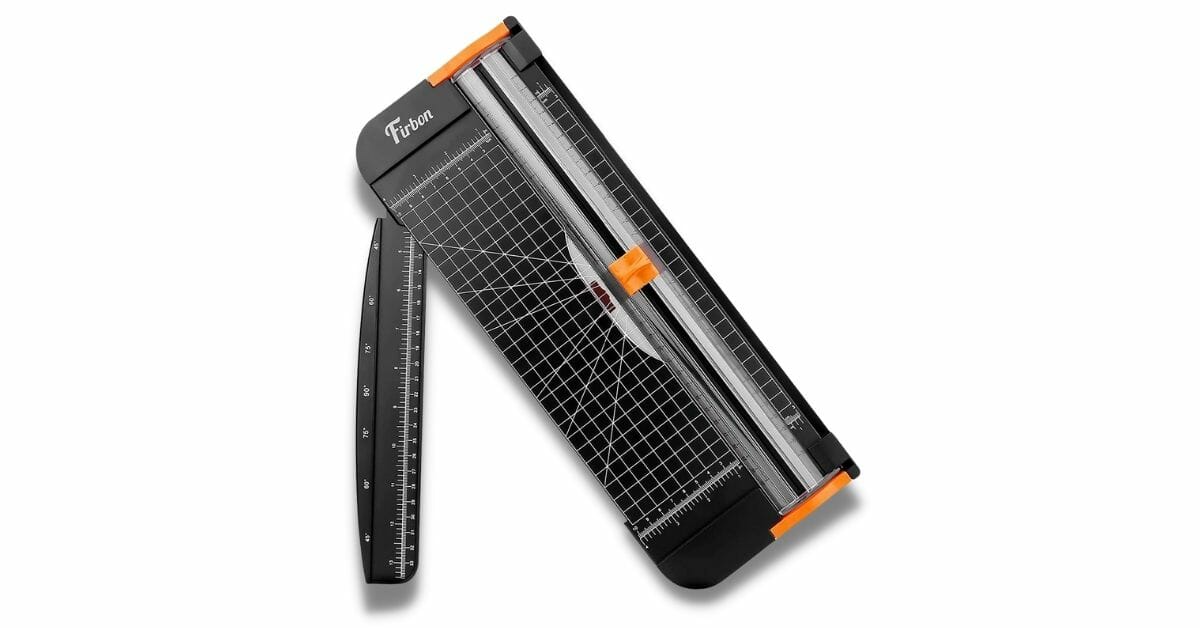 It is well known and incredibly known as a paper cutting machine. The actual machine, which people love to called as a rotary paper trimmer. This device cuts the paper very smoothly and delicately. Rotary paper cutter has a round cutting blade, which is enclosed in plastic protection inside.
Rotary trimmers are most often used to cut small amounts of paper. This device is great for creating straight cuts for thin paper products. Rotary paper cutters come in a variety of sizes.
However, the most common sizes are 18mm, 28mm, 45mm, and 60mm. The important thing is that, with the larger the size of the blade, the faster you can cut the paper.
How to Use a Guillotine Paper Cutter?
The guillotine paper cutter consists of a wooden-framed blade that runs along its groove. Guillotine paper cutter is pretty convenient to use and ensures a long-lasting time service.
When you are not trimming paper, please lock the blade. There have all kinds of shapes and angles and sizes and different measuring tools.
Therefore, try to take the size of your mind and place the right side wherever you want to cut. After that, you have to hold the guillotine paper blade and cut the paper to an impeccable size.
For paper-cutting purposes, there is no restriction, you can cut whatever paper with it. But remember, don't cut any hard paper like hardboard paper with it. Because it may cost your whole guillotine machine unexpectedly.
Scrap paper is very essential. Overall, you are going to love it.
How to Use a Rotary Paper Cutter?
Now we are going to talk about rotary cutters. They are a wonderful invention. It's a great tool. It has an ergonomic handle. It also has a lock on the blade. The blades are incredibly sharp. Just squeeze and it's exposed.
The blades are easy to replace. They make a lot of different brands. They also come in different sizes. To use a rotary cutter, take your ruler and figure out how big you want your strip to be. Now you have to push it politely and correctly press and cut away. You always cut away from me.
Those are the basics of using a rotary paper cutter. If you compare the guillotine and rotary paper cutter, then it can be said that the rotary machine is very easy to use. You have to learn it well first then use it.
Where to Find a Better Rotary Paper Trimmer?
Rotary paper cutting machines are very much available in the market. Their quality varies from company to company. There are different types of paper cutters and they vary according to their sizes.
But if you want a good quality paper cutting machine from the brand, then you have to choose well-known companies. You can also find these on online marketing websites.
Why you Should Cut Your Paper with a Cutter Machine?
When the paper is cut with a paper-cutting machine, they are very smooth. Paper cutters help you to cut your papers in a very beautiful way through their performance.
In this way, you can design your frame and design accurately. Rotary paper cutters can be used to cut small paper bundles and guillotine paper cutters can be used to cut large paper bundles.
The Differences Between the Rotary Paper Cutter and Guillotine Cutter
Here we are discussing two machines whose job is to cut paper. These are guillotine paper cutters and rotary paper cutters. Guillotine & rotary paper cutter, there are many differences between the two machines.
Blade type
In a rotary paper cutter, you can use any brand of rotary blade and even generics. Just keep an eye on the case of the size. Somolux is the best rotary paper cutter blade. Federal knife guillotine paper trimmers work very well in guillotine paper cutters. These are available in different sizes.
Speed
The sharp edge speed of the guillotine paper cutter device is 12 inches per minute. It has features like very high speed and a knife change. High-speed rotary paper cutting machines are very effective for cutting duplex boards, Kraft paper, and non-browning. The speed needs to be adjusted according to the paper cut.
Sharpness
Like knife paper, cutting blades are very sharp. Rotary paper cutter blades are round. One part of these blades are flat and the other part is diagonal. The blades of the guillotine machine are slightly larger and very sharp.
Paper holder
Rotary paper cutters have many safety features that offer safety. Rotary paper trimmer machines with stands and fabric catch trays are very popular. Adjust the flex zone guillotine stack paper holder guide for the heavy-duty of professional craftsmanship.
Price
Choose and buy good quality products from suppliers. There are many types of paper cutter machines available in the market. Each of them has a different brand. Each company sells its products at a set price.
If you want to buy a good paper-cutting machine, then you can buy the most popular machine. Its price varies according to the size. You can buy the machine according to your need from the market.
Easy to use
Guillotine paper-cutting machines are very easy to use. But before you use it, you must first learn how to use it. You must be careful when using it. The guillotine paper cutter contains a knife with a wooden frame.
It is very sharp; therefore, you have to be more careful while using it. On the other hand, rotary paper cutters are also very easy to use, but only need to be used carefully.
Final Verdict
Guillotine vs rotary paper cutters both of these machines is used for hard and smooth paper-cutting machines. This type of machine contributes a lot to the field. The all-important institution has used those machines.
A guillotine is used for cutting paper when making any equipment with paper in industrial factories. Rotary machines are very helpful for cutting small paper bundles. So it can be said that the two machines are good according to the field of work.