Almost all the companies that make steel dish racks claim their products to be rustproof. However, many of these racks will eventually lose their shine to rust. That's because most of them are built from low-quality steel with cheap plastic coating to cut costs. So they are more prone to rust and don't last long.
With thousands of available products, it's quite easy to spend big on the wrong choice and then regret it later. So knowing what you are buying is very important. In this article, we'll review and compare what we think are the best rustproof dish-drying racks in the market.
Top Best Rustproof Dish Drying Racks Reviews 2023
1. OXO Good Grips Rustproof Aluminum Dish Rack
If you worry about rust but want to have that metal shine in your kitchen, you may want to consider aluminum racks. Aluminum never rusts, so these racks are completely rustproof. And no other company can make stylish aluminum racks as OXO does.
OXO's goal is pretty simple, to "make every day better"; they're constantly improving in terms of functionality, utility, and design. All of their products have a touch of elegance, which enhances the overall user experience. The OXO Good Grips Rustproof Aluminum Dish Rack is no different, it has everything you'd expect in a modern kitchen appliance. It's a great option if you want a rack that's rustproof and long-lasting as well as modern and stylish!
Key Features:
Measures 3 x 14.3 inches and is perfect for standard 24 inches or larger countertops.
Weighs only 8 pounds
Open design allows for large items or stacking.
Features unique plate holders that hold plates and bowls upright
Has a removable and adjustable drainer drip tray
The divided utensil cup can be removed to make space for large pans and dishware.
The rack also has non-slip feet that provide stability on all kinds of surfaces
👍 Pros
Rust-proof Aluminum Frame
Stylish and Unconventional Design
Unique Plate knife holder
Adjustable dish Drainer Spout
👎 Cons
Relatively smaller kitchens than other kitchen racks.
The plate holder slots aren't removable.
2. Premium Racks Professional Dish Rack
If functionality and convenience of use are among your top priorities, then the Premium Professional Dish Rack might be the best pick for you. This multi-functional rack is made of high-quality stainless steel. It has an extremely customizable and flexible design that allows users to store different sets of utensils.
Instead of jamming the kitchen counter, the rack is intelligently designed to use vertical space. This way, it can store more kitchen wares while taking up less area on the kitchen countertop. The steel used is strong and corrosion-free and provides very good support and stability even when the rack is carrying full weight.
Key Features:
Measures 5 x 13.9 x 6 inches and weighs 4.41 Pounds.
Made of high-quality SUS304 military-grade stainless steel
Highly customizable
The plate rack is positioned high above on a separate row, leaving the bottom layer free for pans and bowls.
Comes with side drainboards that can be attached to the glass holders
Built to be strong and sturdy
👍 Pros
Modular construction
Strong base for stability
Fully customizable
Large storage space
Takes up less space on the counter
👎 Cons
No additional cup clips.
Assembling and customizing may be a bit difficult.
3. OXO Good Grips Convertible Foldaway Dish Rack
Here's another modern and sturdy countertop rack from OXO. You can never complain about their design. Each rack they make is different in terms of both style and functionality.
This Convertible rack is made with plastic and rustproof stainless steel. Its versatile design makes it a good fit for any modern kitchen dish rack. You can fold the plate holder rack to make room for bowls and other utensils. Each of the sides is equipped with a utensil holder and several glass holders, which can hold a lot of glassware and cutlery. Besides, the sidewalls, legs, and spout can be folded for compact storage.
Key Features:
Weighs approximately 5 pounds
Made from BPA-free plastic and stainless steel.
The tines hold cups, mugs, or wine glasses inside the rack to prevent dripping on the counter
Has a water spout on one side to drip directly into the kitchen sink.
The rack's plate holder rack can be folded to make room for the biggest of cookware
The divided utensil holders are capable of storing a huge number of silverware
👍 Pros
Very Unique design
High-end build quality
Convertible for hassle-free storage
Keeps the counter fully dry
👎 Cons 
The drain spout doesn't work properly at times and drips on the counter
4. Joseph Joseph Stainless-Steel Extendable Dish Rack
This classy-looking rack is from Joseph Joseph, a company renowned for its simple yet functional designs. The rack is made of rustproof stainless steel and plastic. Its half-split body can be extended to make room when necessary, or you can keep it contracted if you aren't using it and have limited cabinet space.
One portion of the split body is generously equipped with holder racks where you can put all your dishes, cups, and mugs. The other half, when expanded, makes space for your pans and pots. The draining spout has three different positions so that it can be moved to the sides depending on your counter setup. All the metallic parts have been made to be non-scratching, so they won't damage the counter or delicate dishware.
Key Features:
Weighs approximately 8 pounds.
The extendable body can make room for larger cookware.
The rack sports a large number of holder racks, which can hold a lot of dishware and glassware.
The adjustable draining spout can be moved to the sides according to your needs.
Has a movable cutlery holder, which can be removed or moved to free up space when you need it.
👍 Pros
Simple yet stylish
Easy to store and use
Raised ribs to ensure water doesn't drip outside.
Multiple drain positions
👎 Cons 
Spikes don't hold larger cups well
Doesn't have color options
5. Sabatier 5199813 Expandable Stainless Steel Dish Rack
Another expandable dish rack, this one's from Sabatier. This rack has a space-saving design that features an expandable drainboard; it can expand to increase the rack's capacity. Its expandable design is great for drying large stock pots, glasses, bulky bowls, large platters, etc. And its compact footprint doesn't take up counter space when you don't want it to!
The rack is manufactured from high-grade stainless steel, so you can expect it to last a few good years without rusting. Though the expandable rack from Joseph Joseph (the one we reviewed earlier) is a cheaper option than this, this one's surely better looking. Besides, it has a higher storage capacity than most other countertop racks.
Key Features:
Features 8 slots for plates, 1 extra wide slot for a frying pan, 6 cup tines, and a removable flatware caddy.
The drainboard can expand from 18.5 to 29.4 inches, making it a good choice for storing large pans and dishes.
The drainboard also features a bi-directional spout for draining water into the sink from both sides.
The pull-out drip catcher will keep the counter dry and drip-free.
Its soft, non-slip feet will keep the dish rack in place and protect countertops from scratches.
The drainboard is dishwasher-safe, but other components require hand-washing.
👍 Pros
Comes with an Expandable Drain Board
Very Classy design
Large in capacity
Keeps everything organized
👎 Cons
Underwhelming customer service
6. Nex Over The Sink Stainless Steel Dish Rack
Last but not least, is the 2-tier dish rack from NEX. We sought to include at least one rustproof rack from each distinct category of dish racks. This one is our choice if you're looking for an over-the-sink drying rack. One of the best over-the-sink dish racks out there, it has a very simple and effective design that will complement any type of kitchen.
Made out of 304 stainless steel, this massive unit has a large number of slots, racks, etc. to store all your dishes without hassle. Its sturdy and stable design can hold as much as 40 pounds of weight. And Its adjustable length allows it to fit perfectly even on larger sinks.
Although similar to the HEOMU 2-Tier Dish Rack, this one is more durable and comes with a 1-year warranty from NEX.
Key Features:
Crafted out of premium 304 Stainless Steel it prevents your dish rack from rusting and provides durability
Can store various sizes of utensils, dishes, pots, chopping boards, etc
The rack has a multifunctional cutting board rack and compartment trays
6 movable steel hooks can hold your spoons and spatulas
The chopstick holder has a drain tray underneath that prevents water droplets from reaching the countertop.
The pipes of the four legs are very stout; it's very stable and can hold a good amount of weight.
👍 Pros 
Comes with High-Quality Material
Adjustable Length
Easily Assemblable
Very Stable
👎 Cons
A few customers reported that it bent/broke in the middle.
FAQs
How Do You Get Rust Off a Dish Drying Rack?
If you have rust on your dish drying rack, there are a few strategies that you can use to remove it. You can pour a solution of baking soda and water onto the rusted area and wait until it bubbles up before scrubbing it off with a brush.
Alternatively, if the Rust is stubborn or covered in dirt, you may need to use an acid-neutralizer like vinegar or lemon juice to break down the polymer structure of the Rust. Once it has been removed, rinsing with clean water will remove any residue left behind.
Which Dish Rack Does Not Rust?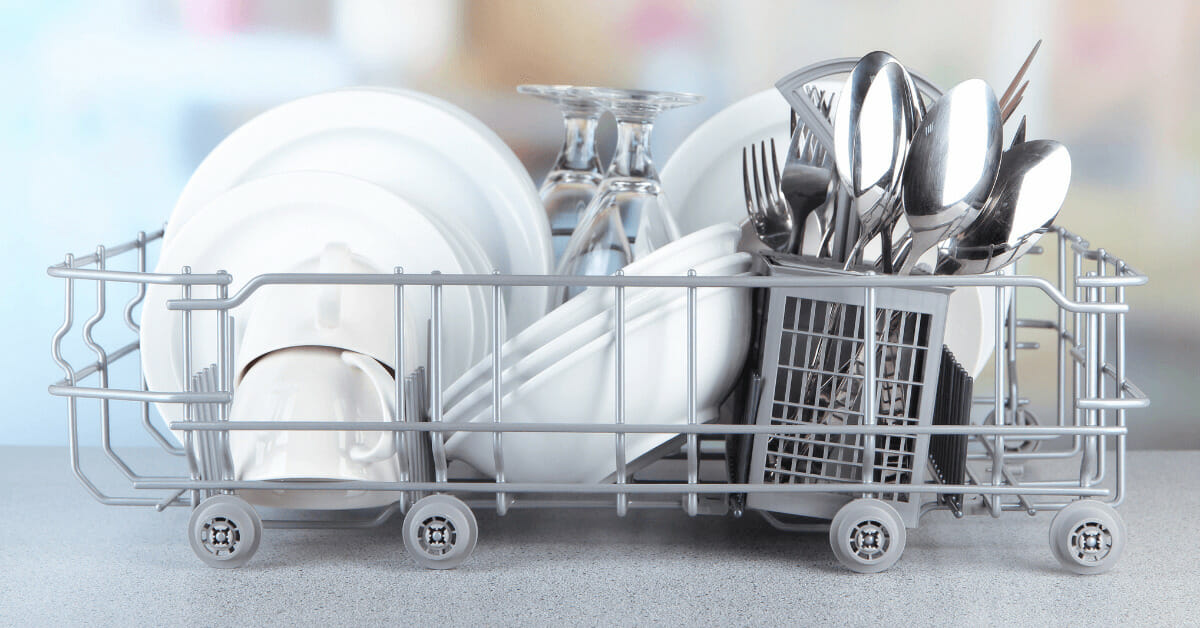 There are a variety of different dish racks that do not rust, so it is important to select the one that is right for your needs. Some of the best options include wire rack systems, bamboo dish racks, and silicone-coated dish rack systems. Each has its own unique benefits that make it optimal for specific applications.
For example, a wire rack system is often considered to be more efficient because it doesn't require any additional liquids or detergents in order to keep clean dishes.
Additionally, bamboo Dish Racks are eco-friendly and sustainable due to their high resistance against moisture and pests. Silicone-coated washing dishes are also very easy to clean since they don't absorb food particles like other materials might.
Ultimately, the best option depends on what you need and how often you plan on using the dish rack. So take your time when searching for a perfect solution and find something that will suit your individual needs!
Why Do Dish Racks Rust?
Rust is a form of corrosion that can occur on metal surfaces when they are exposed to moisture and other pollutants. It starts as tiny iron particles, which are drawn to the surface by an electrical current or stream of water.
The iron combines with oxygen from the air to create rust, which then slowly spreads throughout the metal until it becomes so thick that it inhibits its function.
Dish racks are particularly vulnerable to rust because they often come in contact with wet dishes and other food debris. This interaction results in elevated levels of humidity, salt, and acidity inside dish racks, all of which speed up the process of rust formation.
In order for dish racks to last longer and resist rusting, you should keep them dry and free from excess moisture both before storage and during use. You can also coat them with a protective sealant if desired.
What Is the Best Material for Dish Rack?
There are a variety of materials that can be used for dish racks, including metal, wood, plastic, and stainless steel. Ultimately, it depends on your preferences and the style of dish rack that you want to create.
Some things to consider when choosing a material include cost (both upfront and over time), durability/weather resistance, ease of maintenance/repairability, aesthetics (if applicable), and weight.
Metal is often considered the best option overall because it is durable yet lightweight enough that it doesn't take up too much space. It also has an attractive look that can add value to any kitchen decor. Wood may be a good choice if you're looking for something eco-friendly or if you are concerned about weathering or decomposition issues.
Plastic is popular among people who have busy lifestyles because it is easy to clean dishes and store dishes vertically rather than horizontally which minimizes storage space needs.
Conclusion
To create this list, we basically pulled racks from all other categories and ranked them in terms of durability and rust resistance. We hope you found a good match for your kitchen or at least understood what you need to find.