Installing a build in gas grills is one of the desired appliances in most families who love to have a relaxing weekend and love to have a cookout.
Traditionally, families mostly use charcoal decades ago when they make some barbecue and some grilled burgers. But now, there are other options to have a cookout.
Some will also say that gas grills are better and more convenient because there is no need for you to ready the charcoal for cooking as there is no more waiting time to get it started.
Now, there are best built In natural gas grills to choose from that can surely keep you cooking for a long time.
Top 7 Best Built In Natural Gas Grills Reviews
In this article, we will discuss the best built in gas grills for you and how you can choose the one for you and your family.
Commercial grade stainless steel: The Lion 40 inches Natural Gas Grill has 5 burners all made of stainless steel of 304-16 gauge and 1030 square inches of cooking surface. 90000 total BTUs. We consider this stainless steel highly durable. The stainless steel material adds some weight to this grill.
Dual door drawer: It also has a dual door drawer of the same stainless steel.
Have 6 knobs: That includes one dial for the rear infrared burner when roasting chicken or other meat.
With refrigeration and drop sink: This comes with refrigeration and a drop-in sink to make everything convenient for you.
Have a 5 in 1 BBQ tool inclusion: Includes 17 inches spatula, 16 inches BBQ fork and Basting Brush, Cork Screw, and Rosewood Handle. It has dual lights. The lights are useful, especially when you cook at night.
PROS
High-grade stainless steel. The body and the burner are all made up of high-grade stainless steel that you are assured of longevity and the best performance.
High BTU. This will help ensure that you will always have a high burner that can taste better and will cook faster.
Inclusion of Infrared rotisserie back burner. You can easily roast chicken at the same time you are having a BBQ.
Double lighting capacity. The double lighting feature is another advantage for you, especially when you need extra lighting while cooking and cannot see the interior of your grill.
Inclusion of a mini-smoker box. This is the feature that adds a smoked flavor for your grills with every cooking you make. Some do not have that distinct flavor but with this design, you can get a tasty BBQ with all the taste that should go with it.
CONS
Heavy. Some people may find this model expensive. But if you are someone looking for one of the high-end cookers, this one is for you.
Expensive. It may cost more compared to the other model because of the prime material used and other high-end features.
Just the right size cooking area: It has 600 square inches of cooking area that can easily accommodate your BBQ cravings, just right for a weekend cookout for the entire family.
It has a high BTU: With 60,000 BTU that can easily heat and cook meat in no time.
Stainless Steel: Manufactured with high-grade stainless steel that can easily endure frequent use and with some maintenance it can even serve you for many years to come.
Trouble-free lighting: The Piezo igniters assure you of easy and quick lighting. You donâ't have to stress yourself about lighting up this grill.
With the temperature gauge: This allows you to check the internal cooking temperature to make sure that the inside of the meat is not raw while the outside is already burnt.
15000 BTU back burner: With a back burner for all your rotisserie needs.
Gas or Propane: You have the option of choosing propane or natural gas upon ordering. It is already preset for easy installation.
PROS
Stainless steel. Constructed with the use of stainless steel that is not only durable but built to last for years. The hood, grates, and control panel are of stainless steel.
Piezo igniter. This makes it more convenient for you every time you need to start your griller. No need for a lighter or any other lighting materials.
2 options. You have the option of choosing propane or natural gas.
With a rotisserie inclusion. You also have a burner for rotisserie, which also packs a 15,000 BTU to serve your roasting needs.
With a temperature gauge. Making every cooking convenient for you so you will know if you need further roasting or if the meat is ready.
CONS
Not the best for those who like bigger cooking areas. If you are looking for something bigger for family gatherings and picnics with your neighbor, this one is not your best option.
No included rotisserie kit. You will need to buy this kit separately.
Natural Gas Grill: Considered less expensive compared to propane, and you have no more issues when your propane runs out.
Rear Rotisserie Burner: So you can have other meat cooking such as large joints of pork or turkey and chickens while you are roasting some meat at the front grills.
With Heat Zone Separators: This feature allows the same time to cook different types of food, but each is using different temperatures.
Easy, quick start: With the push and turn ignition, this griller is just like the usual stove that you push and turn to reliably start every time you need it.
Manufactured with high-grade stainless steel: Burners are made of stainless steel to ensure longevity and durability. The heat is evenly distributed around stainless steel compared to other types of grills. This will ensure that the meat will cook evenly throughout.
Flame stabilizing grids: This feature stops flare-ups that cause some portion of the meat to burn. Not only that, the flame stabilizing grids stop this from happening, but it also adds a smoky flavor to the meat.
Lifetime warranty: It protects you from any defects, whether in manufacturing or workmanship, such as stainless steel housing, burners, cooking grids, control valves, so forth and so on. Register your griller though within 30 days to avail of this warranty.
PROS
Lifetime warranty. An additional advantage for buyers.
4 burners made of stainless steel. To also ensure that it is also top quality and will not easily rust.
Simple ignition system. Stress-free grill starts.
With heat zone separators. Making cooking faster for you, even with different grill recipes.
Wide drip tray inclusion. To make cleaning easier for you.
CONS
1-year warranty for other components. Electrical and ignition components are only covered for a year from the time of purchase.
No warranty if unregistered. If you forgot to register the product 30 days after purchase, you cannot collect it with any of the warranty purchases.
There is no rotisserie kit included. You may have to shell out extra for this one so you can enjoy the rotisserie burner at the rear.
5 stainless steel burners: This premium grill has 5 burners that make this a better grill compared to others.
90,000 BTU: A high power that will give you the heat you need to cook the meat easily and fast. It will give that maximum heat to spread in every grill corner.
Sizeable cooking area:1030 square inches of cooking area that is best for big cookouts and family gatherings.
Made high-grade stainless steel: Exceptionally manufactured using stainless steel. Thus, cooking is even, and you can finish cooking in no time. The temperature in stainless steel is better compared to other types of grills. Also easier to clean.
Warming rack: Including the warming rack also adds an advantage because you can easily heat bread or other viands on top using the warming rack.
Infrared back burner rotisserie: The BTU for this burner is 15,000 BTU and can hold up to 38 to 40 lbs of poultry or a slab of meat. It can cook the meat perfectly.
PROS
Rustproof. Because they make this grill of stainless steel, you wonâ't have to worry about rust.
They can customize it. If you want an additional feature to your grill, you can also request changes and additions to the grill.
Internal light. There are lights at the bottom which can help while you check meat while you cook.
Sizeable cooking area. The cooking area is 802 square inches that gives you the freedom to cook as much meat in one go.
With a push mechanism. This adds to an easy start-up. You can light it up immediately.
Smoker box. Given as an add-on but creates a smokey taste in the meat.
Easy cleaning. With the tray at the bottom of the grill, all drippings directly run here, thus you can just clean it with warm water now and then.
Lifetime warranty for stainless steel burners. Since the first to give in are the steel burners, including a lifetime warranty will surely attract those who are having a hard time deciding what to buy.
CONS
No stand. The grill could have been the perfect grill if not for the grill not having a stand.
Heavy. This grill weighs 200 lbs.
Expensive. Since this is the premium design by Lion, we also consider it on top of the expensive list.
Can be converted to natural gas: This model is a 30-inch propane grill powered grill that you can convert to natural gas. Natural gas creates lesser fumes, and it is cheaper compared to propane.
Stainless Steel components: The construction mainly uses stainless steel, which makes this grill one of the more sturdy and will last for years.
Simple to use: Best for those who are just new to the experience of grilling and would just like to enjoy the taste of home grilled food.
Large grilling surface: You can surely enjoy grilling some burgers, marinated steak there, some barbecue ribs in its spacious 774.8 square inches of grilling space.
High BTU:61,000 BTU in total that can ensure you of high heat, perfect roasting capability on its 4 main stainless steel burners.
Electronic Ignition: Fire up your burners instantly. That can get you grilling in no time. No need for a manual startup that can get you a few minutes off your grilling time.
Rear rotisserie: You can easily roast anything from a whole chicken, rolled pork, meat slabs without having to worry it will not cook evenly. You will always have perfectly cooked meat all the time.
PROS
Protected from rusting. Because of the stainless steel components.
Disperses heat. Because of the even heat system feature of this grill, you will have food that is well-cooked and with more flavor.
Easy start-up. Because of the electronic ignition lighting, this grill is a breeze.
Affordable. This griller will still give you the needed features to get the best grilling experience without putting a hole in your pocket.
Ease of cleaning. Only water and some soap to remove drippings easily.
Flame tamers included. This feature can help prevent flames that could burn the meat while grilling.
CONS
Gets hot quickly. The body of the griller quickly heats.
Issues with the warranty. Some buyers have problems reaching out to those who handle the warranty for this grill.
Natural Gas: This grill requires you to have a natural gas connection directed to this grill on the patio or in any area you are placing it.
High BTU: It has 60,000 BTU to heat the grill evenly, help you cook your food inside and outside, and fast.
5 stainless steel burners: With the addition of a meat sear feature called infrared sizzle zone. This quality will make those who are looking for an authentic-looking BBQ happy.
Extensive cooking area: It has a thousand square inches of cooking space that is best if you have a get-together, family gatherings or a day spent with friends. This grill can serve many people with the best tasting BBQ there is.
Durable stainless steel: The weather-resistant and sturdy stainless steel is reliable and will ensure you will have it for a long time.
Glowing knobs: This feature will remind you to always turn off your grill, as this feature will glow red when it's on.
Cabinet and foldable table: These additions will give you convenience when you need to use plates, utensils, and other materials while cooking out. No need to set up an extra table just to hold all your materials in place.
PROS
Highly durable stainless steel. It assures you of its longevity.
5 burners plus a side burner. Ensure that you will have a quick and even cooking.
Dual-layer lid. Keep the heat intact.
Large cooking area. This allows cooking for an enormous family or many people.
With interior lighting. This makes your cooking easy, even at night.
There is a marinade bucket included. You can have the meat marinated here for a few hours before grilling.
Temperature Gauge. With the Accu-probe temperature check so you can inspect if the meat is well done inside and out.
Plenty of storage. The storage space will surely make your grilling easy because what you need is within your reach.
CONS
Expensive. Because of the many features, this grill has, you may need to spend more on this one.
Uses more fuel. It uses fuel faster than the other grills.
Wide cooking surface: There are exactly 830 square inches of cooking surface. This can help you cook for your entire family or you can even cook a few slices of meat just for yourself. This will cut your cooking time and you can have more time to enjoy yourself with your family and friends.
High BTU: This grill has a BTU of 75,000 which is just right to give you a well-cooked BBQ every time.
Cooking grates made of stainless steel: Easier to clean grates will not rust and heats evenly. You will have no problem with grates getting corroded with rust.
Dual interior lighting: The inside lid has dual lights that you can turn on and off easily.
Infrared rear rotisserie: This can make your cooking a whole chicken easier. You can even prepare a turkey for the entire family.
Stainless steel housing and framing: Including lifetime warranty. This is the best assurance for you when you buy this grill. You can breathe easy knowing you have a stainless steel grill at the same time lifetime warranty to back it up.
PROS
Impressive design. With the beauty of the design coupled with stainless steel construction, this grill creates an impressive look once installed.
Adjustable warming rack. Will keep the meat, buns, and bread warm. You can easily adjust the heat you want for the food you will place here.
Double layered lid. The double-layer lid keeps the heat in and you will not worry about eating cold buns with hot grilled ribs and BBQ.
With a gourmet package for buyers. It is like a starter kit that includes a rotisserie, handy smoker box, griddle remover, bottle opener, and grill cover. No need to spend extra on such a wonderful add-on.
Easy to clean. We can clean the dripping tray with warm water, or even some dishwashing soap.
CONS
Knobs and the metal heat during long cooking. If you are just using it for shorter cooking sessions it does not.
Cleaning of the rotisserie may need some working on. The other part is simple to clean, such as the pan under the grill, but the rotisserie can be messy because of the excess oil drippings.
There are just as many factors to look into before buying the best built-in gas grill. You should do your research first before heading on out to buy one of your own. The above review can also help you while you decide.
What to Look for in a Budget Built in Grills
The best built in grills will ideally have the following criteria.
Price: You donâ't want to be in debt because you want the highly desired and fancy built-in grill installed in your backyard. You need to consider how much you have and how much you can only afford. There is also the durability of built the grill and other features that will be the factor for the difference in price.
Size: You may need to set your expectations here because if you want a bigger sized built-in grill, you may have to shell out more. There are other built-in grills that are sized right and may be ideal for a family of 3 or 5, but if you are having visitors now and then, you may have to spend more for a bigger one.
Burners: You need to look for a stainless steel burner that is not of a low-grade quality that may rust faster. You also need to check the body of the grill where it is of aluminum, cast iron, sheet metal, or stainless steel, which is the more preferred material.
Fuel used: Some low-priced grills only have propane gas options. If you want to have a natural gas conversion, it can cost you anywhere between $70 to $150. Natural gas is the way to go if you want to save trips to the propane store and save money.
Different Types of Built in Grills
Propane grill: One of the most popular outdoor grills is being used today. Some homeowners think this is the best built-in grill option. This has replaced charcoal grills for most homes because it is easy to use, and there is less cleaning up compared to charcoal use.
Electric grill: Electricity is used to heat the grates and can also be used indoors because of the lesser fumes it creates while cooking. We can consider this best built in grill for those who dislike using any kind of gas while grilling.
Wood-fired grill: Users of this grill have wood pellets or pellet chips to create heat in their grill. The taste of the meat according to some is the best there is. Some famous restaurants are even using this grilling to give their food an authentic taste.
Infrared Gas grills: It uses infrared technology as a heat source between the grates and the flame. Some even want an infrared grill saying it is the best built-in grill around because it can cook food faster compared to the standard grills.
Natural gas grills: They say this grill to be more cost-effective hence, some people say it is the better option. The best built in natural gas grills are more convenient and are better for the environment. Natural gas burns cleaner than propane.
How to Install Built in Gas Grills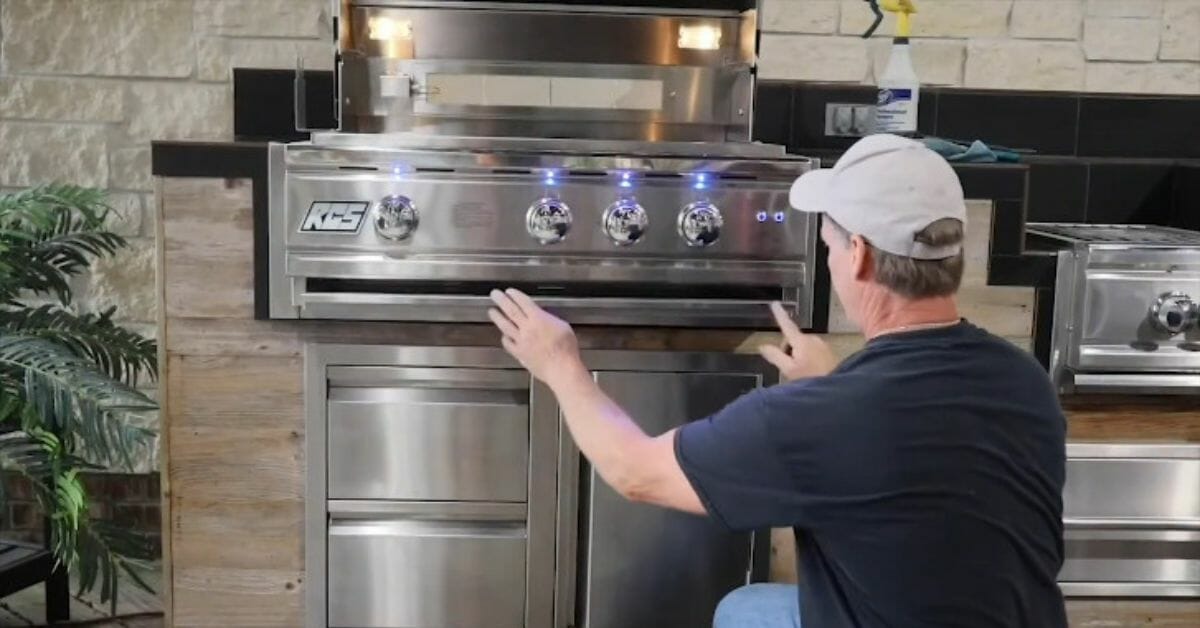 There are steps to take in installing a built-in gas grill such as
Choose the best location: It should be a safe distance away from the house, away from any electrical wirings, away from flammable materials like paint and oil or easily combustible items such as wood logs or old books and such.
Choose the grill: You need to choose the grill first that is best for you. You need to take the measurement first so you can prepare the place of installation. You can now pick the one that will suit your familyâ's needs. What you require, and we should consider as well the budget.
You will need to prepare the encasement: This is where you will permanently place the grill. A well-ventilated place with a lot of food preparation space and storage. You will need some additional space to receive visitors and for your family to sit on while waiting for the grilled food. You can make an encasement by using brick or treated lumber, then design it with tiles or stone decor.
Leave extra room for add-ons and accessories: You need to have space for additional hookups such as gas or propane tank. You will also need space for some cabinets, drawers as storage to make it convenient for you while you are grilling. You can just reach out and take out whatever you need from the drawers or cabinet.
Test your grill: Before you put the enclosure for your built in the grill, you need to test it first. Make sure all the connections are correctly in place and there are no leaks and such. All should operate perfectly before you encased your grill.
Things to Consider Before Buying Guide Best Built-in Gas Grills
You should consider the following before buying your best built In natural gas grills.
PRICE: You can score the cheapest around but it will surely not last for long or it will not be what you are looking for. You may first consider how much you would like to spend on a grill, and from there you can scout for the best grill available in the market.
FEATURES: Would you like a fridge to go with your burner? Or perhaps a drawer or two? Added features will cost you extra and if you will not be using these extras, then you better think first before shelling out extra for such features.
FUEL: You should ask yourself if you like natural gas or propane to fuel your grill. You should think this through because if you bought the propane fuelled grill and then decided later that you would rather convert it to natural gas, you will shell out another fifty or hundred dollars to do so.
BTU RATING: Size and BTU should be equal to each other. Do not buy a grill just because it has a high BTU.
SIZE: It is one thing to consider when buying a grill. You donâ't want to buy the biggest there is if you will only use the grill once a month for a family of three. You will also need to consider the space where you will install the grill and make sure that the size will fit.
MATERIAL: The main body mostly comprises sheet metal, some are of cast iron, cast aluminum, and stainless steel. It is highly advisable to get a grill that is made of stainless steel throughout and not just the body. The frame should be of stainless steel.
DURABILITY: You may do your research first before buying any grill. There are available reviews online that can help you in deciding on what are the best built in gas grills. Some company has a reputation for manufacturing durable and well-built grill. Yes, you may add some money, but it will be beneficial to you in the long run if you buy a reputable brand.
FAQs
What is a Built in Grill?
Built-in grill aka barbecue grill is a device that can cook any variety of meat, even veggies, by using heat from underneath. There are several types of grills and they are charcoal, electric, and gas.
Different types of grills can conform to your needs, so it is still up to you on what you prefer the most. You can have your design, your style of barbecue grill because there are manufacturers who can make this a reality for you because they can make the best built-in grill that is customized for you.
What do you need to change with the built-in grill? Will it be the design, the color? Everything will depend on what you need as well and what fits best with you and your family's lifestyle.
What is the best built in refrigerator?
French Door, built-in refrigerator by Benchmark is one of the best there is. It has a 36inch stainless steel French door with a function called SuperFreezing.
This feature keeps food from defrosting even when you keep the fridge door frequently open. The fridge has a clean smell because of the AirFresh filter feature. You can also connect it with the compatible, integrated Home Connect app.
What was the best battleship ever built?
They considered the Iowa class the best-designed battleship ever built.
How long can a gas grill last?
It will depend on how you care and maintain it. It can easily last for many years if well cared for and it can even bog down in just a year of use without maintenance.
Do you need to shut off the gas when not in use?
Yes. You need to shut it off for safety. If in case you have forgotten to turn off any of the knobs on the grill and there is continuous gas leaking, this can be highly dangerous.
How to keep my grill looking new?
The best way to keep it looking new is by cleaning it after every use. Do not leave it with oil and stuff to rot for long. You should also check every part at least every three months or if you can do it much often that would be better.
If you can afford to have someone check it at least once a year, this can help you have a well maintained built in gas grill.
Are rusty screws and such also under warranty?
No, since these built in grills are of stainless steel and left exposed to the elements. This will cause some rust on screws and parts if not immediately taken care of. Scratches and discoloration are not also included unless stipulated in the warranty form.
FINAL VERDICT
With a bit of homework and some additional reviews, you can surely find the best built In natural gas grills that will suit your need. You should also think about your budget, as buying will center on how much you can afford.
If your buying centers on the most high-tech features of the gas grill, then you can buy the best there is without batting an eyelash.
You will buy a griller that you will surely enjoy and use for a long time. You can also consider the place where you will install your grill because adding a few perks such as light fixtures, cozy chairs, flowering plants that are also easy in the eye will create the most relaxing place to have with your family and friends- while you are happily grilling.